A portrait painted by Frida Kahlo when she was 21 years old could fetch US $12 million – or even more – when it goes up for auction later this month at Christie's auction house in New York City.
"Portrait of Cristina, My Sister" is a simple composition, but it represents an early stage in the iconic Mexican artist's career when she was eschewing the styles of the masters and embracing techniques and colors that would become her trademarks.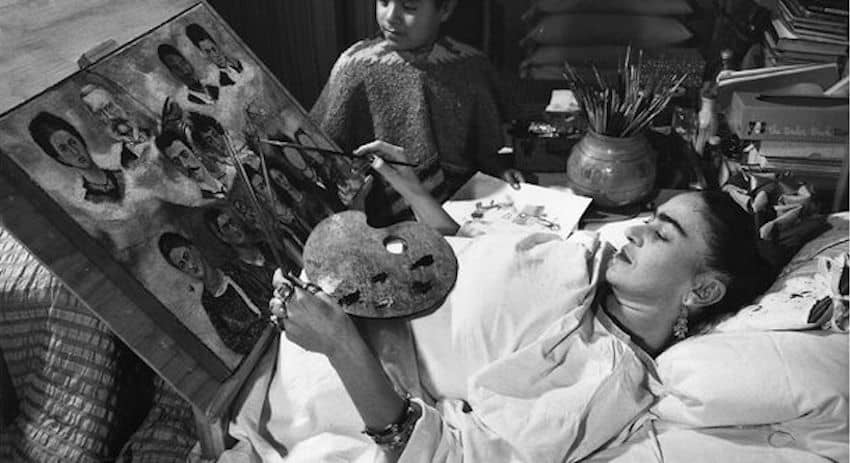 Moreover, it was painted in 1928, not long after the severe accident that left her disabled — a long metal rod tore through her midsection when she was riding in a bus that slammed into a trolley car — and left her confined to bed in a full-body plaster cast, changing the trajectory of her life. 
"In 1928, Frida was still recovering from her accident, she was just beginning to make that transition from convalescence at home to finally going out into the outside world again, and Cristina was a very important figure for her during those three years while she was recovering," said  Marysol Nieves, Christie's Latin American Art specialist.
The painting's appearance at auction is a rare event. Not only is Kahlo's body of work limited because she painted very little, but in 1984, all of her works were declared by Mexico to be national artistic monuments — preventing any works in the country from being taken abroad.
"Portrait of Cristina, My Sister" comes from the estate of music mogul Jerry Moss, the co-founder of A&M Records who died in August at age 88. Other  paintings from his collection that will be up for auction include works by Andy Warhol, Pablo Picasso and Tamara de Lempicka.
The auction will be held Nov. 9-10 at Christie's in Rockefeller Center, and is expected to generate US $50 million.
Bidding for "Portrait of Cristina, My Sister" is expected to start at US $8 million and go up to US $12 million, but "it seems to us that the estimate is conservative given the importance of this work within Kahlo's career as an artist," Nieves said.
Over the past few years, Kahlo's works have skyrocketed in value. In 2021, her 1949 painting "Diego y yo" (Diego and I) sold for US $34.9 million — a record for a Kahlo painting. (It had previously sold for US $1.4 million in 1990, at that time a record for a Latin American artwork.)
The work is expected to take over second place on the list of what Kahlo paintings have sold for, overtaking "Dos desnudos en un bosque" (Two Nudes in the Forest), which sold for US $8 million in 2016.