Mexico's handcraft traditions remain vibrant today because they are both conservative and innovative at the same time. They maintain a link to the past, often through form and or generations of artisans in the same family, but these same forms and artisans evolve to respond to their changing markets.
This fusion works best when artisans find ways to reinterpret culture on their own terms. One example of this is the humble cloth doll.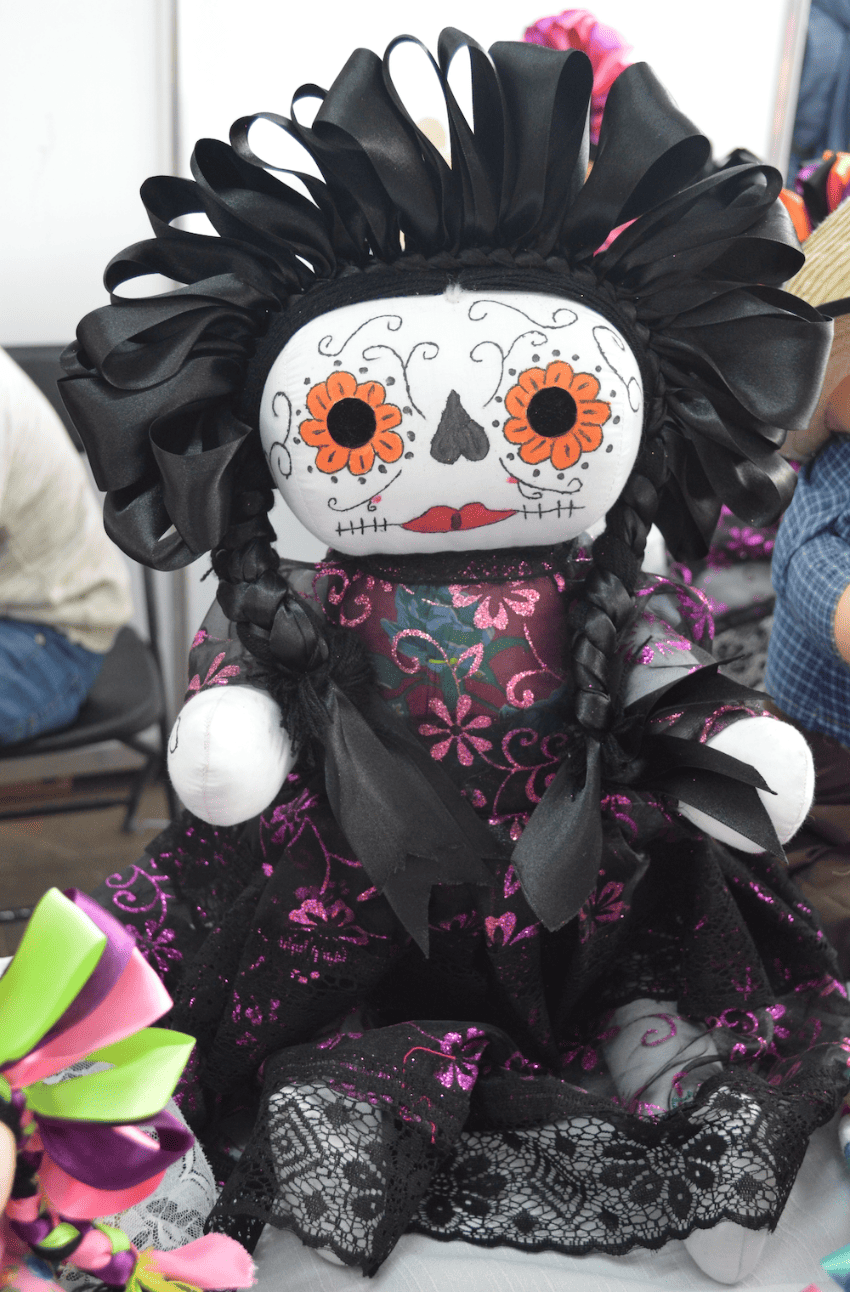 Mexico is not particularly well-known for its doll-making, although there is evidence of this from both the Mesoamerican and colonial periods. Like everywhere else in the world, these dolls' purpose is to pass down an image of society to those who will raise the next generation.
Dolls, like many toys, have always been made with whatever is available, though cloth did not fit the bill for most Mexicans economically, at least until the past century.
The María doll
In fact, the first example of an "indigenous" cloth doll handmade for commercial purposes is the María. She emerged in the 1970s when many Mazahua and Otomi women were eking out a living on the streets of Mexico City. Part of a program to improve their lives, the dolls are a rough approximation of a traditional Otomi and/or Mazahua woman, modified to be quick and easy to produce.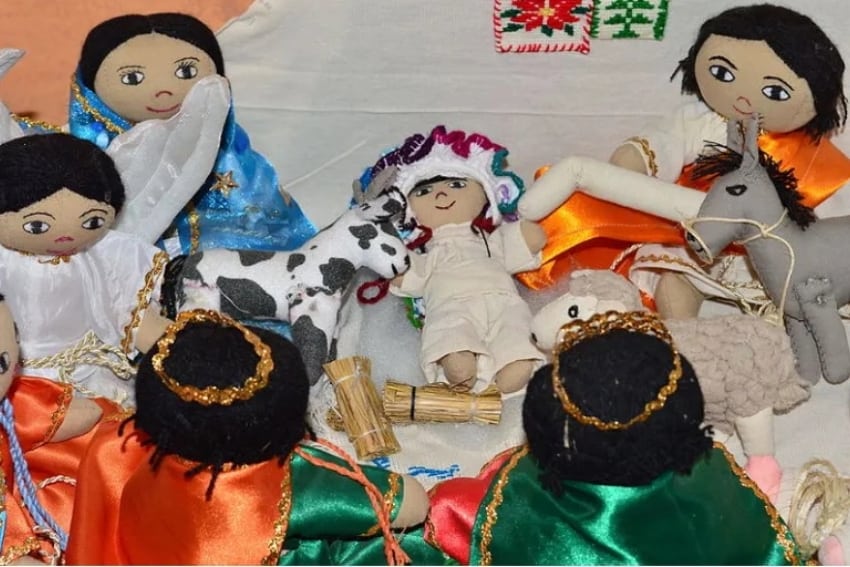 The doll became a very successful street item for some time, although today, they are somewhat harder to find in the capital.
The town of Amealco, Querétaro "took over" production of the María and is now seen as the center of the trade. Artisans living there learned to make the dolls from family in the city and over the past decades, these wide-faced dolls have become almost entirely associated with the Otomí community there – with some even claiming that the doll was invented in the town. With the doll image now internationally famous, María (or Leles as they are also known) has become a major industry for the municipality and the basis of its tourism.
Visiting this Pueblo Mágico, it looks like the dolls rule. With their signature wide faces, you can now find Leles dressed in all kinds of ways, especially during the town's annual doll fair in November. Interestingly, there is a cloth doll with a longer history in the same area, still found just outside Amealco in San Ildefonso Tultepec. Its body is made of two rolls of fabric in a cross pattern, with hair, face, and clothing added. 
Tlanezi dolls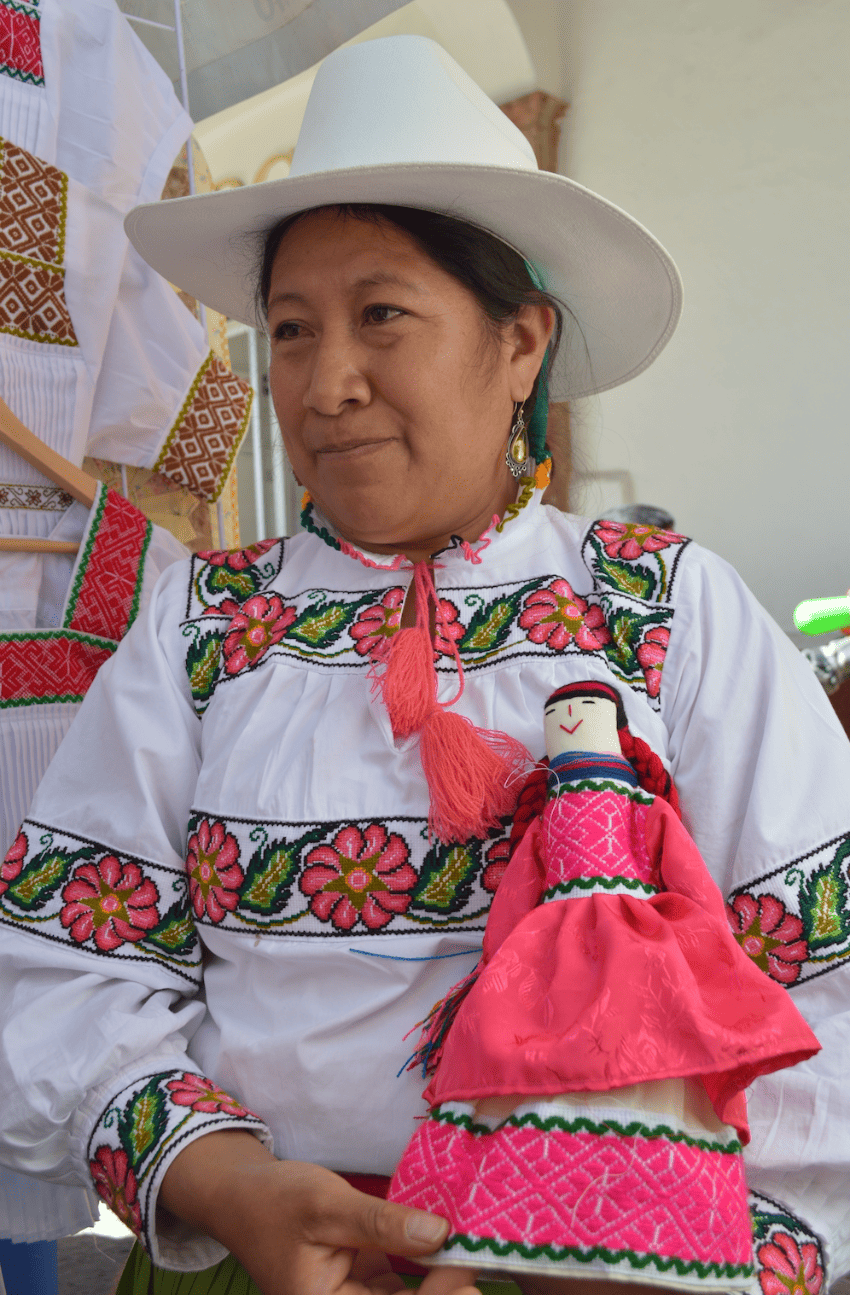 The success of the Marías has inspired a number of Indigenous (and other traditional communities) to try their hand at making them, especially in communities with a textile-making tradition. The main advantage of dolls is that they are quicker and easier to make and able to be sold for less than an intricately woven or embroidered full-sized garment. Dolls can bring in some money while artisans wait for special customers able and willing to pay thousands of pesos for something that took months to make.
One such community is the tiny Nahua community of San Juan Totolcintla, which lies along the banks of the Balsas River in Guerrero in the shadow of a giant suspension bridge that links Mexico City and Acapulco. Deep in this hot valley, life is very traditional and very difficult, with residents traditionally making a living from tomato farming. José Luis Juárez Baltazar wanted to provide the women here (almost all of whom are housewives) a way both to help support their families and maintain pride in their traditional identity. The result is Tlanezi which makes cloth dolls that can be found in both everyday and special festive wear. I met Júarez Baltazar initially at a craft fair and was more impressed with the dress than the doll itself. Three years later, I had the opportunity to visit the pueblo and was impressed by how much their doll-making skills had improved in such a short time.
Mixtecas dolls
Dolls can also tell a story of migration. At another fair, I was surprised to find dolls dressed in Mixtec clothing at a booth representing Baja California. The women who made them are indeed Mixtecs from Oaxaca and Puebla but now live in the desert north because there has been migration to work the large commercial fields in this state –so much so that the Mixtecs are now the largest Mexican indigenous group in Baja California. At this fair, Magdalena Ramirez Huerta of Creaciones Mixtecas Nuumi told me that they began by making Marias but soon shifted to a doll design that reflects their culture.
Zapatista dolls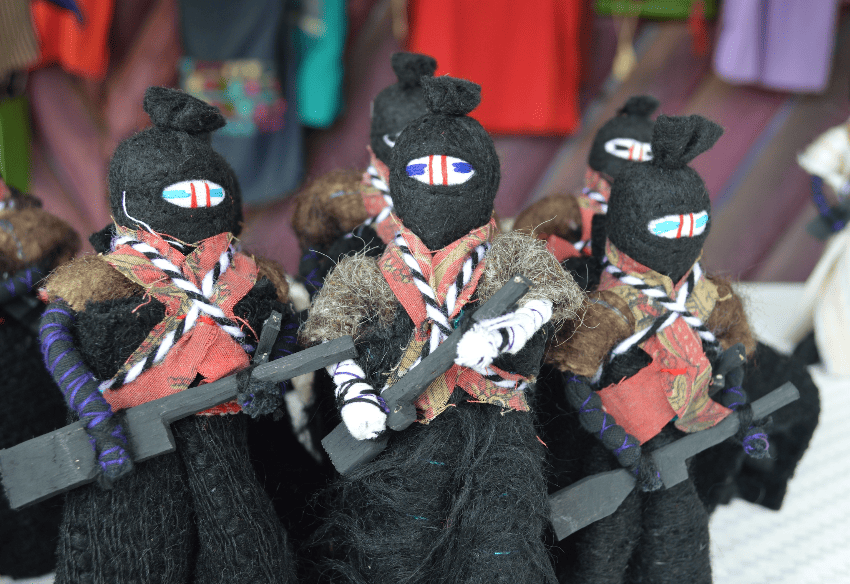 Not all forms of doll-making are new, and at least one is in danger of disappearing. The Pastitstan family in San Juan Chamula, Chiapas is one of the few who are still making Zapatista dolls. In 1994, the Zapatista movement erupted out of the Chiapan highlands and into international media, with its charismatic leader Subcomandante Marcos making the case that globalization threatened indigenous communities. This brought reporters and other foreigners to then-unknown Chiapas, and local artisans quickly learned that by dressing local dolls like the rebels, there was money to be made. As late as 2010, these Zapatista dolls were easy to find.
Not so today. Memories have faded and other things grab international attention, but this family in this highly traditional town continues to make both wood and cloth versions of Zapatistas, as well as depictions of traditional dress. But buy one if you can; it is not likely to survive another generation.
As a recent innovation, for many communities, variance in style and quality is quite wide. One common element is that the doll itself is always made with commercial cloth (handwoven would be too expensive for this), and often with less attention paid to whether the skin tone reflects that of the community.
However, the dress is always impeccable. Making a cloth doll may be new, but the clothing is just miniature versions of the garments that artisans have stitched their entire lives.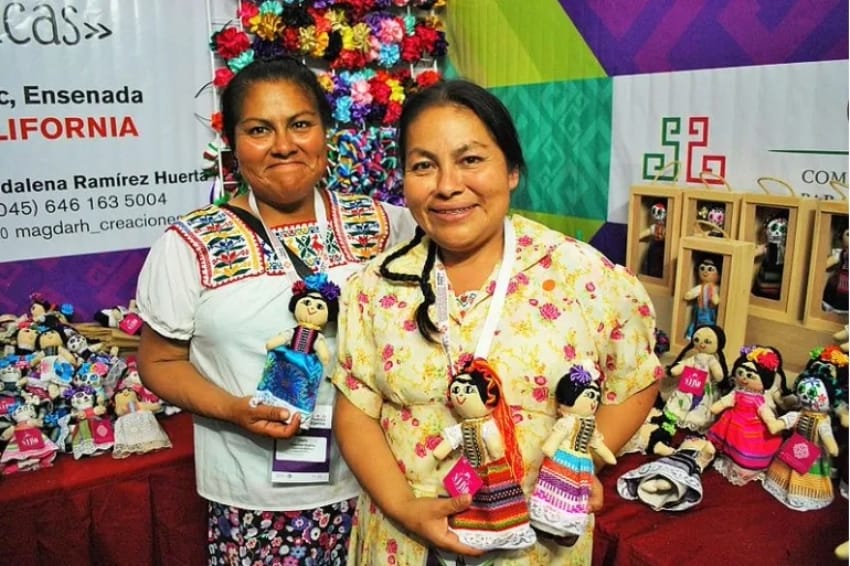 And it is this clothing that makes the dolls valuable in most cases. For handcraft and Indigenous culture aficionados, buying the dolls offers an affordable way to support artisans. Most artisans can (and do) sell traditional garments, but some of us outsiders may not feel comfortable wearing something like a full Tarahumara or Wirikuta ensemble. With a doll, you can appreciate the clothing's impact in its entirety without concerns of cultural appropriation.
But how to find and buy them?
Like other authentic and quality handcrafts, it is necessary to know where to look. With the exception of Amealco, there are no communities that specialize in doll making, although many do still offer them alongside their traditional wares. Your best bet is to keep an eye out for them at cultural fairs and folk art galleries and shops.
Whether dolls are an extension of tradition or innovation, they appeal to "kids of all ages" as a kind of reflection of those who make, play with and yes, collect them. They are truly folk art.
Leigh Thelmadatter arrived in Mexico over 20 years ago and fell in love with the land and the culture in particular its handcrafts and art. She is the author of Mexican Cartonería: Paper, Paste and Fiesta (Schiffer 2019). Her culture column appears regularly on Mexico News Daily.