Every year since 2004, the U.S. nonprofit Environmental Working Group comes out with a list of what they call the "Dirty Dozen" — the fruits and vegetables shown to have the highest amounts of harmful pesticides present at the time of purchase by the consumer. That list is one of the reasons I don't ever eat strawberries unless I know the grower, and also why I choose farmers' markets whenever possible. 
What I didn't know, though, is that EWG also releases a "Clean Fifteen" list of the fruits and veggies with the least amount of pesticide residues on them. And while pesticides were present in small amounts in some of the produce categories, the percentages are nothing like the worst offenders in the "Dirty Dozen" list. 
In reality, the results are a mixed bag. Should we feel OK about the fact that "samples from the top six produce items on the list didn't test positive for more than three pesticides?" Or that "almost 65% of Clean Fifteen fruit and vegetable samples had no detectable pesticide residues?" Uhhhh, yes?
Not to be ignored is the fact that these tests were done in the U.S. To be sure, much of the commercial and mainstream organic produce sold there comes from Mexico — where pesticide use is much more loosely regulated — but these lists are still a worthwhile barometer of what's going on out there in the fields and orchards.
The lists are results of tests run on more than 46,000 fruit and vegetable samples. You can read the full report in EWG's 2023 Shopper's Guide to Pesticides in Produce, but here are this year's winners and losers and a few recipes to keep you on track and a bit more pesticide-free.
The best and most reliable way to ensure your produce is pesticide-free is to eat organic, especially if you can buy direct from the farmer at a local farmers' market. That's not always possible, of course. A mistake many people make in Mexico is assuming that vendors at their local mercado are the actual growers and that the produce is organic. Ninety-nine times out of 100, that's not the case, though; they're middle-men selling commercially grown produce.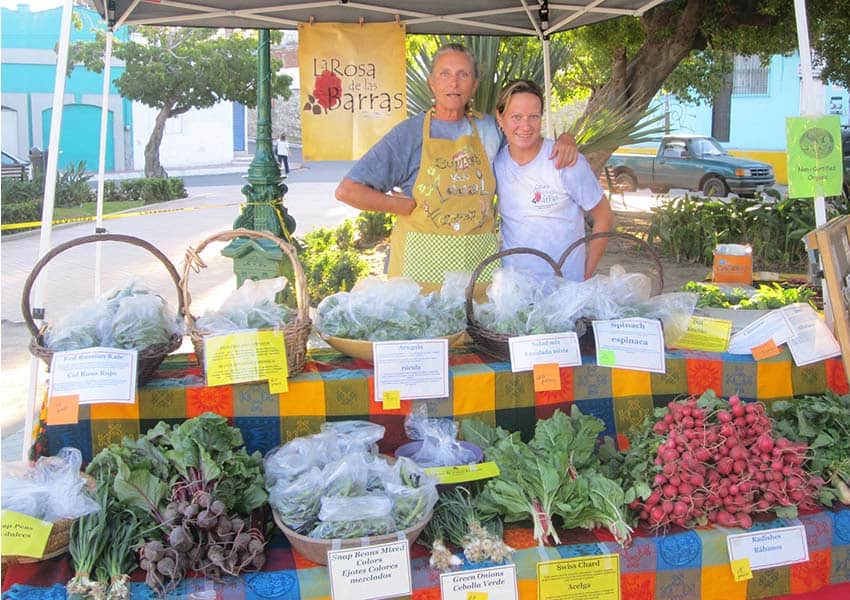 2023's "Clean Fifteen" 
Avocados and sweet corn are the stars of this year's "Clean Fifteen" list, with less than 2% of the samples exhibiting any measurable pesticides:
Avocados

Sweet corn

Onions

Sweet peas (frozen)

Asparagus

Honeydew melon

Kiwi

Mushrooms

Sweet potatoes

Carrots
On the other side of the spectrum are the "Dirty Dozen" — fruits and vegetables with the most pesticide residues. Kale, collard and mustard greens and peppers of all varieties had the most, but every crop on this list had residues of at least 10 different pesticides.  
2023's "Dirty Dozen" 
Strawberries

Spinach

Kale, collard and mustard greens

Peaches

Pears

Nectarines

Apples

Grapes

Bell and hot peppers

Cherries

Blueberries

Green beans
Want to try using the Clean 15 as your eating guide? Here are a couple of easy recipes to get you started: 
Crispy Avocado Fries
1 cup panko 

1 Tbsp. plus 1 tsp. Tajín (optional)

½ -1 tsp. salt

½ tsp. garlic powder

2 Tbsp. olive oil

1 large egg

3 medium ripe but firm avocados 

Optional

: Chipotle mayonnaise, ranch dressing, hot sauce, etc. for serving 
In a medium bowl, lightly crush the panko with your hands until it is sandy in texture. Stir in Tajín (if using), salt and garlic powder. Drizzle in olive oil and mix well. In another small bowl, lightly beat egg.
Halve and pit avocados. Lay them, flat side down, on a clean work surface; gently pull the peel back and discard. Slice each avocado lengthwise into 8 pieces. 
Working with one slice at a time, dip avocado in the beaten egg to coat. Lift and allow excess to drip off. Transfer to the panko mixture and gently toss to coat well. Transfer to a platter; repeat with remaining slices.
To make in the oven: Preheat to 425 F (220 C). Bake avocado fries on rimmed baking sheet for 18 minutes, flipping halfway through, until crisp and golden brown.
To make in an air fryer: Preheat to 350 F (175 C) on air-fry setting. Place 8 avocado slices into the air fryer basket and cook, flipping halfway through, until the fries are crisp and golden brown all over, 8 minutes. 
Repeat with remaining avocado slices. Serve immediately, with dipping sauces if desired.
Sour Cream and Onion Dip
2 Tbsp. vegetable oil

3 medium yellow onions

2 shallots

Salt and pepper

1 cup sour cream

1 cup full-fat sour cream or Greek yogurt

2 Tbsp. fresh lemon juice

1 clove garlic, finely grated

Olive oil, for drizzling

¼ cup finely chopped chives
Thinly slice onions and shallots. Heat oil in a large skillet over medium heat. Add onions and shallots to pan; season with salt and pepper. Cook, stirring, until onions are softened and turning golden brown, 15–20 minutes. 
Reduce heat to low and continue cooking, stirring often so onions don't stick to the bottom of the pan. Cook until onions are deep golden brown and reduced by about half, another 45 minutes. (Resist the urge to turn up the heat to make them caramelize faster.)
Transfer onions and shallots to a cutting board, and finely chop. Place in a large bowl; add sour cream, yogurt, lemon juice and garlic. Season with salt and pepper. 
Transfer to serving bowl, drizzle with olive oil, season with pepper and sprinkle with chives.
Janet Blaser is the author of the best-selling book, Why We Left: An Anthology of American Women Expats, featured on CNBC and MarketWatch. She has lived in Mexico since 2006. You can find her on Facebook.