Quietly, efficiently, and uncomplaining, iceberg lettuce does its job day in and day out. We put it in and on everything: our favorite burgers, timeless salads, beloved sandwiches. (Think BLT.) In Mexican cuisine, it's a ubiquitous ingredient in many dishes, from tacos to taquitos. Without iceberg lettuce, those classics would not be the same. 
What iceberg lettuce does so well (one could say perfectly) is balance other ingredients—the spicy, the chewy, the gooey, the rich and drippy, the umami flavor. Its refreshing, juicy crunch is absolutely welcome in the midst of a fried chicken sandwich or New Orleans po-boy; a relief in every bite of a spicy pastor taco, an essential layer in a taco salad. The classic Wedge Salad was first served as an accompaniment to big sizzling steaks in steakhouses of the 1960s for exactly this reason.
So why do we love to hate it so much? 
Iceberg wasn't always on the bottom of the lettuce heap. In fact, it and other crisp head lettuces were the most popular varieties until the 1970s, making up 95% of lettuces cultivated and consumed in the U.S. (Romaine, or cos, lettuce, is more popular in the Mediterranean, and only recently gained favor in other parts of the world.)
Then packaged salad mix appeared, touted as having more nutritional value than traditional iceberg. It quickly became the darling of the ever-fickle food world. Leaf lettuces were lurking too, but consumers—always looking for shortcuts—preferred the convenience of pre-washed, packaged products. 
Bagged mixed salad greens, though, are a mixed bag. (No pun intended.) They're washed in chlorinated water and then treated with a mixture of gases known as "modified atmosphere" to give them a longer shelf life. You'll have to decide for yourself whether that feels OK to eat.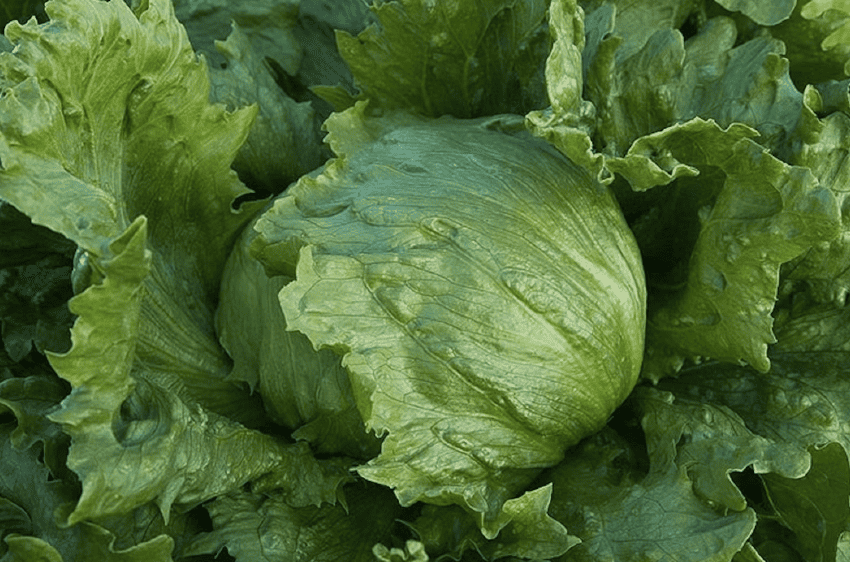 Back to iceberg lettuce: does it have less nutritional value than other lettuces? A good rule of thumb is the darker green the lettuce, the more vitamins it has—up to 20 times more, say food scientists. So what about Romaine? If, like me, you prefer the white crunchy inner leaves of Romaine, the difference may be negligible. Darker leaf lettuces have more nutrients (most notably vitamin K and vitamin A) and are always a healthy choice. 
But the truth is, we're not eating iceberg lettuce for its vitamins; we're eating it for the juicy crunch it adds to a dish. 
The trick is to find really fresh and if possible, locally grown heads of iceberg lettuce. They will be sweet and juicy, never bitter or bland. Look in your local markets, farmers' markets, or even specialty grocery stores. Many years ago, when I lived in rural Pennsylvania, I grew iceberg lettuce. Flavorful, crunchy, and juicy, the difference between my garden-grown heads and what was in the grocery stores was dramatic, the same as a just-picked, vine-ripened tomato vs. a commercially grown one. Fresh iceberg lettuce will have multiple layers of dark green leaves surrounding the inner white core—all edible, all healthy, and all delicious. Keep looking until you find one—they're out there somewhere. You won't be sorry.
Classic iceberg wedge salad
12-15 cherry tomatoes, cut in half

1 small shallot, peeled and diced (2 Tbsp.)

2 Tbsp. red wine vinegar

Salt and freshly ground black pepper

2 thick slices bacon, cooked, drained and crumbled

8 oz. blue cheese, crumbled

¼ cup buttermilk

2 Tbsp. mayonnaise

1 Tbsp. olive oil

1 tsp. lemon juice

Dash Worcestershire sauce, to taste

1 large head iceberg lettuce, the outer leaves removed, cut into 4 wedges

2 Tbsp. minced chives
Combine the tomatoes, shallots, and vinegar in a small bowl. Sprinkle with salt and black pepper to taste. Set aside.
To make dressing, put half the cheese into a medium bowl; mash with a whisk. Add buttermilk, mayonnaise, olive oil, lemon juice and Worcestershire sauce. Mash and whisk until mostly smooth. Adjust seasonings and set aside.
To assemble, place one wedge of lettuce on each plate. Gently spoon dressing over it. Sprinkle with crumbled bacon, the dressed tomato halves, remaining blue cheese and minced chives.
Stir-fried iceberg lettuce with shrimp
2 Tbsp. soy sauce

1 Tbsp. sesame oil

2 tsp. rice wine vinegar

1 tsp. sugar

1 Tbsp. cornstarch

2 Tbsp. peanut or other neutral oil

2 Tbsp. minced garlic

1 Tbsp. grated or minced fresh ginger

1 medium head iceberg lettuce, cored and shredded

½-¾ lb. medium shrimp, shelled, cleaned and deveined

Salt & pepper

¼ cup chopped scallion, plus more for garnish
Combine soy sauce, sesame oil, rice wine, sugar and cornstarch in a small bowl and mix well. Set aside.
In a large, deep skillet over medium-high heat, add 1 Tbsp. peanut oil, swirl it around and immediately add garlic and ginger. Cook 15 seconds, stirring, then add scallion and lettuce. Raise heat to high and cook, stirring occasionally, until lettuce barely softens, about 2 minutes, being careful not to overcook or it will get mushy. Transfer to a plate and set aside.
Turn heat down to medium, add remaining tablespoon of oil, let it get hot, then add shrimp and sprinkle with salt and pepper. Raise heat to high and cook, stirring, 2-3 minutes until shrimp turn white and are no longer translucent.
Reduce heat to medium, return lettuce to pan, and toss once or twice. Stir cornstarch sauce and add to pan. Cook quickly until everything is warmed through and sauce thickens. Garnish with chopped scallions and serve immediately.
Janet Blaser is the author of the best-selling book, Why We Left: An Anthology of American Women Expats, featured on CNBC and MarketWatch. She has lived in Mexico since 2006. You can find her on Facebook.