Is it simply nostalgia that makes me yearn for chocolate cake? No sé. But it's certainly the case that sometimes nothing hits the proverbial spot like a rich, dark, moist and thickly frosted piece of chocolate cake. 
What follows is one of my favorite recipes; I've been making it for more than 35 years and it's still in my regular dessert repertoire. When my kids were little (three of them, two years apart), this was a godsend and a great bribe to get them to eat their dinner.  
It's easy — all the ingredients are mixed in the pan you're going to bake in — dairy free and totally dependable. If you like, you can make some frosting, but it's really not necessary. On its own, it's perfectly delicious.
You can find this recipe all over the place, usually called something like One-Pan Chocolate Cake. I originally found it in a small recipe booklet put out by Hershey's, and now I almost know it by heart. If you wanted, you could call this a vegan cake, as it has no animal products (eggs or butter). I've included an applesauce spice version too, in case that's your fancy. 
Full disclosure: often I mix this in a bowl and then pour the batter into a square pan; I find it hard to stir in square corners. 
As always with a simple recipe that has few ingredients, you'll want to use the best quality of each. Hershey's cocoa will be OK, but Ghirardelli Dutch process cocoa will yield a far superior, darker and more flavorful cake. Same thing with chocolate chips — if you decide to add some; yes, you can use store brand, but the flavor won't be the same; they are sweeter and less chocolatey than a brand that builds its reputation on the flavor of its chocolate.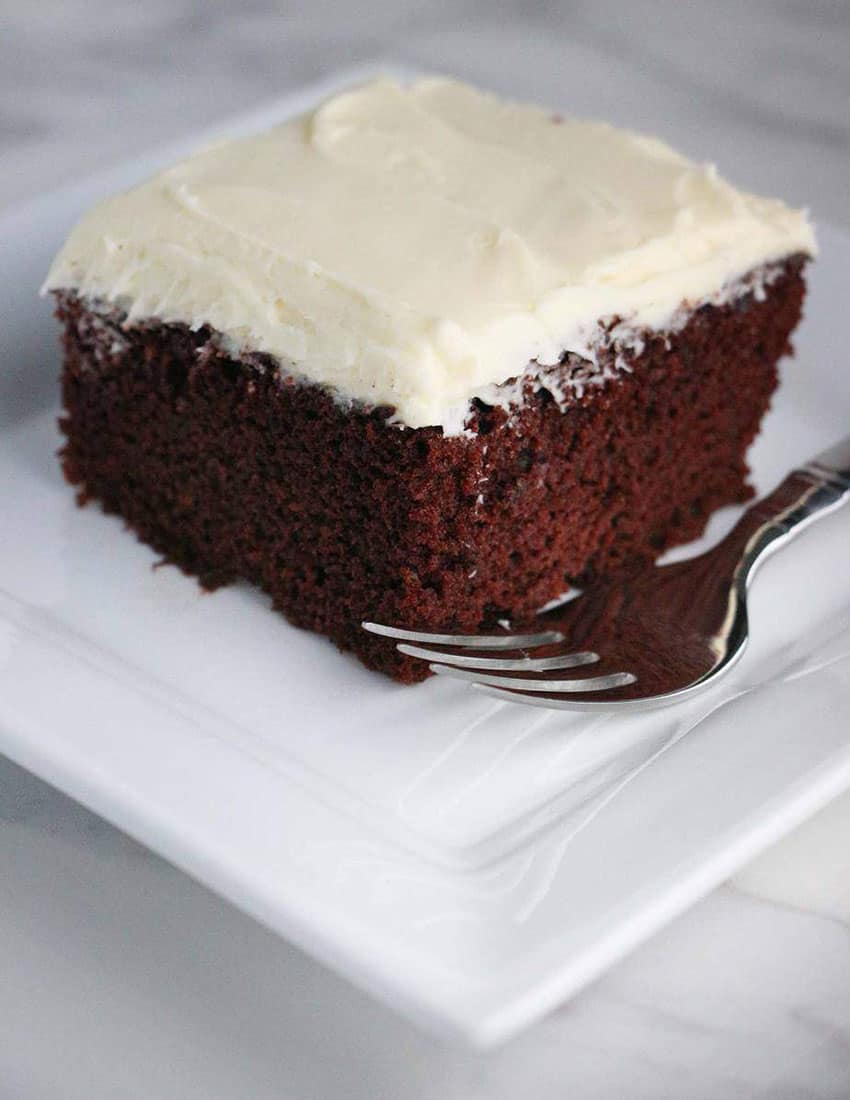 I realize these kinds of ingredients can be difficult or even impossible to find in Mexico, and will cost more, but you'll be much happier if you use them. I have a shortlist of things that I ask visitors to bring if they're able, and cocoa and chocolate chips are on it. 
Two more caveats: Don't overcook this cake! Time it carefully and test for doneness about five minutes before it's supposed to be ready. If a knife inserted in the center comes out clean, take it out of the oven. Part of its glory lies in its luscious moistness. 
One more thing: It only keeps for about three days before it gets noticeably dry, even if refrigerated. Still edible, but not the same. That just means you have to eat it quickly or share with neighbors. 
Speaking of friends, I can't tell you how happy people are when I show up at a potluck, party or get-together with this chocolate cake! It brings a smile to everyone's face, and it's easy to double the recipe and make it in a 13×9-inch lasagna pan. Leave it plain, or top with chocolate or vanilla icing, sprinkled with powdered sugar, spread with cherry or raspberry preserves or serve with a scoop of vanilla or coffee ice cream on the side. 
Mix-In-The-Pan Chocolate Cake
1 ⅔ cups flour

1 cup white sugar, grated

piloncillo

or packed brown sugar

¼  cup unsweetened cocoa powder (Dutch process if possible)

1 tsp. baking soda

½ tsp. salt

1 cup water OR ½ cup water and ½ cup cooled fresh-brewed coffee

⅓ cup melted butter, coconut oil or mild vegetable oil

1 tsp. white vinegar or apple cider vinegar

1½ tsp. vanilla extract

Optional

: 2 Tbsp. chocolate chips, unsweetened dried coconut, powdered sugar
Heat oven to 350 F (177 C). Using a fork or small whisk, mix flour, sugar, baking soda and salt in an ungreased square pan, 8x8x2 inches, or an 8- or 9-inch round cake pan. Mix in remaining ingredients using a small spatula or fork, stirring thoroughly to be sure ingredients are completely incorporated. (If you like, sprinkle ½ cup chocolate chips or coconut over top before baking.) Use a damp paper towel to clean off the edges of the pan, if needed.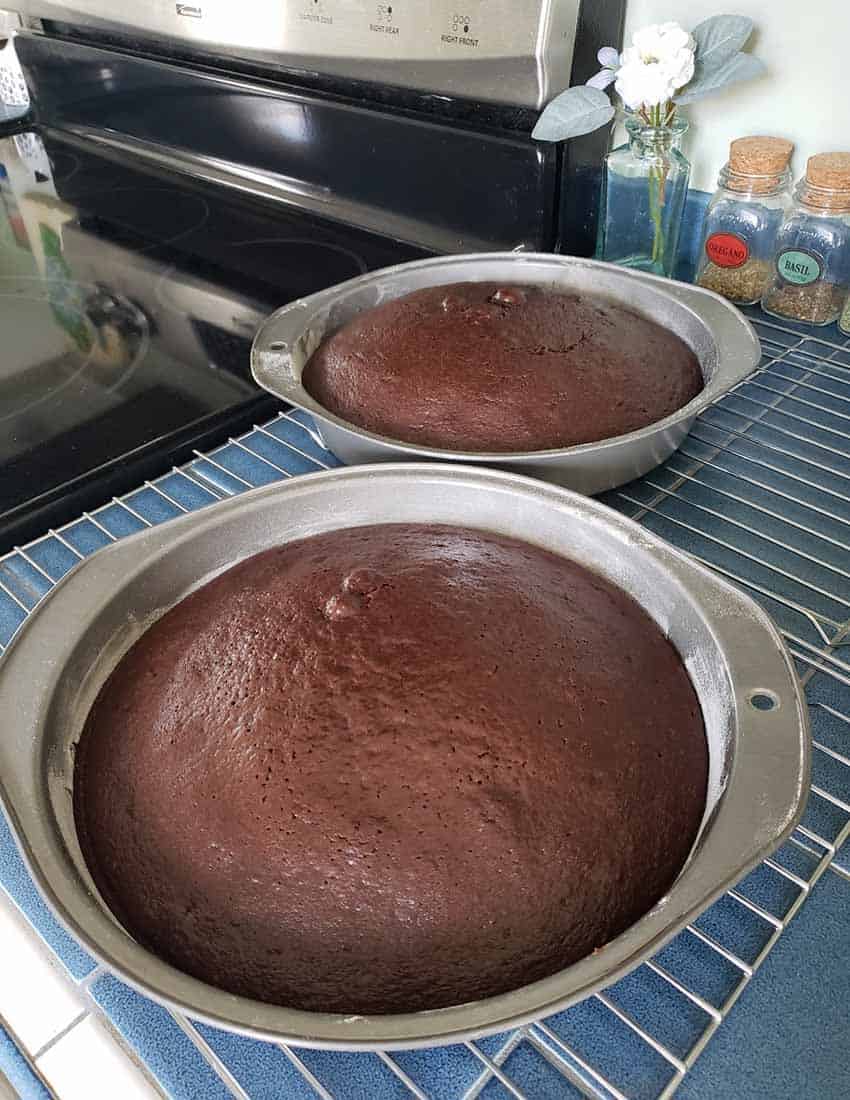 Bake about 30–35 minutes until knife inserted in center comes out clean, being careful not to overcook. Remove from oven, and cool on rack. Once cool, if desired, dust with powdered sugar.
For cupcakes: Line and fill 10 cupcake tins. Bake 20–25 minutes till knife inserted in center comes out clean. 
For Applesauce Spice Cake: Omit cocoa. Mix 1½ tsp. allspice or cinnamon into flour mixture. Decrease water to ½ cup and stir in ½ cup unsweetened applesauce. If desired, add ½ cup raisins and/or ½ cup chopped pecans. Bake as above.
Continental Frosting
1 cup milk

6 Tbsp. flour

16 Tbsp. (2 sticks or 1 cup) butter, softened

1 ½ cups sifted confectioners' sugar (known in Mexico as

azucar glas

)

1 tsp. vanilla
In a saucepan, whisk milk and flour until smooth. Bring to a boil over medium heat; boil 1 minute, stirring constantly to prevent burning. Mixture will be very stiff. Remove from heat and let stand until cool. 
With an electric mixer, beat butter, sugar and vanilla until light and fluffy, about 2 minutes. Add the cooled milk/flour mixture and continue beating at high speed for about 2 more minutes until the frosting is soft, light and fluffy. Makes enough for 2 layers or one 13×9-inch cake.
Janet Blaser is the author of the best-selling book, Why We Left: An Anthology of American Women Expats, featured on CNBC and MarketWatch. She has lived in Mexico since 2006. You can find her on Facebook.