Thumbnail-size Oreos and Chips Ahoy cookies. Pancakes the size of a dime (or peso). Even mini-carrots, which aren't really baby carrots, but rather big ones cut small. And really, what are sliders but burgers in miniature? Hello, taquitos! 
The truth is, when foods are made smaller than they usually are, we're charmed and attracted and they seem to taste better too. 
The same holds true for pie: whether you call 'em "hand pies" or pastelitos, turnovers or empanadas, there's just something charming about the small size. And with a warm mango filling?! 'Nuff said.
Of course, it's perfectly OK to use frozen puff pastry (if you're lucky enough to find it!) or a frozen pie shell, rolled out to the shape you want. The advantage of using puff pastry — besides the fact that it's already made — is that the finished pie crust will have many luscious, flaky layers.
There's no need to start from scratch, because when all is said and done, everyone loves pie, however the crust was made. That said, I'm going to share my Missouri farm-girl mother's never-fail pie crust recipe. (See below.)
In Mexico, mango season is in full swing, and using them as the filling in hand pies just seemed natural. Where I live, in Mazatlán, they're everywhere: in all the stores and fruterías, hanging from big trees in neighborhoods all over town. In the mercados, you'll see a handful of varieties, each with a slightly different flavor and texture.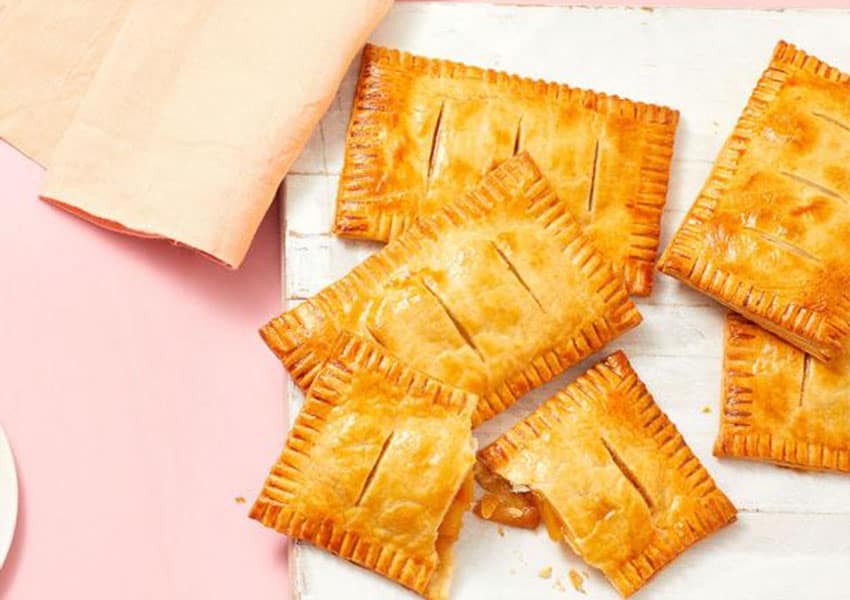 I personally don't like the thin, yellow Ataulfo mangos as much as the rounder, red-and-green Kent and Tommy Atkins, but any kind will work in this recipe. Look for ripe but firm mangos that smell sweet but feel like they can be cut up easily without turning into mush.
The tricky piece of this recipe is, of course, the crust. It's already so hot and humid here that I had to keep putting the dough back in the fridge to keep it from getting too soft to roll out. If it's the same where you are, keep that in mind, or start your baking during a cooler part of the day or evening.
Don't leave out the sugar — it's more to help with thickening than with sweetening. The other challenge is to not eat all the filling; it tastes so good! I thought about just making a yogurt parfait and calling it quits. 
This master recipe will make delicious mango (or other fruit, like blueberry, apple or guava paste) hand pies. (If you use berries you may need more cornstarch.) 
Mango Hand Pies
Pastry:
2 cups white flour

2-4 Tbsp. sugar

½ tsp. salt

10 Tbsp. butter, cold, cut into pats

5-6 Tbsp. ice water
Filling:
About 2 cups fresh mango, diced

2 Tbsp. sugar

1 Tbsp. cornstarch (

fécula de maíz

)

1 tsp. lemon juice

½ tsp. vanilla extract

1 egg, beaten (for sealing dough)

Optional

: coarse or regular sugar for sprinkling on top
To make the pastry: whisk together flour, sugar and salt. Using your hands, work in the butter until pecan-sized lumps form. Add ice water to flour mixture, a few tablespoons at a time, mixing to make a cohesive dough. Wrap in plastic or place in a glass or plastic container you can seal and refrigerate for at least one hour.
To make the filling: Combine mango cubes, cornstarch, sugar, lemon/lime juice and vanilla in a saucepan over medium heat. Cook, stirring, until mixture just begins to thicken, about 4–5 minutes. Be careful it doesn't burn! Transfer to a bowl, cool to room temperature.
Preheat oven to 350 F (177 C). Lightly grease a baking sheet or line it with parchment.
To assemble: Divide dough in half; refrigerate one piece. Place other piece of dough on a lightly floured work surface and roll it into a big rectangle. Trim the edges to make them straight. Cut out 3"x6" rectangles or use a big glass to cut an even number of 3" circles. 
Spread a heaping tablespoon or so of filling in the center of each rectangle or circle. For rectangles, fold in half, pressing edges firmly together and then sealing using the times of a fork. 
For rounds, place a dough circle over the filling, stretching the edges. Press firmly all the way around and then use a fork to seal. 
Poke the fork once or twice into the top of the pies for venting. Brush tops of the pies with beaten egg (this gives them a beautiful golden color). Sprinkle with sugar. Transfer to baking sheet. Bake for 28-33 minutes until light golden brown. Repeat process with remaining dough. Remove from oven, cool a little and eat.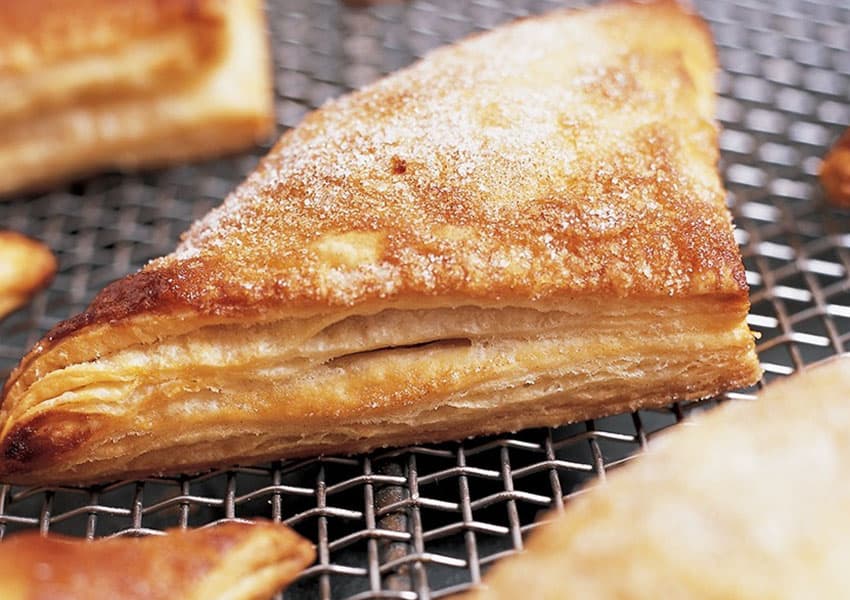 "Wake & Bake" Mango Turnovers
If you're lucky enough to be able to find frozen puff pastry, here's an even simpler recipe.
2 cups diced fresh mangos

2 tsp. brown sugar

4 tsp. white sugar, divided

2 tsp. instant tapioca OR 1 Tbsp. cornstarch

½ tsp. salt

¼ tsp. lemon/lime juice 

1 (17.3 ounce) package puff pastry

1 egg, lightly beaten 

Optional

: ½ tsp. cinnamon
Preheat oven to 375°F (190°C). Line two baking sheets with parchment paper. In a medium bowl, combine diced mangos, brown sugar, 2 tsp. white sugar, tapioca or cornstarch, salt, citrus juice and cinnamon, if using. Let stand 10 minutes.
Unfold puff pastry sheets onto a clean work surface. Cut each sheet of pastry into four rectangles.
Top one half of each rectangle with mango filling. Fold the pastry over the filling to form a triangle, pressing out excess air. Use your fingers or a fork to press and seal the pastry together. 
Transfer to prepared baking sheet and repeat with remaining squares. Brush each hand pie with egg wash and sprinkle with remaining sugar. Use a knife or fork to make three small slits on top of each pastry. Bake until golden, about 15 minutes. Best served warm.
Janet Blaser is the author of the best-selling book, Why We Left: An Anthology of American Women Expats, featured on CNBC and MarketWatch. She has lived in Mexico since 2006. You can find her on Facebook.