Living on the coast as I do, it's a constant surprise to hear that in other parts of Mexico — Guanajuato, San Miguel de Allende, Ajijic — folks aren't roasting in the sweltering heat and humidity like we are here. How hot is it, you might wonder? Well, I just turned my hot water heater off; the oven hasn't been used in weeks and won't be for many more to come. I wear as few items of clothing as decently possible, and the a/c is my closest and most constant companion. 
Yet one must eat, and food must be made (or, ahem, ordered). At this point I tend to gravitate towards salads, sandwiches — hot or cold — and easily made stovetop meals. I will also say that desserts somehow seem more justifiable now, maybe as a reward for making it through yet another blistering day.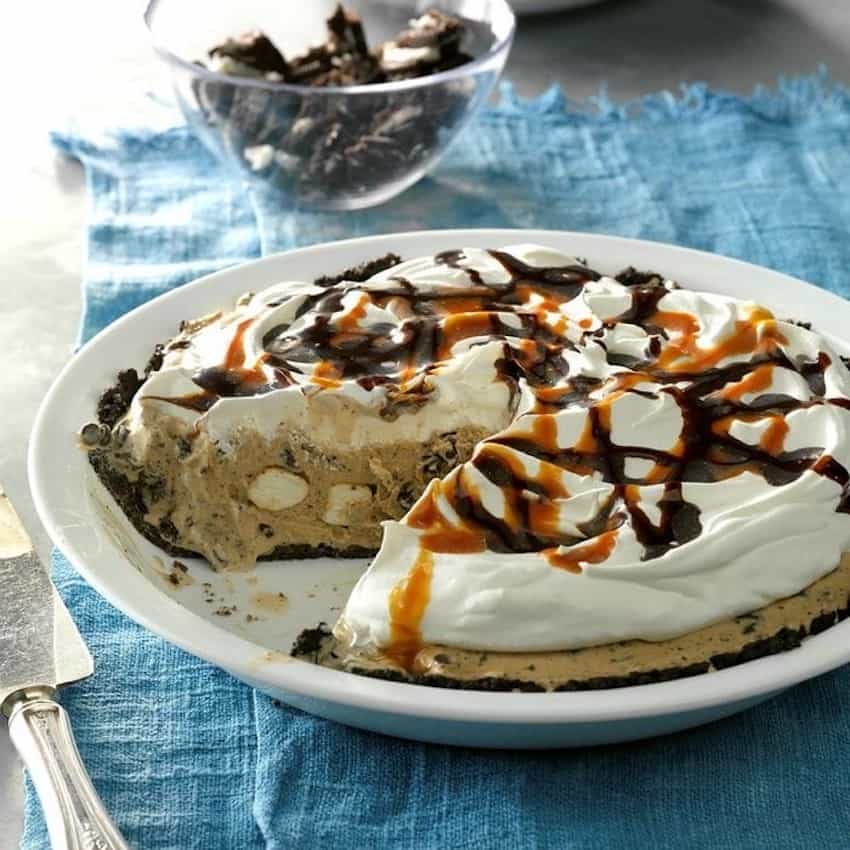 And that brings us to ice cream pie. 
Had I ever made one before? Sadly, I had not. But there's no time like the present! 
Like any pie, this one starts with a crust — in this case, a graham cracker or chocolate cookie crust. If you're able, just buy one; otherwise, find recipes below. Choose your ice cream flavor(s) and let it soften to make it easier to work with; you'll need about a half-gallon of ice cream per pie.
Next, spread half the ice cream (or one flavor) in an even layer onto the crust. Drizzle this with some kind of yummy sauce: dulce de leche, chocolate, caramel or strawberry. Now sprinkle with your add-ins of choice: nuts, sprinkles, white or dark chocolate chips, crumbled cookies, candy bars or peppermint candies, whatever you fancy. (Imagine an ice cream parlor and let your imagination run wild.) Then spread the top layer of ice cream evenly over everything, drizzle again with your sauce of choice and garnish with some of the add-ins. This second ice cream layer can be the same flavor or a different one.
Cover the pie with foil or plastic wrap and freeze for several hours or overnight. Before serving, let the pie sit at room temperature for a few minutes so it's easier to slice. Running your knife under hot water before slicing will help too. An ice cream pie will keep about a week in the freezer, as long as it's covered well and airtight, making it a perfect make-ahead dessert for a dinner party.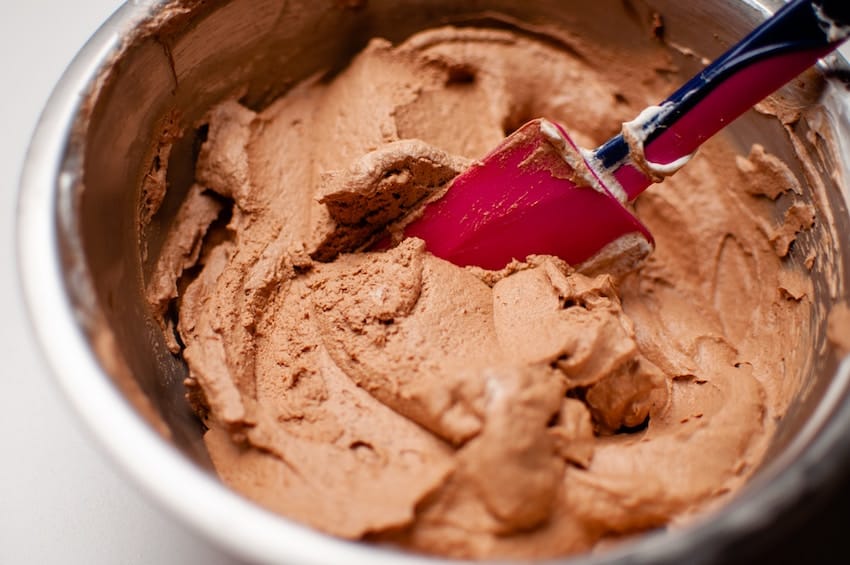 A note about Oreos: The reason they're the go-to for something like this is because of their dense, dark chocolate flavor, a result of the Dutch process cocoa traditionally used in these cookies. That's why the color is so dark and chocolate flavor so rich. 
To get you started, here are some tried-and-true flavor variations: 
Strawberries & Cream:

Vanilla or strawberry ice cream, strawberry jam and sliced fresh strawberries. Throw in some blueberries for even more color.

Choco Mint:

Mint chocolate chip ice cream, hot fudge sauce, and crushed Andes mint candies or peppermints in a chocolate cookie crust.

Coffee Toffee.

Vanilla or coffee ice cream,

dulce de leche

or caramel sauce, crushed Heath bars, with a graham cracker crust.

Cookies & Cream.

Vanilla ice cream, hot fudge sauce and crushed Oreo cookies in a chocolate cookie crust.

Chocolate-Peanut Butter.

Peanut butter ice cream with hot fudge and crushed peanuts in a chocolate cookie crust.

Mango Madness:

Vanilla ice cream, chopped fresh mangos, shredded coconut and

dulce de leche

in a graham cracker crust.

Lemon Lime:

Vanilla ice cream, lemon and lime zest, a few squeezes of juice (or limoncello liqueur if you can get it), crumbled vanilla wafers, Dorados or Marias cookies.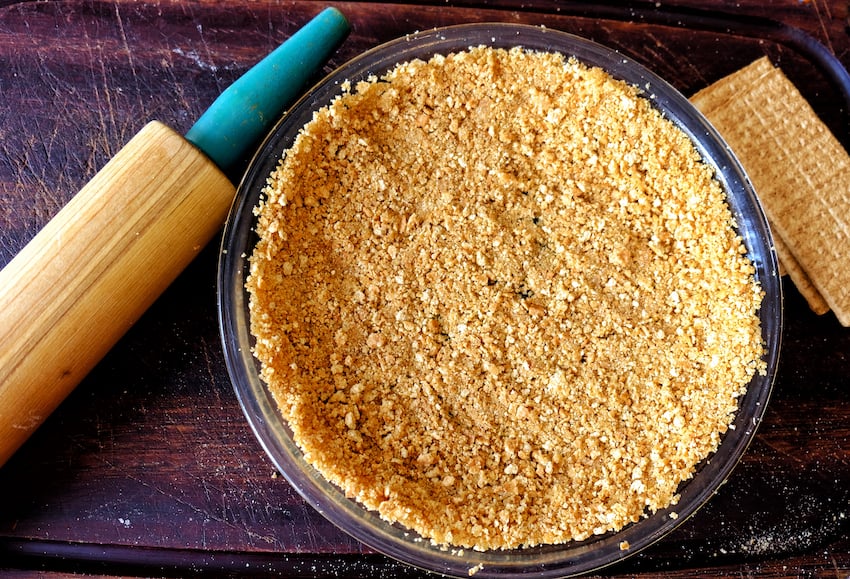 Baked Graham Cracker Crust
1¼ cups graham cracker* crumbs 

¼ cup sugar

5 Tbsp. butter, melted
Combine all ingredients and mix until texture is like wet sand. Press crumbs into an 8- or 9-inch pie pan, pushing crumbs up the sides. Bake at 350F (177C) for 10 minutes or until lightly golden brown. Remove from oven and cool completely before using.
*Nabisco makes "Honey Bran" graham crackers that you should be able to find in any big grocery store. Otherwise, Gamesa's "Marías" cookies will work.
Classic Oreo cookie crust
2 cups Oreo cookie crumbs, made from the cookies only (about 24 standard-sized Oreos)

4 Tbsp. unsalted butter, melted 

½ tsp. salt
Heat oven to 350F (177C). Process Oreos in a food processor until fine crumbs form. Add melted butter and salt; process until crumbs are evenly moistened. Spoon mixture into a 9-inch pie pan, and press crumbs evenly into the bottom and sides of the pan. Bake until crust is fragrant and set, about 12 minutes. Remove from oven and cool completely before using.
No-Churn Lime Ice Cream Pie
½ cup fresh lime juice

1 Tbsp. freshly grated lime zest, plus more for garnish

¾ cup sweetened condensed milk

1 cup heavy cream

¼ tsp. kosher salt

Store-bought or homemade graham cracker crust
In a medium mixing bowl, whisk lime juice, zest, condensed milk and cream. Stir until mixture thickens, for about 1 minute. Add salt.
Pour ice cream base into crust, spreading it evenly with a rubber spatula. Chill in freezer until firm, 2-3 hours or overnight. Let pie sit out on counter for 5 minutes before slicing. Garnish with lime zest and serve.
Janet Blaser is the author of the best-selling book, Why We Left: An Anthology of American Women Expats, featured on CNBC and MarketWatch. She has lived in Mexico since 2006. You can find her on Facebook.