Chilaquiles—or "breakfast nachos," as I like to call them—seem like such a simple thing to make. Grab a handful of chips, add a protein (a couple of fried eggs, leftover grilled chicken, or a spoonful of refried or whole beans), some melty cheese, pour some salsa on top, and stick the whole thing in the toaster oven for a few minutes. Voila!
At least, that's what I'd planned to do the other day, but as I was rummaging around in the fridge I came across a small, sad bag of leftover corn tortillas. Hmmm, I thought, why not make my own chips? 
My friends, let me tell you: It was a game-changer.
The word "chilaquiles" is a Náhuatl word meaning "submerged in chili sauce." Some folks like the chips to be drenched or soaked in salsa; others (myself included) like 'em crisp. Either way, they're delicious.
Making your own tortilla chips is one of those little steps that takes any dish from basic to supreme, common to memorable, ho-hum to wow. It's why you can't resist ordering them at certain restaurants even though your rational mind is screaming that it's too much money for a pile of tortilla chips on a plate. It's a professional chef's secret that's easy to incorporate into your home kitchen repertoire and will make your friends and family talk about your chilaquiles (or nachos, tortilla soup, or guacamole and chips) like they were really something special. 
And they will be.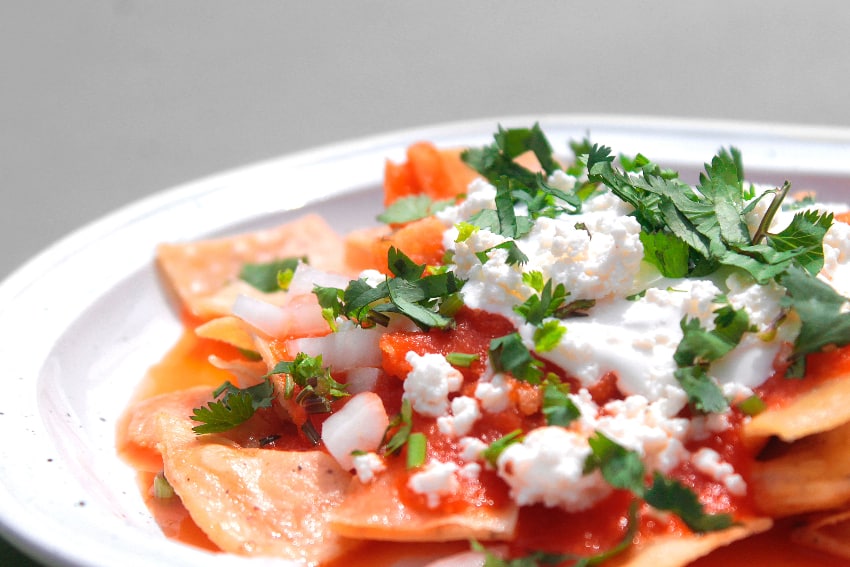 I'm not saying that a great salsa, creamy guacamole, charred poblano strips, spicy crumbled chorizo, or any number of fantastic add-on ingredients won't also up your chilaquiles game; they will. (The recipe below includes a delectable smoky guajillo chile salsa.) But the chips are the foundation, and you want them to be the best they can be.
I'd always assumed tortilla chips had to be deep-fried to be any good. Well, that's not true. If you want to make 'em that way—in a deep pot with 2-4 inches of hot oil at just the right temperature—go right ahead. But it's not necessary. Sautéed in just enough hot oil or fat to cover, your corn chips will be fantastic in a way you never knew was possible. 
Here's how to do it: Cut corn tortillas into the shape you want, either strips or triangles. Old, stale ones are OK and in fact, some say they work the best. You want the pieces to be flat, so don't use any tortillas with curled edges or that have gotten bent. (If you were deep-frying the tortilla pieces this wouldn't matter.)
Pour about ¼ -inch of oil into whatever size non-stick frying pan you're using. Heat the oil on medium-high until it's hot: shimmering but not smoking. Carefully place the tortilla strips or pieces into the oil, being careful not to crowd them or the oil will lose too much heat too fast and they won't cook properly. 
Over high heat, cook for a few minutes, watching carefully, until the edges begin to brown a little. Carefully flip the pieces and cook the other side. They will continue to cook after you remove them from the oil so don't let them get too dark. Lift out with a slotted spatula and place on a paper towel-lined plate to drain and cool. Sprinkle with salt and serve immediately.
Quick 'n' Easy Chilaquiles for One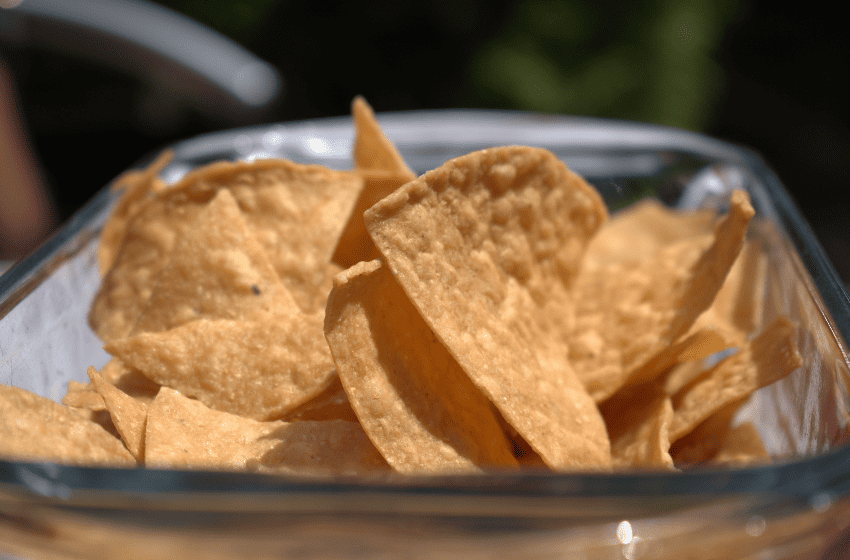 About 2 cups of fresh-made tortilla chips (see above)

Salsa of choice

Cooked or refried beans

Protein of choice: fried eggs, chorizo, grilled chicken

1 cup shredded Chihuahua, Jack or other meltable cheese

Toppings: crumbled

queso fresco

, minced cilantro, sliced avocados or guacamole,

crema

, pickled jalapeños
Mound chips on small baking tray. Add salsa, beans, chorizo or chicken and melting cheese. Broil in toaster oven for 5-8 minutes till cheese melts and salsa bubbles. Remove, add eggs or toppings, and serve. 
Sheet-Pan Chilaquiles with Guajillo Salsa
6 Roma tomatoes, quartered

1 small yellow onion, quartered

3 garlic cloves, halved lengthwise

1 jalapeño, stemmed, halved lengthwise

1¼ cups chicken broth

5 dried Guajillo chile peppers, stemmed, seeded and torn into large pieces

¼ cup canola oil

2 tsp. salt

½ tsp. ground coriander

8 oz. corn tortilla chips (about 4-5 cups)

4 cups shredded rotisserie chicken (from 1 whole chicken)

Toppings: Chopped onion, avocado or guacamole, crumbled

queso fresco, crema

, chopped cilantro and pickled jalapeños
On a sheet pan, combine tomatoes, onion, garlic, and jalapeño; broil (at about six inches from heat source) until lightly charred around the edges, turning occasionally, about 10-15 minutes. Transfer to blender.
Meanwhile, in a small saucepan combine broth and dried chiles. Bring to a boil, stirring occasionally. Remove from heat and set aside. To the blender add the rehydrated chiles with broth, oil, salt, and coriander; purée until smooth.
Heat oven to 425F (220C). On the same sheet pan (no need to wash), toss chips with 2 cups of salsa and then spread in an even layer. Toss chicken with remaining salsa and arrange on top of chips. Roast until warmed through, about 5 minutes. Garnish with preferred toppings and serve
Janet Blaser is the author of the best-selling book, Why We Left: An Anthology of American Women Expats, featured on CNBC and MarketWatch. She has lived in Mexico since 2006. You can find her on Facebook.