There's a good chance you've seen "verdolaga" or purslane in your local market or tianguis and didn't know what it was. Usually sold in big bunches tied around the bottom, the tiny round green leaves and reddish stems are thick and spongy, like the succulent that it is. (Think of a small jade plant.) 
Verdolaga doesn't look like any other vegetable I'd ever eaten and maybe that's why it took me so long to try it. But I moved to Mexico for an adventure and that includes what's on my plate! Plus, it turns out that purslane has the highest omega-3 levels of any plant, as well as some other pretty amazing nutritional qualities.
In Mexico, it's one of the traditional "quelites", or edible weeds, and has been eaten for centuries. 
Throughout Europe, Africa, India, the Middle East, Australia, China, and both Americas, purslane is a common vegetable, appearing raw and cooked in a myriad of dishes. Part of the reason is that it's a fast and easy-growing weed that springs up on its own in empty lots, between cultivated rows of other crops, in the cracks in city sidewalks and, somehow, in the same pot as the big palm on your balcony. How can that be? Mature plants release tens of thousands of seeds in their lifetime, and even the tiniest piece of a leaf or stem will take root in equally small bits of soil. Of course, purslane is cultivated too; some varieties for eating, others for their decorative pink, red, and yellow flowers. 
Besides the rich levels of omerga-3 fatty acids, it has six times the Vitamin E of spinach and seven times more beta-carotene than carrots and some of the highest levels of ascorbic acid in the plant kingdom. Medicinally, it's used to treat headaches, osteoporosis, liver and stomach ailments, psoriasis, and has anti-inflammatory qualities. Look here for more detailed nutritional information.
On top of all that, verdolaga tastes good! Crunchy and fresh tasting with a slight lemony undertone, the tiniest new leaves at the top of the stems are the most delicious. If you've got live plants, pinch off these baby leaves and let the plant continue to grow.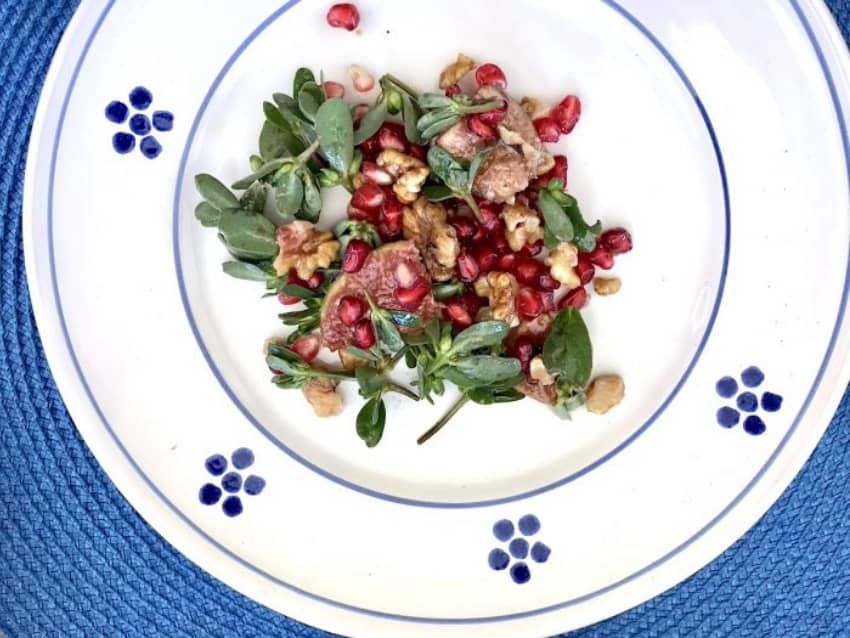 I find it a wonderful flavor and textural addition to simple dishes like scrambled eggs, omelets, stir-fries or vegetable soups, and of course salads. Tuck some into a sandwich for extra crunch; use it in chili verde or paired with any pork dish. At its most basic, verdolaga can be sautéed with garlic and chopped tomatoes in olive oil and eaten with warm tortillas. 
Cucumber and purslane salad
½ cup

"

pepitas" (pumpkin seeds)

½ cup fresh lemon juice

¼ cup apple cider vinegar

1 cup olive oil

1 cup canola oil

Salt

4 cups cucumber, halved lengthwise, sliced into thick half-moons

¼ cup fresh lime juice

4 cups purslane (leaves and tender stems)

1 avocado, diced

1 cup crumbled "queso fresco"
On a baking sheet, roast pepitas in a 350F degree oven until browned and aromatic, about 10 minutes. Remove and let cool. Place half the cooked pepitas in a food processor and grind into a coarse powder. Add lemon juice and vinegar; mix well. With motor running, slowly stream in both oils until dressing emulsifies. Add salt to taste. 
Place cucumber and lime juice in serving bowl; let marinate 5 minutes. Stir, then add purslane, avocado and dressing to taste. Garnish with queso fresco and remaining pepitas and serve. 
Italian walnut, olive & purslane salad
About 4 cups purslane leaves and tender stems, washed and dried

6 medium white mushrooms, sliced

⅓ cup thinly sliced celery 

1 Tbsp. minced celery leaves

 ¼ cup broken walnuts

 12 kalamata olives, pitted and halved

 ¼ cup crumbled feta 

 1 Tbsp. red wine vinegar

 1 Tbsp. fresh lemon juice

 1 garlic clove, minced 

  Salt & pepper

  ⅓ cup olive oil
Combine purslane, mushrooms, celery, celery leaves, walnuts, olives, and feta in a large salad bowl. Whisk together the vinegar, lemon juice, garlic, salt, olive oil, and pepper. Toss with salad and serve.
Scrambled eggs with purslane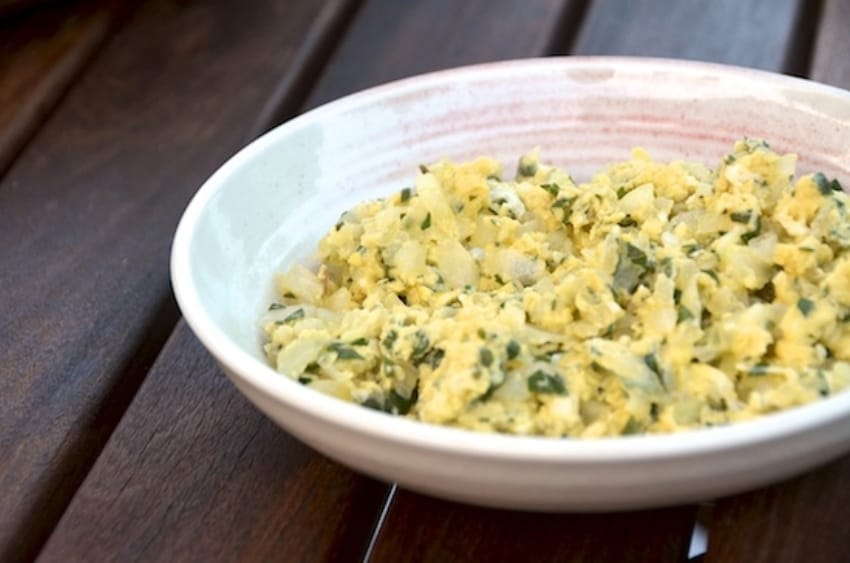 3 handfuls verdolaga

6 eggs

1 onion, finely chopped

Salt and pepper 

2 Tbsp. olive oil 
Thoroughly clean purslane, removing thick stems. Chop into pieces 1-2 inches long (the size of a mouthful). In a medium saucepan, boil purslane in water for 3-4 minutes. Remove from pan, drain and set aside.
In a small bowl, whisk eggs. Pour oil in skillet and heat on medium, then add onion and sauté 3-5 minutes until translucent. Add eggs, lower heat, and cook, gently stirring, till almost done. Add cooked purslane and stir, cooking for a few more minutes to blend flavors. Top with salsa of your choice.
Potato salad with purslane
2 lbs. new potatoes, cut in quarters

1 cup purslane leaves 

1/3 cup plain full-fat yogurt

1/3 cup mayonnaise

1 Tbsp. whole-grain mustard

1 Tbsp. apple cider vinegar

1 Tbsp. extra-virgin olive oil

Salt & pepper to taste
Boil potatoes until tender, 10–15 minutes. Rinse under cold water to stop cooking, then drain in a colander and let cool. In a medium bowl, whisk yogurt, mayonnaise, mustard, vinegar, and olive oil; add salt and pepper to taste. When potatoes are cooled, mix with purslane in a bowl. Add enough dressing to coat; toss lightly. 
Janet Blaser is the author of the best-selling book Why We Left: An Anthology of American Women Expats, featured on CNBC and MarketWatch. She has lived in Mexico since 2006. You can find her on Facebook.