When it comes to pantry favorites, frijoles negros—black beans—have a permanent place in mine. They're good tasting and good for you; inexpensive and easy, especially if you use the canned ones; and so versatile it's kind of ridiculous.  
Beans in general, and black beans in particular, are extremely healthy foods, high in plant-based protein, fiber and antioxidants that help manage cholesterol, sugar and blood pressure levels.
While 70% of the calories in black beans come from carbs, they're unique in that their starch content is what's called "resistant starch," meaning that much of it passes through our upper digestive tract without breaking down. Because the starch doesn't convert into sugars, blood sugar levels don't rise. 
So, are black beans good for you? Absolutely!
Will eating black beans help you lose weight? In a roundabout way, yes. Foods rich in fiber make us feel full quickly; one would ostensibly eat less if they were part of your regular diet.
Long a dietary staple in Central and South America, black beans are everywhere in Mexican cuisine. In the U.S. they weren't mainstream until fairly recently, although vegetarians were using them as a source of protein long before that. When Chipotle's Mexican Grill opened in the early 1990s, black beans were an integral part of the menu, quickly beloved by the public. 
Black beans have a rich hearty flavor and meaty, dense texture that makes fabulous burgers and chili and is a perfect touch sprinkled on chilaquiles or nachos or used in tacos, quesadillas, vampiros, and other classic Mexican foods. Refried beans (frijoles refritos), found everywhere in everything, are just cooked beans blended or mashed and then sautéed in oil or manteca (lard), with or without added spices, until they form a spreadable paste. A traditional recipe in Mexico is for a robust soup with a black bean base topped with all your favorite things: chopped avocado and onion, a drizzle of crema, a sprinkling of cilantro, maybe a dash of hot sauce. 
Do black beans need to be soaked overnight before cooking? Two fiercely loyal camps swear they know best. I'll leave it to the experts to explain which method is best and why.
You may also have heard that black beans are good for dogs. In small portions, unsalted and with no added oil or spices, they can be. PetMD suggests that "occasionally" offering your dog a "small bite" of black beans mixed into their regular food isn't harmful, but some dogs may have difficulty digesting them. 
Loaded Sweet Potatoes (Camotes Locos)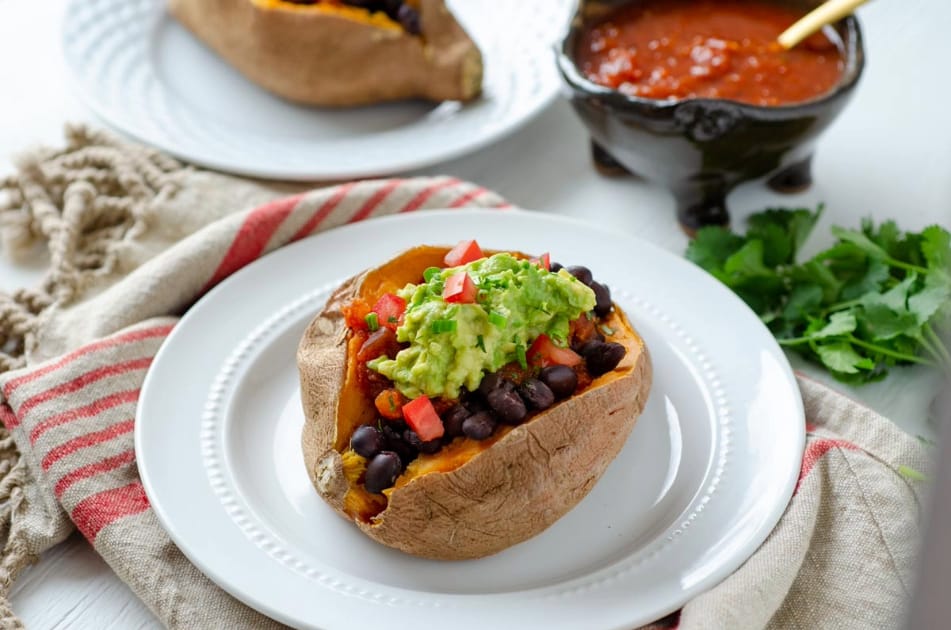 2 medium sweet potatoes, scrubbed and halved lengthwise (or purchased already roasted)

1 Tbsp. olive oil

Salt & pepper

1 cup cooked black beans (if using canned, rinse and drain)

1 cup shredded Chihuahua or sharp Cheddar cheese

Optional toppings:

crema

, chopped cilantro, guacamole,

salsa Mexicana
If baking the sweet potatoes, heat oven to 425F/220C. Brush sweet potatoes with oil. Sprinkle with salt. Place cut side down on baking sheet and roast 30-40 minutes until cooked through. Remove from oven and let cool slightly. (If using purchased baked sweet potatoes begin here.) Using a fork, rough up the flesh and slightly flatten the potatoes. Season with salt and pepper. 
Divide half the cheese among potatoes. Spoon black beans over them, then cover with remaining cheese. Return the pan to the oven; bake another 5 minutes, until cheese melts and beans are warm. Serve with assorted toppings.
Black Bean Mac & Cheese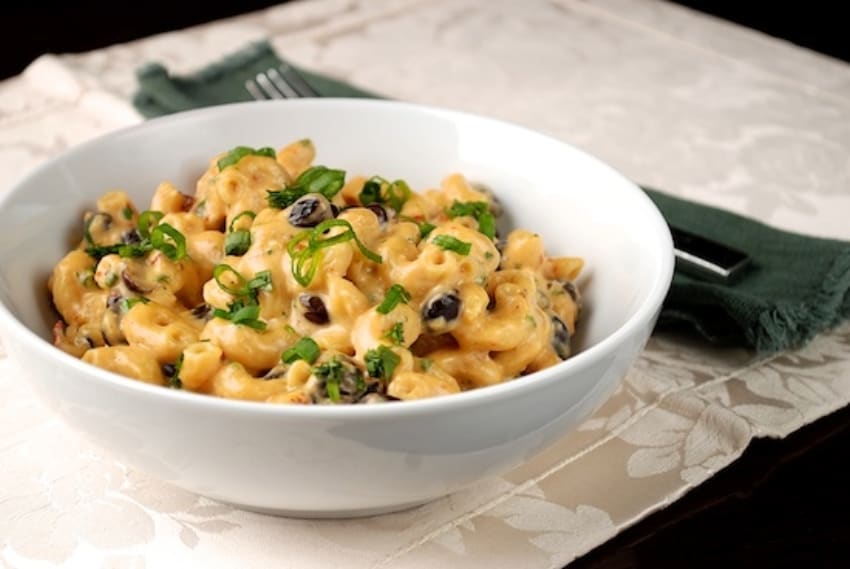 2 tsp. cornstarch

1 (12-oz.) can evaporated milk

2 eggs

½ lb. elbow macaroni

1 (15-oz.) can black beans, drained and rinsed

2 whole chipotle chiles packed in adobo, minced, plus 2 Tbsp. adobo sauce from can

1 serrano or jalapeño chile, minced

1¼ cups grated or shredded Chihuahua, Manchego or Asadero cheese

1½ cups grated sharp cheddar cheese

¼ cup chopped fresh cilantro 

4 finely sliced scallions
Combine cornstarch, evaporated milk and eggs in a bowl and whisk. Set aside.
Cook pasta according to package directions. Drain, reserving 1 cup pasta cooking water. Return pasta to pot and add reserved cooking water, beans, chipotle chilies, serrano or jalapeño, evaporated milk mixture and cheeses. Cook over very low heat, stirring constantly to prevent burning, until cheese melts and sauce is creamy and smooth. Stir in cilantro and scallions, reserving some for garnish. Transfer to serving bowl, top with remaining cilantro and scallions, and serve immediately.
Black Bean Veggie Summer Salad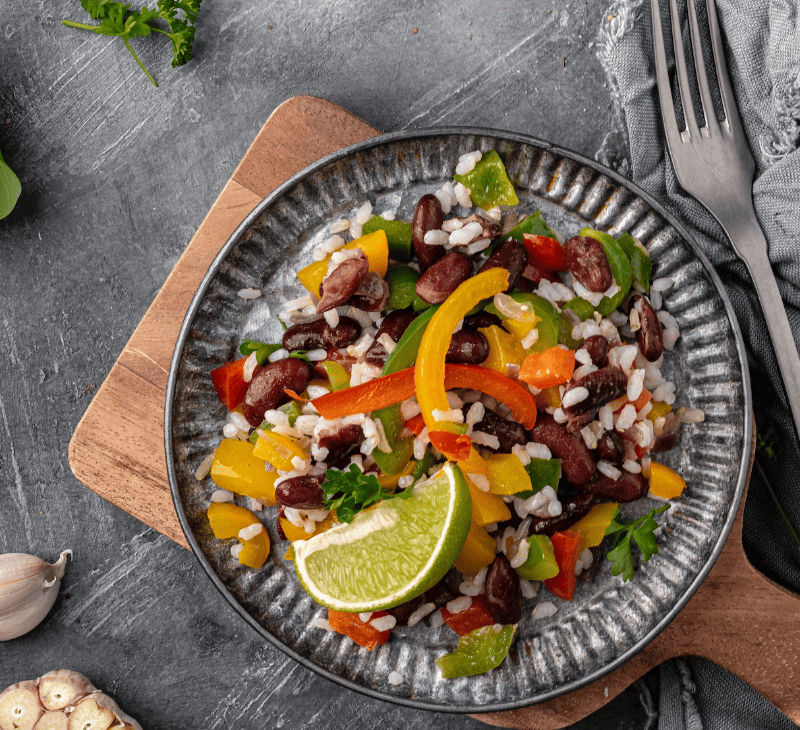 1 (14.5-oz.) can black beans, drained and rinsed

2 Tbsp. minced onion

1 ear sweet corn, kernels sliced off

1 jalapeño, minced

Salt & pepper

1 Tbsp. fresh lime juice 

1 Tbsp. olive oil

½ Tbsp. white wine vinegar

¼ tsp. ancho chile powder

Pinch ground cumin

¼ cup crumbled corn chips

1½ Tbsp. minced fresh cilantro 

Combine beans, onion, corn and jalapeño in a bowl. Season with salt and pepper.
In another small bowl, whisk lime juice, oil, vinegar, chili powder and cumin. Whisk in salt and pepper. Toss vinaigrette with black bean mixture. Refrigerate at least 1 hour or overnight. 
When ready to serve, add corn chips and cilantro and stir to combine. Serve cold or at room temperature.
Janet Blaser is the author of the best-selling book, Why We Left: An Anthology of American Women Expats, featured on CNBC and MarketWatch. She has lived in Mexico since 2006. You can find her on Facebook.