The playlist started in late June, after President López Obrador casually commented on the pointlessness of having a Mercedes SUV.
"What's the use — like some song says — that I have my Mercedes Benz, a Mercedes Benz truck? As if material objects were the most important thing," AMLO said before recommending that young people listen instead to music like the song "Ya Supérame" ("Get Over Me Already") by Grupo Firme.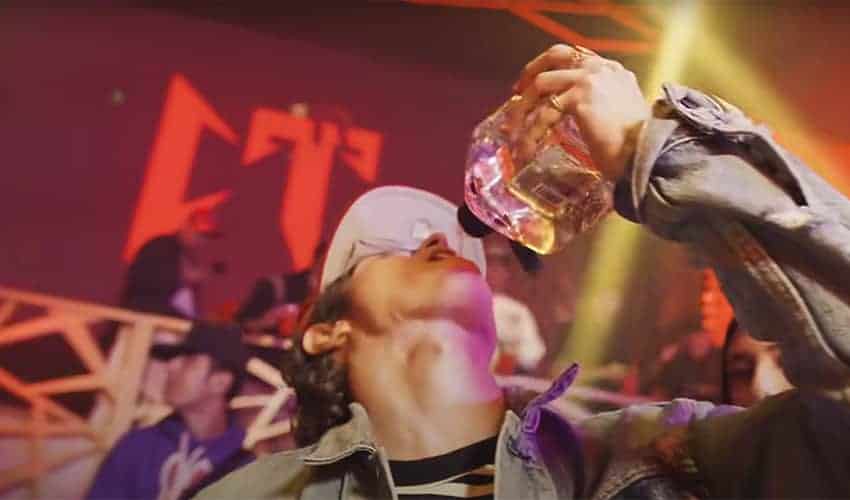 Observers quickly realized that the song mentioned by the president was the international hit "AMG" by Gabito Ballesteros, Peso Pluma and Natanael Cano. The song is an ode to the singer's dream car, a Mercedes-AMG G-class SUV, and the work it took to get it, namely "moving ice" (meth) and being good with numbers.
"AMG" is what's known as a corrido tumbado, a genre that combines traditional Mexican storytelling corridos with elements of trap, reggaeton and more. Many are narcocorridos — ballads that tell stories of drug traffickers and their lifestyles.
In "AMG," the celebration of conspicuous consumption, along with its drug references, earned the president's ire and inspired him to share his own playlist of youth-friendly songs as a more positive alternative to corridos tumbados.
His decidedly wholesome playlist showcases a variety of Latin American music, mostly contemporary Mexican artists. For a deeper understanding of the songs, search online for transcripts of the Spanish lyrics — called letras — or for translations.
"Ya Supérame" — Grupo Firme
Musical genres: norteña, banda sinaloense
AMLO kicked off his playlist with a corrido he has previously dedicated to his enemies. "Ya Supérame" ("Get Over Me Already") starts with a booming tuba and the question "What part do you not understand when I tell you no? The 'N' or the 'O'?"
The singer tells his toxic ex to take a hint while celebrating his own emotional liberation.
"No Se Va" — Grupo Frontera
Musical genre: norteña (cover of Columbian pop song)
If you live in Mexico, chances are you've heard "No Se Va" ("Don't Leave"). Grupo Frontera started recording covers like this one, of a track by Colombian folk-pop band Morat, in 2019.
Released last April, it wasn't until late 2022 that this song really took off, driven mostly by viewers on YouTube and TikTok.
"Te Mereces Un Amor" — Vivir Quintana
Genre: ranchera, Mexican folk
"Te Mereces Un Amor" ("You Deserve a Love") is an earnest tribute to healthy love, woven from a mix of poetic metaphor and plainspoken affirmations. Singer and composer Vivir Quintana is also the composer of the feminist anthem "Canción Sin Miedo."
She describes her sound as ranchero azul, a combination of ranchera music and the blues.
"Frágil" — Yahritza y Su Esencia and Grupo Frontera
Genres: sierreña, norteña
Yahritza y Su Esencia is a Washington state-based group of three siblings. Last year, Yahritza became the youngest Latin artist ever to chart on the Billboard Hot 100.
Despite being separated this year while oldest brother Mando regularized his immigration status, the trio released "Frágil" in collaboration with Grupo Frontera in April, and it quickly went viral on TikTok.
"Latinoamérica" —  Calle 13, featuring Lila Downs
Genres: Hip hop, various
Puerto Rican alternative rap group Calle 13 once called this song "the most important track of our career." The song is almost a hymn, celebrating the beauty, pain, history and culture that ties Latin America together.

The version recommended by the president also features an appearance by celebrated Mexican singer-songwriter Lila Downs.
"América" — Los Tigres Del Norte
Genre: norteña
Another celebration of Latin American identity, "América" reclaims the word "American" as a way to refer to anyone born in the Americas. This popular version from "MTV Unplugged" also includes an extended break, with Calle 13 rapping part of "Latinoamérica."
"Tenías Que Ser Tú" — Silvana Estrada ft. Daniel, Me Estás Matando
Genres: pop, jazz, son jarocho
In this whimsical love song, Veracruz singer-songwriter Silvana Estrada slips between major and minor keys, accompanied by the Mexico City duo Daniel, Me Estás Matando. 
"Oye Mujer" — Raymix
Genres: Electrocumbia, trance
Raymix, the "king of electrocumbia," hails from México state. Before "Oye Mujer" blew up in Mexico City's cumbia sonidero scene in 2015, Raymix studied aerospace engineering and interned for NASA, where he worked on satellite design.
"unx100to" — Grupo Frontera and Bad Bunny
Genres: norteña, reggaeton
"un x100to" ("One Percent") doesn't really count as reggaeton. What it does have is a reggaeton-like beat with norteña instrumentation and Puerto Rican rapper Bad Bunny, an artist credited with bringing reggaeton into the global mainstream. The song tells the tale of a breakup that the singer initiated but now regrets.
"Monedita" — La Santa Cecilia
Genres: pop, cumbia and various regional Mexican styles
"Your life looks grim without the coin's shine," La Santa Cecilia sings in this anti-materialist manifesto. The song is obviously included on the playlist as a rebuke to the consumerism on display in many corridos tumbados, but don't worry: the preachy premise goes over much better coming from the talented La Santa Cecilia than it does from AMLO or any other politician.
"El Poder De Tus Manos" — Intocable
Genres: pop, norteña, tejana

In this romantic 2002 ballad, Texas' Intocable pays tribute to the hands (of a lover, presumably) that catch the singer when he falls and heal him when he's hurt.
"Amor y Control" by Rubén Blades 
Genres: salsa, Latin jazz
AMLO's last recommendation comes from iconic Panamanian singer Rubén Blades, the oldest artist on the list. Did AMLO get tired and toss out the name of one of his favorite songs to finish the playlist? Maybe, but it's still worth listening to this song about the meaning of family.
Bonus songs:
"AMG" — Gabito Ballesteros, Peso Pluma and Natanael Cano
Genre: corrido tumbado
When was the last time you heard a trombone solo in a mainstream hit? "AMG," the song that inspired AMLO's playlist, has that and more, blending the horns of banda sinaloense with all kinds of other regional Mexican sounds into a hedonistic celebration of cars, girls, champagne and cash to spare.
There are corridos that don't promote narco culture, but this isn't one of them.
"La Bebe" —  Yng Lvcas and Peso Pluma
Genre: corrido tumbado
Last but not least, this song comes to you not from AMLO's list but another recent presidential playlist: Peso Pluma's hit song "La Bebe" made it onto former U.S. president Barack Obama's 2023 summer playlist.
As you might expect, this club-ready corrido tumbado stays away from the drug dealing and keeps things romantic-ish with a thumping reggaeton beat.
Rose Egelhoff is a freelance writer based in Mazatlán, Sinaloa. Follow her work at RoseEgelhoff.com