The international real estate platform Far Homes partnered with the magazine Expats in Mexico to poll non-Mexicans about the cost of living in Mexico. The results offer a snapshot of living expenses for foreigners who have relocated to the country.
The survey, carried out in February 2023, focused primarily on retirees over the age of 55 living full-time in Mexico, who had previously lived in the United States or Canada before relocating.
According to Far Homes, which sourced its data from the online database Numbeo, Mexico's cities fall into the mid-range of popular expat cities worldwide.
The majority of respondents said they spend under US $2,200 per month on living expenses (34.3%), while according to 2021 data from the U.S. Bureau of Labor Statistics, average retiree household spending in the United States is US $4,185 per month.
In terms of Mexican cities with a sizable population of U.S. and Canadian residents, Mexico City (44.62) ranks highest on the Numbeo Cost of Living (COL) index, which is calculated using consumer goods prices (groceries, restaurants, transportation, utilities) and does not include housing expenses.
These user-contributed prices are then compared to New York City; if a city has a Cost of Living Index of 80, for example, Numbeo estimates it to be 20% less expensive than New York (excluding housing costs).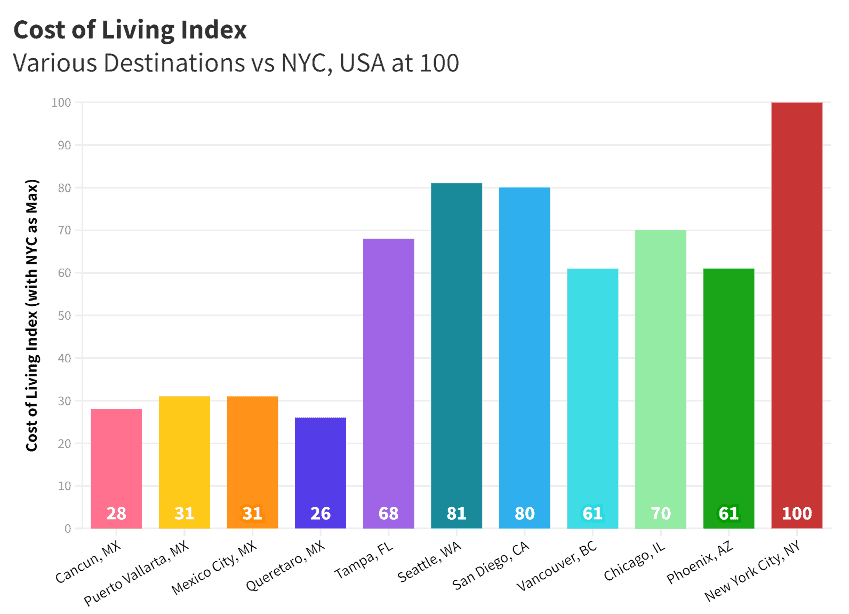 Mexico City is followed by Cancún (43.14), Mérida (41.85) and Puerto Vallarta (41.15) on the COL index. Querétaro and Puebla City are on the low end, at 40.53 and 38.77, respectively, while Monterrey comes in as Mexico's most expensive city, with a Cost of Living Index of 45.43, making it the 99th most expensive city in the Americas in the database.
While food costs for expats living in Mexico are comparable to the U.S., according to the Far Homes survey data (71.4% spending up to US $500 per month), the savings on rent and healthcare contribute to overall lower living expenses. The majority of respondents to the Far Homes survey pay between US $550 and US $1,100 per month on rent, and 62% say they only spend up to US $110 per month on healthcare, including medications.
Not surprisingly, the survey found that "cost of living" was given as one of the primary reasons for moving to Mexico (26.5%), second only to "lifestyle" at 32.2%. "Climate" came in as a close third at 24.2% of those polled.
Mexico News Daily