I'm finding myself in the kitchen more and more as Covid surges again in Mexico; instead of eating out, I'm cooking at home. One of the things I see myself drawn to is oats, perhaps because they're such a comforting food and that's what I'm in need of now.
While oatmeal is a classic breakfast full of nutritional benefits, oats also figure highly in cookies, muffins and breads, and as an ingredient in some entrées. The whole oat grain, or groat, has a hard shell and takes a long time to cook; rolled or crushed oats cook faster and are what's usually used.
Quick or instant oats are crushed thinner so that they cook more quickly but will have a mushier texture when done; steel-cut oats (available from Amazon México!) are the whole oat groat cut into tiny pieces and have a nuttier flavor and more firm texture.
I'd always "heard" how healthy oats are but never really paid attention to the details. Turns out they're one of the most nutrient-rich foods around! Half a cup of oats contains 13 grams of protein, eight grams of fiber and notable amounts of iron, magnesium, zinc and B-vitamins.
They're also loaded with antioxidants, specifically avenanthramides, which have been proven to lower blood pressure levels, assist in better blood flow by helping the vessels dilate and reduce both LDL and total cholesterol levels. They can also aid in lowering blood sugar levels.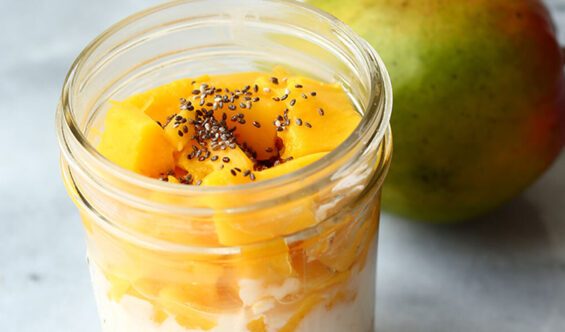 Interestingly, avena, the Spanish word for oats, derives directly from its Latin name, Avena sativa. (Also interesting is that oats are the only cereal grain always referred to in the plural.)
Oats have been eaten for centuries, most commonly as porridge, cooked in milk or water. They also pop up in some beers (think oatmeal stout) and steeped in honey-sweetened whiskey in Atholl brose, a traditional Scottish drink.
In Mexico and other parts of Latin America, raw whole oats are ground in the blender with milk, cinnamon, sugar and often banana, then heated and served as a hot drink in the winter months.
Great Granola
3 cups whole oats
½ cup brown sugar, grated piloncillo or regular sugar
⅓ cup honey
¼ cup coconut or vegetable oil or a combination
1 ½ tsp. cinnamon
2 tsp. vanilla
¼ cup water
Optional: ¼ cup wheat germ, ½ cup dried fruit, 1 cup unsweetened dried coconut, 3 Tbsp. cocoa
Combine dry ingredients; mix well. Add vanilla, oil, honey and water; stir to combine. Bake on lightly greased cookie sheet for 20–30 minutes, stirring occasionally. Remove from oven; granola should be crisp. Let cool, then stir in optional ingredients.
Oatmeal Pancakes
1¼ cups flour
½ cup quick or whole oats, uncooked
2 tsp. baking powder
¼ tsp. salt
1¼ cups milk
1 egg, lightly beaten
1 Tbsp. vegetable or coconut oil
Optional Stir-ins:
1 cup fresh or frozen, unthawed blueberries;
1 ripe banana, mashed + pinch ground nutmeg;
¾ cup finely chopped apple + ¼ cup chopped pecans + ½ tsp. cinnamon;
½ cup chocolate chips
In large bowl, mix flour, oats, baking powder and salt. In separate medium bowl, combine milk, egg and oil; blend well. Add liquid ingredients to dry ingredients all at once; stir just until dry ingredients are moistened (do not overmix). If desired, add stir-in options now.
Heat lightly greased skillet over medium-high heat. For each pancake, pour ¼ cup batter onto hot skillet. Turn when tops are covered with bubbles and edges look cooked. Turn only once.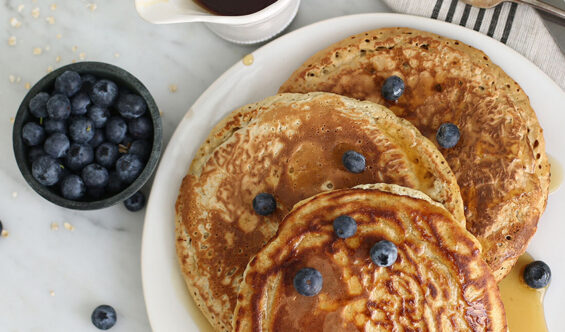 Banana-Oatmeal Energy Bites
2½ cups Quaker® Oats (quick or old fashioned, uncooked)
2 Tbsp. honey
¼ cup creamy or chunky peanut butter
1 cup ripe mashed banana (about 2 large bananas)
1 tsp. ground cinnamon
In large bowl, mix oats and cinnamon. Stir in mashed banana, peanut butter and honey until well blended. Shape into 24 (about 1-inch diameter) balls. Cover and chill in refrigerator. Store in sealed container in fridge.
Mango Overnight Oats
½ cup oats
¼ cup milk
⅓ cup yogurt
½ cup diced mango
1 tsp. honey
⅛ tsp. vanilla or almond extract
1 tsp. chia seeds
Mix oats, milk, yogurt and extract in Mason jar or other container. Add layer of mango, drizzle with honey and sprinkle chia seeds on top. Chill in refrigerator at least 8 hours.
Spinach-Stuffed Chicken/Turkey Meatloaf
¾ cup quick or whole oats, uncooked
1 cup chopped mushrooms
¼ cup chopped onion
10-oz. package frozen chopped spinach, thawed and drained OR equivalent fresh spinach
½ cup shredded Chihuahua or mozzarella cheese, divided
¼ cup grated Parmesan cheese
1 pound ground turkey or chicken
½ cup milk
1 egg white, lightly beaten
1 tsp. dried oregano
Salt and pepper
Heat oven to 375 F. Lightly spray medium skillet with cooking spray. Cook mushrooms and onion in skillet over medium heat about 4 minutes; remove from heat. Add spinach, ¼ cup cheese and all the Parmesan; mix well. Set aside.
In large bowl, mix turkey/chicken, oats, milk, egg white, oregano, salt and pepper. Spoon 2/3 of meat mixture lengthwise down center of 11 x 7-inch glass baking dish in a long, thick "stripe." Make a deep indentation down middle of this mixture; fill with spinach/cheese mixture.
Top with remaining turkey, sealing edges to completely enclose spinach filling, forming a loaf.
Bake 30–35 minutes or until juices show no pink color.
Remove from oven; sprinkle with remaining cheese. Return to oven 1–2 minutes until cheese melts. Let stand 5 minutes before slicing.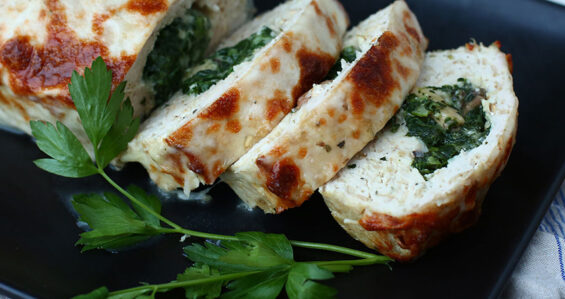 Salted Oatmeal Cookies
1½ cups flour
½ tsp. baking soda
¼ tsp. salt
16 Tbsp. (two sticks) unsalted butter, at room temperature
1 cup sugar
1 tsp. vanilla extract
1 egg
3¼ cups whole oats
⅔ cup raisins (golden if available)
Fine sea salt if available or regular salt
In large bowl, beat butter until smooth. Add sugar, beat till fluffy. Beat in egg, then vanilla.
In large bowl, mix flour, baking soda and salt. Add oats and raisins. Form dough into a log and wrap with plastic wrap. Chill in refrigerator at least two hours till firm.
Line two baking sheets with parchment paper. Pour salt in a flat bowl or plate. Slice dough in ¼-inch pieces, roll into balls and then dip tops of balls into salt. Place on cookie sheet with salted side up. Bake cookies at 375 F until edges are golden, about 12 minutes.
Janet Blaser is the author of the best-selling book, Why We Left: An Anthology of American Women Expats, featured on CNBC and MarketWatch. She has lived in Mexico since 2006. You can find her on Instagram at @thejanetblaser.