Did you know that in Mexico we write comic poems about death and then we share them with our friends and family for a good laugh?
Yeah, you're probably thinking there's something wrong with our sense of humor, but I promise you that these poems are often a loving and cute way of remembering someone who has passed away – except, of course, if you address them to someone in politics! 
The calaveritas literarias, which translates to "literary skulls," are one of the most beloved parts of Day of the Dead. But unlike other customs around Day of the Dead – like the altars for the dead or La Catrina herself– calaveritas literarias are virtually unknown to foreigners.
In today's article, we'll explore more about this cherished and humorous tradition and teach you how to write your own calaverita literaria (which will come in handy if you have kids who attend school in Mexico). 
What is a calaverita literaria?
Calaveritas literarias are short and humorous rhyming poems that describe imaginary situations about a people encountering death. The subject could be a friend, a family member, or someone in politics, and they may be alive or dead. 
If the character is a friend or a loved one, the poem is usually humorous and non-offensive, drawing from their personalities to create a lighthearted and amusing story of their passing.    
But if the character is a famous person or a politician, the poem is often used to criticize or satirize them through mockery or irony.
Where does the tradition come from?
According to various sources, the oldest Day of the Dead poem in Mexico was authored by Fray Joaquín Bolaños. The lengthy text is titled "The Portentous Life of Death," and talks about the bitterness of death in a humorous and entertaining way. 
Later, other writers during the Viceroyalty used the Day of the Dead poems to mock the long epitaphs provided to ruling nobles, as an early form of social criticism and mockery. These texts were promptly prohibited,  but restored once Mexico gained independence. 
But it wasn't until José Guadalupe Posada's classic "Calavera Garbancera," sketch – later dubbed as La Catrina – that the art form really became popular.
In 1913, he published his sketch alongside a Day of the Dead poem dedicated to wealthy Mexican women with European aspirations. In it, Posada made fun of their lifestyle and remarked that despite their supposed airs and graces, death would eventually come for them anyway.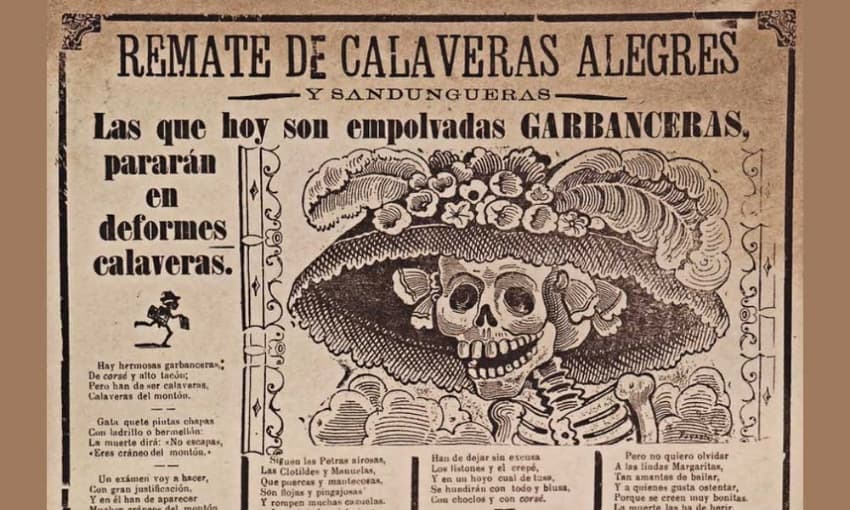 The title and first verse of the poem went something like this:
"Those who today are powdered [with makeup] 'garbanceras,' will end up as deformed skulls.
"There are beautiful corseted and high-heeled garbanceras, 
But they will turn into skulls, 
just another one in the bunch."
Today, these poems are used in Mexican newspapers to mock politicians on Day of the Dead. We are taught to write them at school, where kids are encouraged to read theirs to the class. 
What is the structure of a calaverita literaria?
Octasyllabic verses. Usually, these poems are structured as an eight-syllable verse. The stanzas can be four lines or ten lines.
Rhyming verse: The verses can be of two types: A, B, B, A (the last words of the first and last verse sound the same or very similar, as well as those of the two in the middle) and A, B, A, B (which the first and third verses rhyme, as do the second and fourth).
Mention of death: The objective of a calaverita literaria is to present an imaginary situation where the subject encounters death. 
According to Mexican writer and poet Óscar de Pablo, death can be referred to as a "calaca [skeleton], grim reaper, bony, skull, catrina or bald, but it always has to be there and always has to take the person to whom the verse is dedicated."
Personality traits: You must include those character attributes that defined the person subject of the poem. 
Humor: They must remind the reader of the inevitable nature of death with humor, love, sweetness, and affection – or with mockery and irony. 
Written in the form of an epitaph: An epitaph is a phrase written in memory of a person who has passed away as an inscription on a tombstone. 
Surprising ending: You need to consider words that rhyme with defining traits of the subject of the poem and lead the reader to a fantastic ending. 
It is important to remember that while Day of the Dead poems may contain irony and mockery, they should not be disrespectful or intended as an offense to the recipient of the poem. 
Calaveritas literarias are meant to bring joy and laughter to readers.  
Some examples of calaveritas literarias
Every year, newspaper El País releases a collection of calaveritas literarias about Mexico's major events of the year. 
If you've written a Day of the Dead poem or verse and would like to share it with us, we encourage you to do so in the comment section. 
By Mexico News Daily writer Gabriela Solís