In a world where being politically correct is increasingly important, some foreigners have wondered if it's okay to paint their faces on Day of the Dead, fearing it might come across as inappropriate or, worse, as cultural appropriation.
As a Mexican expat living in Dubai, I empathize with the sentiment of not wanting to act disrespectfully when it comes to joining foreign traditions (like when I get to wear the traditional clothing Muslim women wear to enter a mosque but fear I might not wear it properly). So today, I want to share my perspective on foreigners using skull makeup on Day of the Dead – and ways to avoid being disrespectful to true observers – as we discuss the true meaning of the holiday and its original traditions. 
Day of the Dead and its traditions 
Day of the Dead or Día de Muertos (not Día de los Muertos), follows the pre-Columbian Indigenous belief that the dead temporarily return to Earth between Nov. 1 and 2.
While the origin of the holiday can be traced back to the Mexica (Aztec), Totonaca, Purépecha and Maya civilizations, the festivity we celebrate today is a syncretism of Indigenous beliefs and Christian tradition. 
Families and communities gather to celebrate, go to church, and set up "altares de muertos" at home or at graveyards honoring their deceased loved ones. These altars are decorated with traditional items like "calaveras de azúcar" (sugar skulls), cempasúchil flowers – a native variety of Marigolds – candles, photos of the dead and their favorite foods.
While each region in Mexico celebrates Day of the Dead slightly differently, depending on how influential Christianity was in the region, the holiday's essence remains the same – it is an intimate time spent with family,  to honor and remember those who have passed away.  
How Day of the Dead became a global trend
The story of how Day of the Dead became a global phenomenon actually lies with two recent movies.
In the opening scene of 2015's "Spectre", James Bond is seen chasing a villain through a crowded Day of the Dead parade in Mexico City's Historic Center, which features enormous skulls and people adorned in colorful makeup.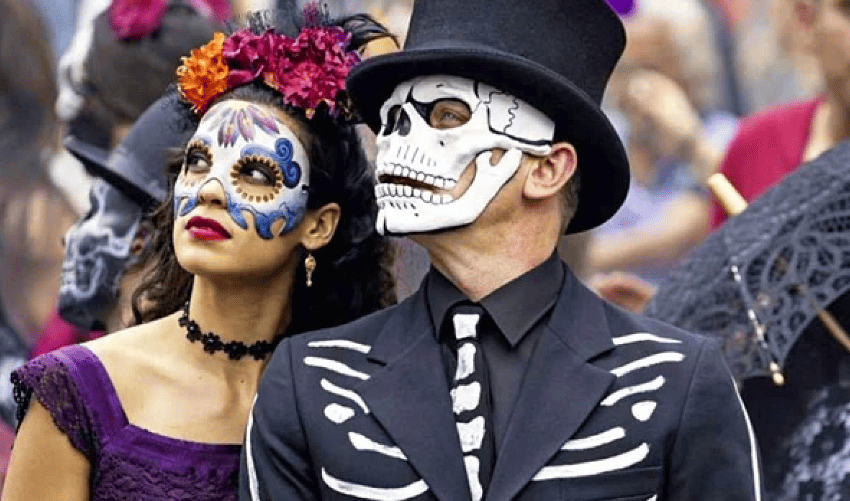 The parade, which had never actually taken place, has now become a tradition in Mexico City, attracting thousands of visitors every year, with both foreigners and Mexicans alike coming to admire the festivities.
When Disney released "Coco" in 2017, the hype for the holiday and the practice of face painting grew even more. In Mexico, children started attending Day of the Dead parades at school with their faces painted, while adults would wear skull makeup to parties.
La Catrina, the inspiration behind the Day of the Dead makeup
While movies played a big part in boosting this practice, our culture has been familiar with friendly images of skulls for quite some time – since around the time of the Mexican Revolution in 1910. 
Back then, Porfirio Díaz had ruled Mexico for 30 years, modernizing the nation throughout his tenure. His obsession with all things French led illustrator José Guadalupe Posada to sketch "La Calavera Garbancera", a satirical cartoon of a woman's skull wearing a flamboyant bonnet with flowers.
"Garbancero" (which derives from the word garbanzo or chickpea) was a common word used to describe those members of the Mexican high society who shared Diaz's vision and led a European-inspired lifestyle.
"Those who today are powdered [with makeup] 'garbanceros', will end up as deformed skulls," was the caption that accompanied Posada's cartoon when it was first published in a Mexican newspaper in 1913
Such was the resonance of Posada's sketch, that the comical skull, later dubbed as "La Catrina" (in reference to an upper-class woman) by Diego Rivera became the iconic Mexican image of death.
The sketch later merged with the colorful sugar skulls we use in the altars and inspired the same skull makeup we see many people wearing on Day of the Dead.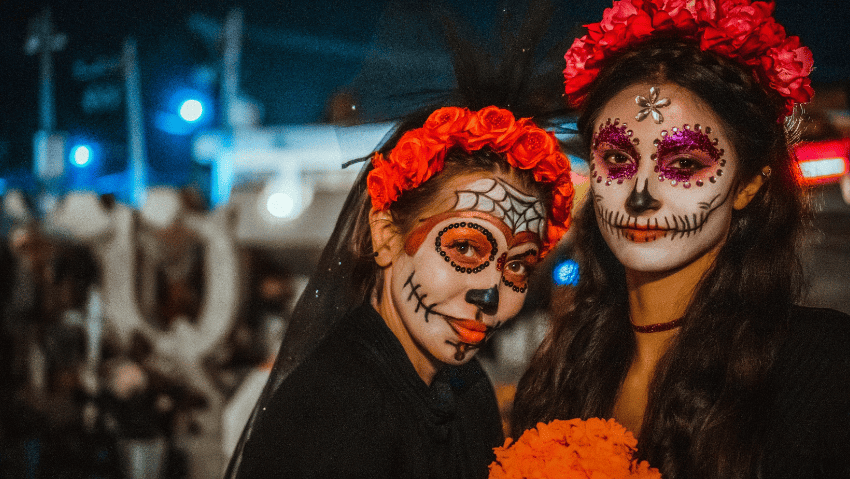 So, is it OK for foreigners to paint their faces on Day of the Dead?
Posada's message behind La Catrina is universal – we are all equal in death. It doesn't matter where we come from, if we're poor, rich, powerful, or influential – sooner or later, we will all share the same fate. For that reason, I think that anyone, be it Mexican or foreign, can paint their faces as a skull.
But it must be done with respect, because while La Catrina is not an original part of Day of the Dead, it is deeply rooted in our culture and serves as an icon of national identity. Seeing it as a "trend" can make our important traditions feel less appreciated and respected. 
How to use the makeup respectfully
To use the makeup respectfully and avoid being accused of cultural appropriation, I would advise people not to wear it as part of a Halloween costume or alongside Halloween elements such as spider webs or pumpkins. I would especially advise visitors not to enter a church or cemetery with their face painted as it can be extremely disrespectful to locals – these places are not tourist attractions but sites of worship for families who have lost someone. 
Aside from these scenarios, I do encourage you to paint your face and learn and engage with our beautiful holiday. Day of the Dead is more than just a fiesta vibe and skull makeup – it is a time when families get together to remember their loved ones through ancient rituals and traditions. 
Find a Day of the Dead event in your city (preferably hosted by Mexicans), or ask your Mexican friends how they celebrate and if you can take part. We love to share our culture and always feel honored when foreigners show an interest and want to participate.  
I can assure you that most Mexicans – if not all of us – will be more than happy to include you in our Day of the Dead celebrations.
By Mexico News Daily writer Gabriela Solís