To catch up on Christina's story so far, read Part 1 and Part 2.
Every Sunday, my family and I go downtown to the Ciclovía Recreativa to meet up with friends so our kids can ride their bikes together down the main drag here in Cabo San Lucas. They shut down the street from 7am-11am so families can walk, ride bikes, rollerblade, exercise and dance together.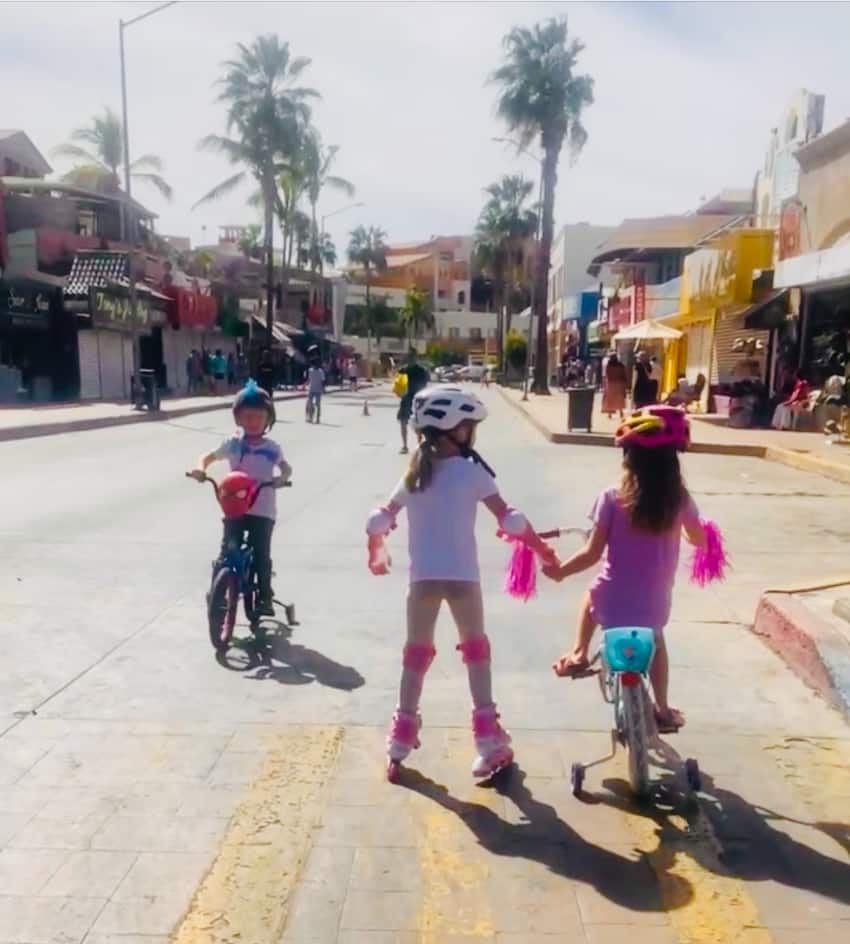 This past weekend my friend Crystal said casually, "isn't this amazing? Everyone comes here to vacation and we get to live here." It made me smile ear to ear because every Sunday I feel this way, and reflect on how lucky we are to have "time freedom" with our family, because the older I get the more I realize that the ultimate luxury is having the time to do what we want in life.
It is interesting to see how our values have shifted post-pandemic-, and that lifestyle has become a a greater measure of success over income alone. As we walk down the road, palm trees blowing in the crisp pacific breeze, past the marina lined with fishing boats, luxury cruisers and boat tours, many people stop to greet us and Larry, our miniature Australian shepherd, who's living his best life in the desert. Our daughter Izzy loves playing with the kids and meeting new friends, regardless of common language. They ride, chase each other and laugh together. 
When we came here, we learned a lot about ourselves. We flew down with 7 suitcases (one filled only with educational material and Christmas presents) and lived out of them for 8 months. We learned we could live with so much less. This lesson was magnified when we went home for the summer to clear out our storage unit with all of our worldly possessions. It's certainly humbling to  pack up  everything you own into a 8 x 5 ft trailer.
One of my biggest lessons in life, and definitely when moving from Canada to Cabo,  has been that your risk is equal to the size of your reward. Most people want a small risk, a small challenge and to reap a BIG reward… but that's not how it works. We've definitely had some challenges with communication and setting up services such as phone, banking, electricity and internet… and there are cultural and linguistic differences, however I can't help but gush over our lifestyle. In Mexico, we see a culture that truly values family and prioritizes time together. Every day, we are reminded of what matters most in life – discovering other currencies in life beyond money.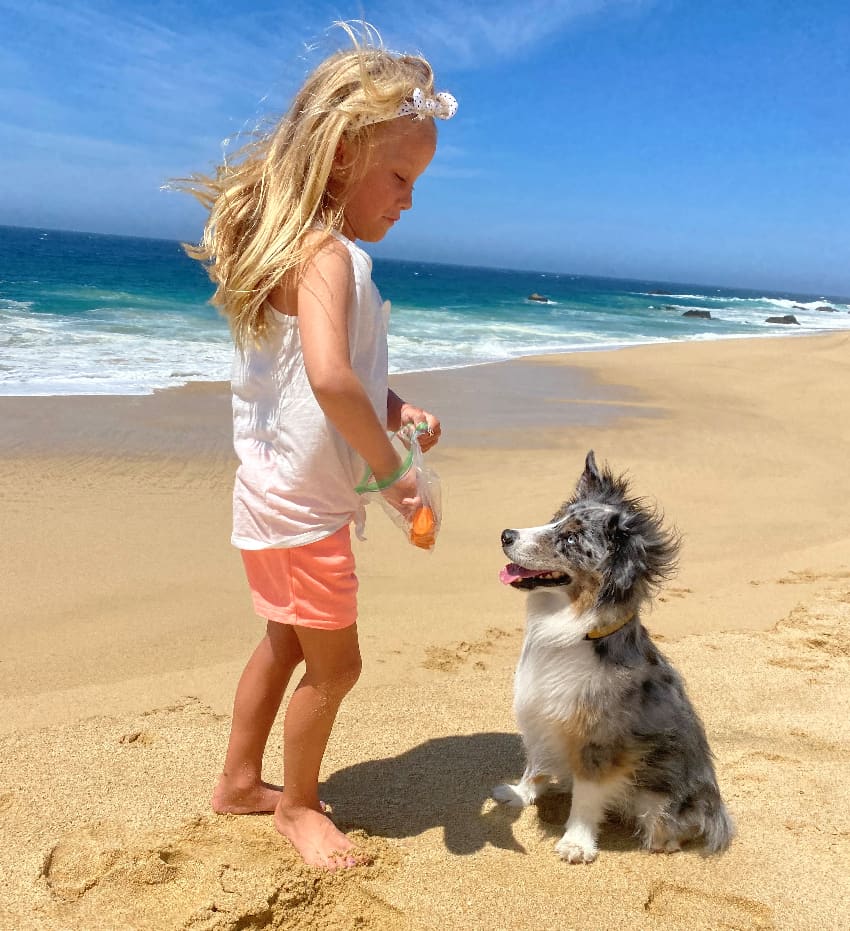 That leads me to question what our society defines as luxurious and what it means to live a life of luxury. For our family, it's about working hard towards what you want. It's not having the biggest house (the most debt) or the nicest cars on the block (consumer debt), it's about our quality of life. Many people don't want to be house poor anymore and are feeling the pinch with climbing interest rates, instead they want to be debt free. Look at the tiny house movement!
Many have maxed out credit cards because their daily cost of living has gone through the roof and they are putting essentials such as groceries, gas, phone and electricity on their credit cards just to keep up, and that comes with 20% interest which just compounds the problem. Many parents we talk to don't want  to put their kids in daycare and have them raised by strangers just to break even at the end of the month. They want to work from home so that they can be more present and spend more than dinner and bath time with their kids. 
Our generation is starting to shift beliefs, where luxury and privilege should no longer be defined by designer handbags, clothing and expensive shoe purchases, but instead by having time and financial freedom with a focus on health and well-being. Back home, the level of consumerism has become unsustainable because wages have not kept up with the cost of living which means consumers can't afford to keep up with their spending habits.
I've noticed that people aren't willing to work to the point of burn out anymore and are changing their careers so they can live more in alignment with their belief systems. We see things starting to shift, and people are beginning to value their freedom more than they value the things they can buy. Covid changed that. It gave us a mandatory time out to gain perspective on the lives we were living and the jobs we were using to pay our bills, then allowed us the time and space to rearrange our priorities. Some people worked from home, some people left their jobs and took on completely different careers, but one thing remained consistent, people started to change how they valued money, and what they were willing to give up in exchange for it. 
Post-COVID, in this new emerging economy, luxury means something different.  Our purpose is emerging at the forefront of our earning. Luxury is no longer just measured in dollars, but it is now measured in lifestyle, freedom, health and community. Too much has changed around us and within us. Adaptability will be key to survival and growth as there is no going back to the lives we lived pre-COVID.  I know because I experienced this first hand over the past few years as we transformed our lives. It is hard work, but as I've taught my daughter, we can do hard things and to look at life in chapters. This is our family's chapter in Mexico and we chose to face our hard here because everything seems to be better on the beach.     
What's fascinating is that we've found a closer community of neighbors in Cabo San Lucas than we've experienced for many years up in Canada, whether we lived downtown in the middle of the city or out on acreage in the rural country.
There is something to be said for those of us that have taken the risk to relocate our families and uproot our lives, to choose a simpler, yet "richer" life, here in Mexico. Once you've been through that, you honor that experience in those around you, by bonding together and helping those who are willing to go through what you did, make it happen. 
Christina Whiteley, founder of Life Transformed, is a bestselling author, speaker and business strategist who leads the 6 Figure Profit Plan Mastermind and hosts corporate retreats where she resides in Cabo San Lucas. She and her husband Ryan, who is a realtor, live for road trips and weekend adventures with their daughter and their dog, Larry.