Moving to a foreign country and starting a new chapter in the sun sounds appealing, but the thought of immigrating can be overwhelming and sometimes confusing due to the plethora of contradictory or ambiguous online information. I wanted to share a little about our own personal experience, and a few things that you can consider if you're thinking of making the leap. 
Our story is somewhat unique in that we didn't plan ahead to move here. Although we had spent a lot of time in Mexico over the years, when we came to Cabo in October 2021, it was simply to take a break from our lives and get a balcony view of our current situation.
When we arrived, we had booked an Airbnb for a few months, to give us time to figure out our next move. Fortunately, we booked a spot where there were a lot of other Americans and Canadians either living in Cabo as residents, or spending the winter. Many of them have remote work and flexible schedules like us.
We loved our rental so much that we asked them if there were any long-term rentals in the building. Within minutes we were connected to the landlord and offered a six-month stay, for a fraction of the price. These people instantly became our community. They would spend time with our daughter and watch our dog for the weekend if we went away.
During the pandemic, this community became our extended family; we spent holidays, celebrated birthdays and went out for dinner together once a week. I was blown away by how connected and close we had become almost overnight, because we had never had that connection with our neighbors in Canada. We barely knew their last names. 
We started inquiring about next steps with our new neighbors. Everyone was open and willing to share a phone number of someone local who could help. We would meet people on the street who had lived in Cabo for a decade or more, and simply asked for help when setting up our phone, electricity, and attaining our driver's licenses. We met our realtor this way too.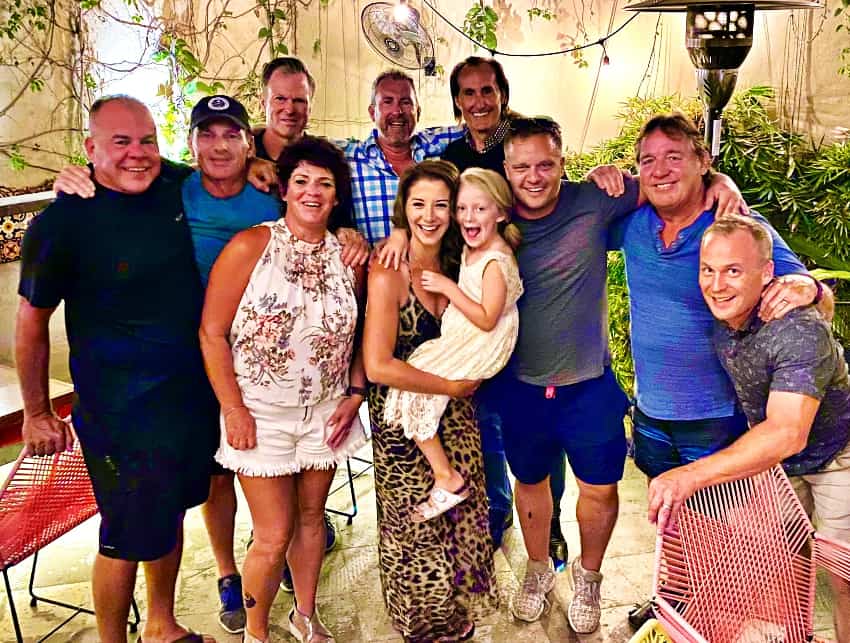 So when the topic of immigration came up, we already had the resources we needed, we just needed to figure out the logistics. We ordered a new birth certificate for our daughter (to get legally authorized and translated) and used a company in Canada called ALSC (Authentication Legalization Services Canada) for that service. They couriered it to us in Mexico. We had heard horror stories of lost documents, passports and people waiting months to receive them in Canada – even missing vacations and holidays they had booked six months out, because everything was so backed up. So we didn't feel comfortable parting with her original birth certificate while she was in Mexico with us.
There are multiple ways to immigrate to Mexico, but the most popular thing for people spending winter here is to come down on a 180-day tourist visa. With that visa you can rent a place to live, purchase health insurance, and get a Mexican phone number (for a fraction of the cost, US $13-20 a month). Many people use Whatsapp down here because the calls are clearer and you can text/call internationally without the charges of long distance. It is best to check the Mexican consulate closest to you to assess your options and limitations as the regulations vary, but to begin the process of applying for residency, you start at a Mexican consulate in your home country. 
There are two options for residency in Mexico. Temporary residency can be granted up to four years and is usually renewable, or you can apply for permanent residency at the end of the term. A permanent residency is for those looking to stay in Mexico indefinitely and does not need to be renewed. With temporary residency you can open a Mexican bank account, legally buy and register a vehicle, enroll in the public medical system (although you also have access to private insurance, if you can afford it), and are able to come and go as often as you want.
Having a temporary resident visa doesn't instantly qualify you to work here, you also must apply for a separate work visa or be sponsored by a company or business here. I'm an entrepreneur who works online and I am paid through my account in Canada. Mexico does offer temporary residency to remote workers and digital nomads, as long as you are able to prove economic solvency. The solvency requirements for temporary residency are lower than for permanent. This piece is very important. The country wants to make sure you are not a burden or taking a job from someone local. This dollar amount also changes each year, so make sure you check before you apply.
If you want a more detailed overview on these requirements, check out this primer in the Mexico News Daily Expat Resources section. If you are married to a Mexican national, you are granted a temporary residency for two years that can be changed to permanent residency at the end of this period.
We were also told that we could apply for permanent residency directly, without being a temporary resident first, if you are retired. You must be able to show either investing or financial records of your bank statements of the last 12 months and the minimum amounts required vary by consulate.
So why would you consider residency over the temporary tourist visa? A few reasons: you may not want to leave the country after 180 days; you may have kids in school or have work commitments here. You may want to apply for citizenship eventually (which you can do after you become a permanent resident). You may want to work down here, and will need to apply for a tax number through your residency. Another reason you may want temporary residency is so you can buy and register a car here. 
It's not as daunting as you may think. If you're not sure where to book an appointment to apply for your visa, you can Google "Mexican consulate" and choose the one closest to you to call and inquire. They will give you the next steps and information you will need to gather for your appointment. Once you find your dream location in Mexico, it won't be difficult to find someone willing to help with the paperwork, I just recommend you hire someone based on a referral.
We've been so blessed by the community of people here who support us and helped our family adapt to living in another country. We've really enjoyed getting to know not only our neighbors, but local businesses and the people who run them, because just like back in Canada, we want to support as many people as possible in our local community. 
Christina Whiteley, founder of Life Transformed, is a bestselling author, speaker and business strategist who leads the 6 Figure Profit Plan Mastermind and hosts corporate retreats where she resides in Cabo San Lucas. She and her husband Ryan, who is a realtor, live for road trips and weekend adventures with their daughter and their dog, Larry. You can also join her private Facebook group here.