President López Obrador has promised that all of the nearly 1,000 historical buildings in Mexico damaged in 2017 still awaiting final restoration will be finished by the end of this year. That will likely not happen and may not even be desirable to make it so.
The quakes of 2017
Six years ago, Mexico was rocked by two nearly back-to-back earthquakes on September 7th and 19th. One-third of its territory was affected from central Mexico into Chiapas and Oaxaca, a region that has the country's largest concentration of people and historic monuments. 
Damage was widespread and in many cases, severe. Understandably, infrastructure such as hospitals, roads and schools took priority. However, the quake damaged thousands of historical buildings and sites. The long task of repairing these monuments sheds light on the massive human heritage that Mexico is custodian of.
What was damaged?
The number of damaged historical buildings is over 2,340, located in 11 states (Oaxaca, Chiapas, Guerrero, Tabasco, Morelos, Puebla, Tlaxcala, Hidalgo, México state, Veracruz, and Mexico City). The most severe damage was in Oaxaca (affected strongly by both quakes) and near the epicenter of the September 19th quake on the Puebla/Morelos border. Many of the affected buildings are located in World Heritage sites such as the historic centers of Puebla and Mexico City. In Morelos, 90% of the damage was in early colonial-era parish churches, still the centers of community life.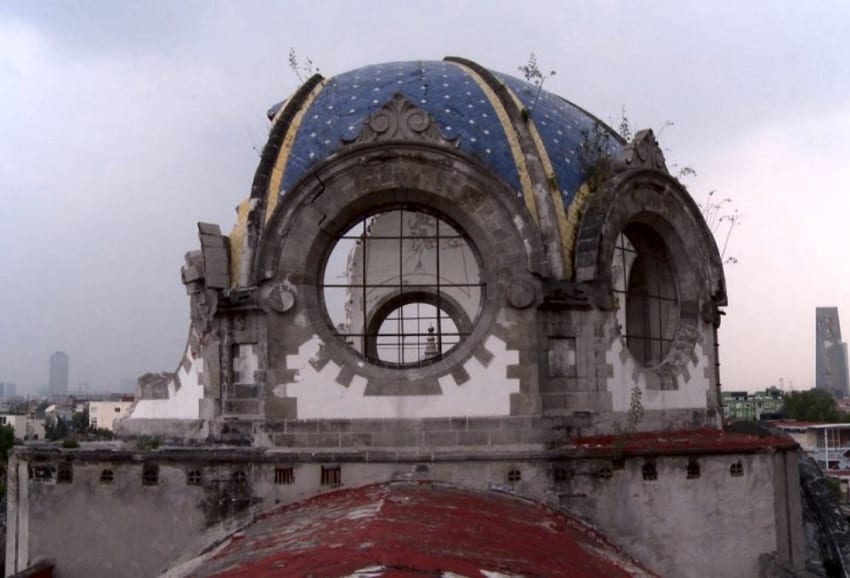 In response to the massive damage, Mexico's Culture Ministry through the National Institute of Anthropology and History (INAH) created a unified program to restore the damaged buildings. The program coordinates support from international agencies and Mexican non-profits, but most of the nearly 10 billion peso effort has been funded through the country's National Fund for Disasters (Fonden).
The challenge of restoration
The scale of the damage is challenging enough, but modern approaches to the care and repair of historical buildings make it even more so. In centuries past, old buildings were rebuilt using whatever technology and materials were available. Today, the goal is to restore buildings as close to the original as possible, meaning the involvement of experts and workmen with highly specialized knowledge.
INAH and other authorities have very strict rules and enforcement on these matters. The thousands of structures have had to be assessed not only for damage but also to determine how the original structure was built. Even after experts ascertain this, there are only a limited number of construction firms in Mexico (and the world) able to reproduce the building techniques of centuries ago. This drives up costs significantly.
Add to this that these projects have to compete for funds from the same pot as "ordinary" structures, including 166,000 residences, 41 health centers, and 12,000 educational facilities. Lack of funding is always an issue, and work has stopped in various places because of this, especially in Puebla and Morelos where the damage has been more severe and costly.
When will it all be finished?
News reports over the past six years have shown a steady advance in the percentage of projects completed although figures can vary depending on the source. INAH says that as of August 2023, 65% of the churches and other community buildings have been completed with 73% returned to use, at a cost of over 10 billion pesos (US $ 570 million).
It is an amazing feat when you consider that the federal government also had to invest over 35 billion pesos in other earthquake-related repairs in the same region. 
The hardest-hit areas still have many buildings that are closed, including 591 in Puebla, 301 in Oaxaca and 178 in Morelos. Nonetheless, López Obrador has recently asserted that reconstruction projects are over 90% complete and will be finished at the end of the year, noting that his government released 844.5 million pesos this year alone for the effort.  
This is likely not the case. Culture Minister Alejandra Frastro has spent a good part of this year visiting the hardest hit areas to reassure residents they will eventually have their churches and other community centers back. She claims most will be finished but the particularly difficult ones will not likely be ready until 2024.
There are plenty of cases where reconstruction is particularly difficult, such as the fallen roofs of the monastery in Tlayacapan and Nuestra Señora de los Ángeles in Mexico City, both from the 16th century. The church, municipal palace, and traditional market in Juchitan, Oaxaca are still unusable. 
Earthquakes have damaged Mexico's churches and public buildings since the Mesoamerican period and will continue to do so in the future. Just as important as getting life back to normal is learning from this experience to protect structures in the future.
Puebla spokesperson Sergio Salomón Céspedes states "[The reconstruction] is a great challenge because it is specialized infrastructure, not just any ordinary thing. It involves great challenges in logistics, infrastructure, and resources. The actions are to give [our children] heritage, identity, history and culture." 
While the government certainly does need to reassure communities long without traditional sociological support, Mexico does deserve credit for taking on a monumental task nearly single-handedly."
Leigh Thelmadatter arrived in Mexico over 20 years ago and fell in love with the land and the culture in particular its handcrafts and art. She is the author of Mexican Cartonería: Paper, Paste and Fiesta (Schiffer 2019). Her culture column appears regularly on Mexico News Daily.