First things first: guavas and guayabas are the same thing. Here in Mexico, they're guayabas. In English-speaking countries, they're guavas.
There are more than 150 kinds, each with slightly different skin and flesh colors; the variety most commonly eaten is known as the "apple guava."
Guavas grow easily and plentifully in the tropics: India, Africa, Central and South America, the Caribbean, Australia and, of course, Mexico. They're as plentiful in those countries as apples are elsewhere and can be eaten the same way, skin and all.
They have a distinctive flavor and aroma that's almost floral, and when checking for ripeness, you want to be able to smell that sweetness. The skin of a ripe guava lightens in color, changing from dark green to a lighter green and then to yellow, sometimes with a pinkish tint.
They'll also feel a bit soft to the touch when ripe. Leave green guavas in a bowl at room temperature to ripen. The interior seeded flesh varies from a pale whitish-green to a beautiful rosy pink.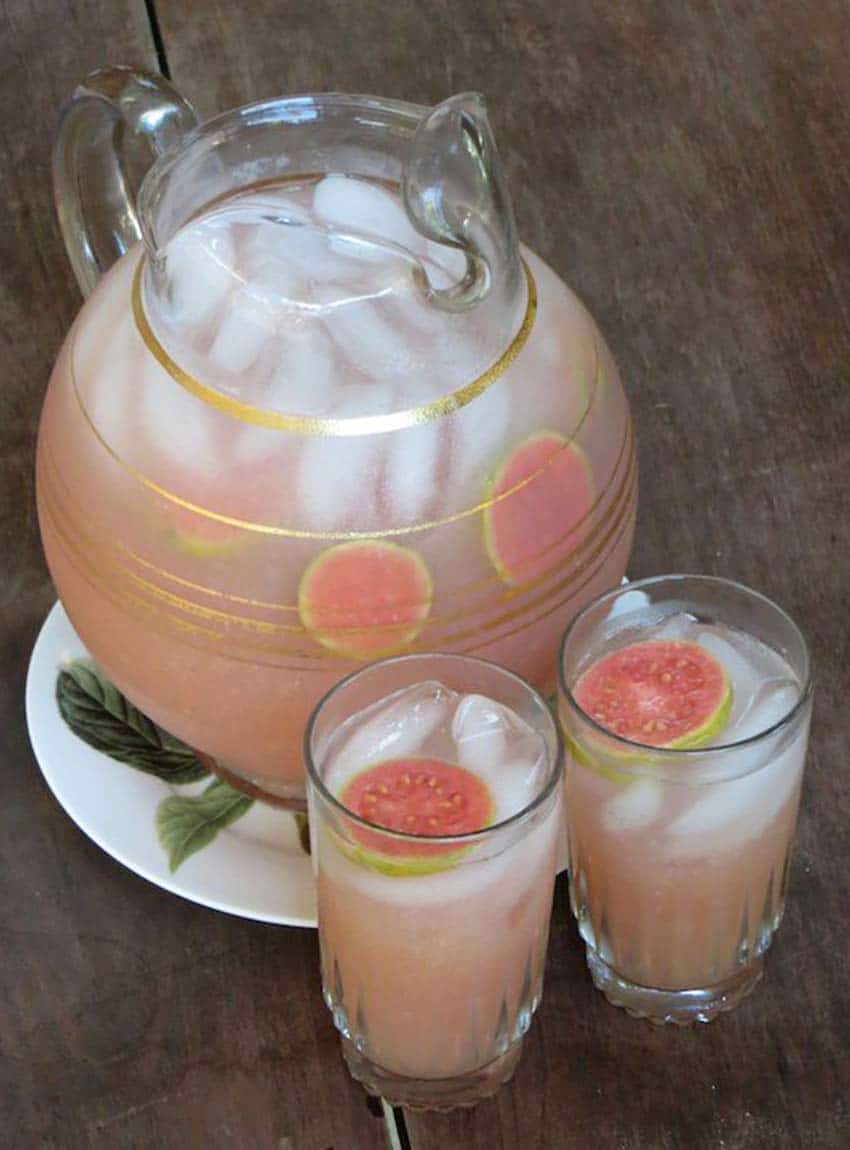 Chances are you've seen bars of dark red guayaba paste for sale in your local mercado or grocery store. Because of its high pectin content, guayaba cooks down into a sweet, gelatinous almost-solid paste that lends itself well to baking, especially paired with cream cheese in pies or cookies; for making jams, jellies and glazes or just for serving in slices as part of a cheese plate or a simple dessert.
Some of these recipes call for guayaba paste and others for the fresh fruit. Guayaba paste can be found, canned or fresh, in rectangular bars in the section of your market where you'd buy dried fruits and nuts.
Guava Agua Fresca
1 lb. guavas, washed, stem ends cut off and quartered
¾-1 cup sugar, depending on sweetness of guavas
6 cups water, divided
Optional: fresh mint or rosemary sprigs
Place fruit in blender with sugar and 2 cups water. Process until puréed. Strain into pitcher, add remaining water. Adjust sweetness. Serve chilled over ice, garnished with mint or rosemary springs.
Guava BBQ Sauce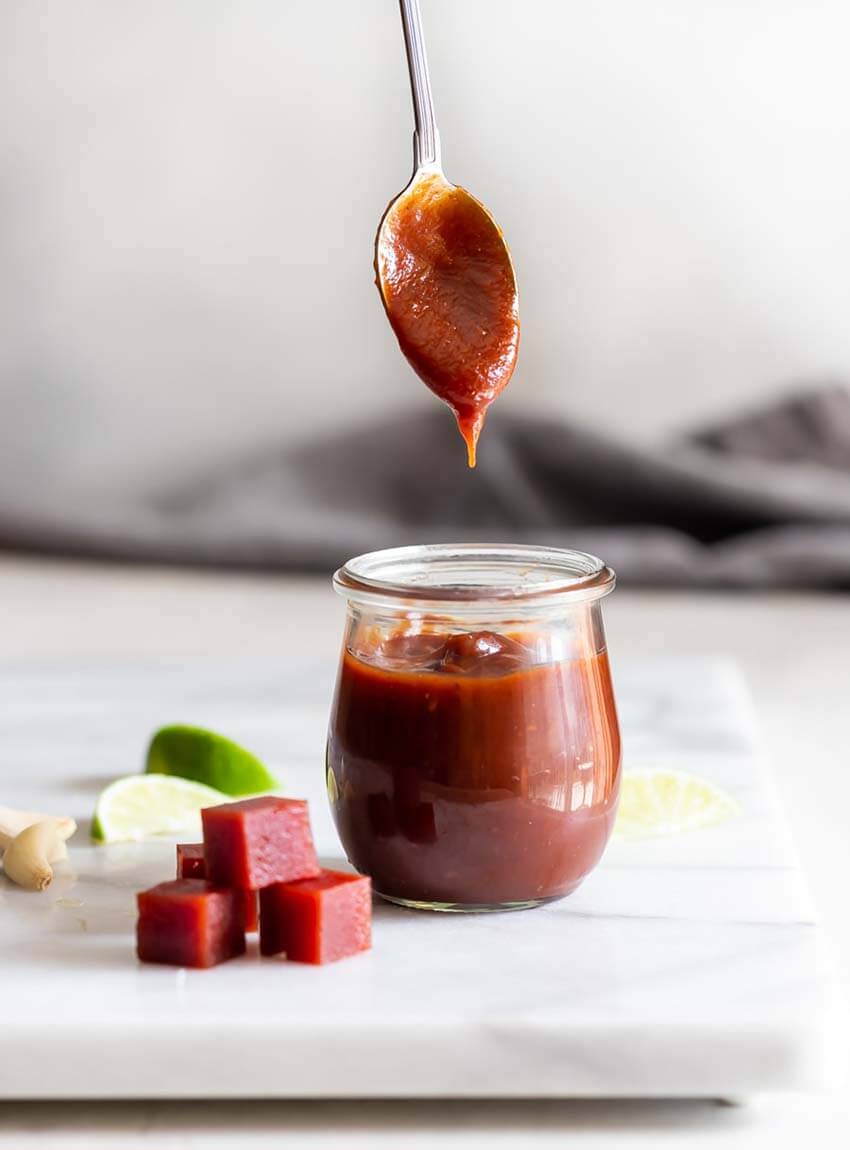 1 cup cold water
1 cup guava paste
⅓ cup apple cider vinegar
¼ cup dark rum
¼ cup tomato paste
¼ cup fresh lime/lemon juice
2 Tbsp. minced onion
1 Tbsp. minced fresh ginger root
1 Tbsp. soy sauce
2 tsp. ketchup
2 tsp. Worcestershire sauce
2 cloves garlic, minced
¼ serrano, jalapeno or habanero pepper (or to taste), minced
Salt and pepper to taste
In a saucepan, mix water, guava paste, vinegar, rum, tomato paste, lemon/lime juice, onion, ginger, soy sauce, ketchup, Worcestershire sauce, garlic and chiles. Bring to a simmer over medium-high heat, whisking until blended. Season with salt and pepper.
Reduce heat to medium-low. Simmer, stirring, until sauce thickens, 10–15 minutes. (Sauce should be pourable.) Thin with water if needed. Serve hot or cold.
Guava Cookie Bars
Crust:
1 cup unsalted butter
½ cup sugar
1 tsp. salt
2 cups flour
16 oz. guava paste, cut in ¼-inch thick slices
Topping:
1 cup whole oats
½ cup unsalted butter, diced
½ tsp. salt
½ cup grated piloncillo or brown sugar
1 cup flour
Grease 8 x 8-inch baking pan. Preheat oven to 350 F.
Directions for crust: Beat butter and sugar until fluffy; add salt and flour. Mix until dough comes together. Press dough evenly into prepared pan. Lay guava paste slices close together on top of dough, covering evenly.
Directions for topping: With a food processor or mixer, combine oats, butter, salt and sugar; add flour, then pulse until mixture resembles wet sand. Sprinkle evenly over dough.
Bake until top is golden, about 45 minutes. Cool completely before cutting into bars.
Guava and Cream Cheese Pastelitos
 In Brazil, the delectable combination of guava and cream cheese is known as "Romeo and Juliet."
Flour for dusting counter
2 sheets (one 17.3-ounce package) frozen puff pastry, thawed according to package instructions
8 oz. cream cheese, softened, cut into small pieces
6 Tbsp. sour cream
1 Tbsp. lemon juice
½ tsp. salt
8 oz. guava paste, cut into ¼-inch cubes
2 egg yolks
Preheat oven to 400 F. Line two rimmed baking sheets with parchment. Lightly dust counter and rolling pin with flour. Roll each puff pastry sheet to a 12-inch square. Cut each into quarters to make four 6-inch squares.
Beat cream cheese, ¼ cup sour cream, lemon juice and salt until light and fluffy. Place 2 Tbsp. cream cheese mixture at center of each pastry square. Evenly distribute guava paste cubes among pastry squares, on top of cream cheese mixture.
In small bowl, beat egg yolks and remaining 2 Tbsp. sour cream. Brush edges of each square with egg wash, then fold squares diagonally to form triangles. Seal edges by pressing them with tines of a fork. Brush tops of pastries with egg wash. Place pastelitos on prepared baking sheets about 1½ inches apart.
Bake 12–15 minutes until puffed and golden. Cool and serve.
Mango-Salmon Tacos with Guava Peanut Sauce
Use canned or fresh guava juice.
Olive oil cooking spray
2 (6 oz.) salmon fillets
1 mango, peeled and cut into 4 pieces
3 Tbsp. guava juice
3 Tbsp. soy sauce
2 Tbsp. peanut butter
2 Tbsp. white sugar
4 (6-inch) corn tortillas
Garnish: Minced onions, cilantro
Preheat oven to 350 F. Spray large piece of foil with cooking spray; place salmon on top. Lay 2 mango pieces over each salmon filet.
Carefully wrap, folding foil around salmon; transfer to baking sheet.
Bake 30–40 minutes until salmon flakes easily with a fork. Cool about 5 minutes. Flake salmon into pieces and chop mango. In a blender, combine guava juice, soy sauce, peanut butter and sugar until smooth.
Heat tortillas on a comal or in microwave. Make tacos with salmon, mango, onion and cilantro.  Drizzle with peanut sauce and serve.
Janet Blaser is the author of the best-selling book, Why We Left: An Anthology of American Women Expats, featured on CNBC and MarketWatch. She has lived in Mexico since 2006. You can find her on Instagram at @thejanetblaser.