A documentary particularly well-received at the Guanajuato International Film Festival last week was the award-winning "Las Abogadas: Attorneys on the Front Lines of the Migrant Crisis", directed by Victoria Bruce.
Filmed during 2019 to 2021, "Las Abogadas" follows four female immigration attorneys who worked at the U.S.-Mexico border as the Trump administration upended established policies for refugees and asylum seekers prior to and during the COVID-19 pandemic.
Director Victoria Bruce wanted to bring a humanitarian perspective to the border crisis, as rhetoric in Washington felt like it was reaching a fever pitch, and chose to center her film on four fearless female immigration attorneys – Rebecca Eichler, Charlene D'Cruz, Mulu Alemayehu, and Jodi Goodwin – all of whom granted her full access to their lives and legal practices.
Eichler is a retired attorney and first-generation U.S. citizen of Chinese and German descent. She and D'Cruz (who came to the U.S. from India as a teenager) drove a VW Bus to intercept a migrant caravan in central Mexico in 2018 and offer pro bono legal aid. 
Alemayehu is an Ethiopian-American who came to the U.S. as a political refugee and fulfilled her dream of studying law to help other victims of persecution, and Goodwin is a Texas-based attorney known for her work reuniting separated migrant families. This diverse group of lawyers worked to help asylum-seekers find safety in the United States, in the midst of rapidly-changing policies and political conflict.
The film also features the women's clients, such as Oscar, who fled Honduras to escape gang violence and government corruption. While living in a refugee camp in Matamoros, he helped D'Cruz identify vulnerable migrants who should be allowed to enter the United States under a humanitarian exemption to the Migrant Protection Protocols (MPP) implemented by the Trump Administration in January 2019.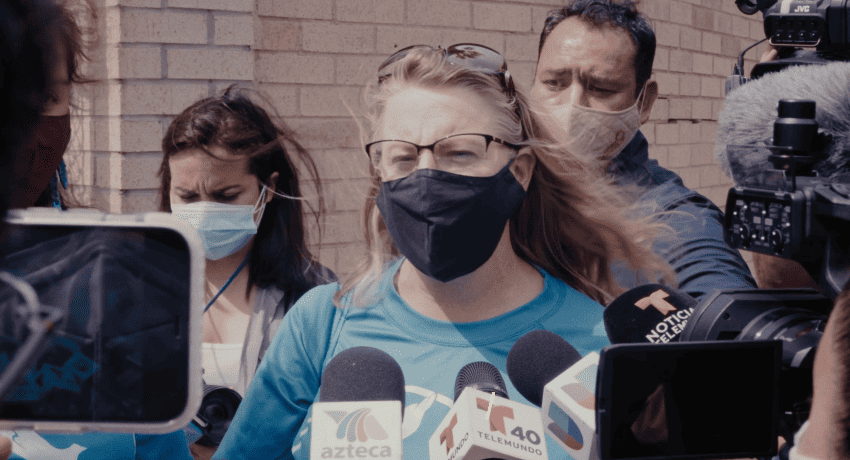 Under the MPP, colloquially known as "Remain in Mexico," asylum-seekers were forced to wait in unsafe camps on the Mexican side of the border for their chance to apply for asylum in the United States, and even throughout the ensuing immigration proceedings.  
In the film, we learn the story of people like Yodalys, who fled Cuba in search of political asylum. She was repeatedly turned back from the U.S. border, despite the fact that she was going blind from a parasitic infection and in desperate need of medical treatment, and had family members in the U.S. Only when the attorneys took her story to the press was she finally granted a humanitarian exemption.The documentary also tracks Cameroonian refugees Raisa and Martine, who flew to Ecuador to escape civil war, and then walked thousands of miles to Tijuana, a year-long journey. 
Gisselle, another Honduran, left her home to rejoin her mother, who had already fled to Mexico. In a tragic accident, Gisselle fell from the top of La Bestia ("The Beast"), the infamous freight train on top of which many migrants risk their lives trying to enter the U.S., and both of her legs had to be amputated. During the film, she recuperates at Albergue ABBA, the only migrant shelter in Mexico equipped to treat amputees and provide them with prostheses. 
In March 2020, with the beginning of the COVID-19 pandemic, the Centers for Disease Control (CDC) under President Trump invoked Title 42, an obscure clause of the Public Health Service Act of 1944 that grants the ability to take emergency action to prohibit migrants from entering the country in order to prevent the introduction of communicable diseases. With the border effectively closed, the four attorneys struggled to find ways to continue their work.
While the 2020 U.S. Presidential election brought hope and joy for the attorneys as some of their clients were allowed into the United States, the crisis hasn't abated.
"In some ways, things are worse now than they were when Trump was in office," executive producer Careen Shannon said to me. "Back then, so many people were up in arms about the situation. The United Nations spoke out against the Trump administration's immigration policies, including family separation and the Migrant Protection Protocols, aka the 'Remain in Mexico' program. The Red Cross was there at the border, along with many nonprofits. Then when Biden came into office, initially there was this feeling that things were going to be OK, and so everybody left to move on to the next crisis."
Gangs have reportedly filled the void, running the camps and terrorizing their residents, including kidnapping girls and women. "It is the most lawless place … run by gangs," said director Victoria Bruce. "In that situation, desperate people can turn against each other. We saw Haitians being attacked by some Central Americans. They were fighting over incredibly limited resources."
The Biden Administration twice tried to cancel MPP, but was prevented from doing so by the Supreme Court. In August 2022, the program was finally terminated. Title 42 remained in effect until President Biden lifted the COVID-19 public health emergency in May of this year.
With the lifting of Title 42, however, new restrictions immediately followed. The Biden administration decreed that migrants are ineligible for asylum if they cross the border illegally, or fail to seek asylum in another country, such as Mexico, on their route. Furthermore, migrants can only apply for asylum by scheduling an appointment via a government app called CBP One.
"The border is effectively closed," said Eichler. "It was closed under Trump, and it still is. Think of a castle with a moat and a drawbridge. Revoking Title 42 is like lowering the drawbridge, but if there's a big, heavy door at the end of the bridge—and these new restrictions lock that door—refugees still won't get in."
A recent court ruling provides a glimmer of hope for migrants stuck in the camps. On Tuesday, U.S. District Judge Jon S. Tigar ruled that the Biden Administration's policies violated the law by endangering migrants fleeing harm and preventing them from seeking asylum. According to federal law, it does not matter how asylum seekers entered the country if they say they are fleeing persecution. The judge stated that the U.S. government also cannot compel migrants to seek asylum in countries that lack robust asylum systems or are unsafe. In Mexico, for instance, he wrote that migrants are at "extraordinary risk of violence," including rape and kidnapping for ransom.
The Biden Administration is appealing Judge Tigar's ruling, but refugee advocates hope it holds.
"I want to make the point," said Eichler, "that what is happening is completely illegal. Like Charlene D'Cruz says in the film, all migrants have the right, even if they cross the border irregularly, to present themselves to U.S. authorities and apply for asylum. Forcing these people to apply for asylum in other countries first, and to wait indefinitely in Mexico, is contrary to U.S. law and international law."
The attorneys believe that a solution to the border crisis must also include an effective guest worker program.
"Many people at the border won't qualify for asylum, but that doesn't mean it is safe to go back to the countries they fled. It also doesn't mean they might not have something to offer the country," said Shannon. "We're missing an essential workers program … What's more, if it weren't for immigration, we would have a negative birth rate, which, as the governments of Japan and certain European countries can tell you, brings with it a host of economic and social problems."
The attorneys hope to humanize the border crisis and decrease the fear of migrants. "They're fleeing terrible situations in their home countries, and then the journey is horrific," said Bruce. "But when they get to the U.S., most work very hard to build good lives. Opportunity is the great equalizer." 
"What I hoped to accomplish with this film," Bruce continued, "is to wake people up to the fact that while the refugee crisis may feel like this vast unsolvable issue, it is something that can be helped one person at a time. Everywhere we put the film in front of an audience, it has changed hearts. It has informed. It has brought people to the table who want to help."
"Las Abogadas" was produced by Laura Seltzer-Duny, executive produced by Careen Shannon, and edited by Simon Efokoa—one of the Cameroonian refugees featured in the story. The movie also includes an original song entitled "Far Away" by San Miguel de Allende's own Liah Alonso and Carl Cane. For more information about the film and to access resources for helping refugees in need, visit: www.lasabogadasfilm.com.
Based in San Miguel de Allende, Ann Marie Jackson is a writer and NGO leader who previously worked for the U.S. Department of State. Her novel "The Broken Hummingbird" will be out in October. Ann Marie can be reached through her website, annmariejacksonauthor.com.