Nestled in a quaint little square in the trendy neighborhood of Colonia Americana sits Slice, the newest addition to Guadalajara's pizza scene. Beneath beautiful cascades of yellow cassia flowers, a long line of people are queued up to get a taste of Slice's unique eats. 
The eye is immediately drawn to a glowing red neon sign advertising the establishment as a "New York Pizza Club", and the inviting aroma of fresh oregano and bread wafts through the air. Inside, the restaurant boasts a sleek and modern design, adorned with hardwood floors and marble accents.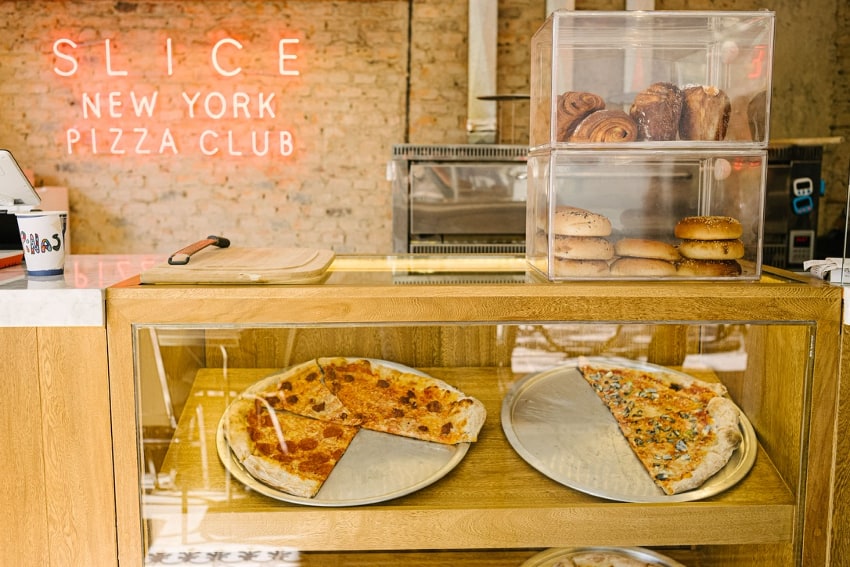 The nostalgic melodies of '90s hip hop fill the space, and the walls are lined with portraits of the Empire State's greatest rap troubadours. In a display case, patrons can glimpse the pizzas of the day while a cheery staff of young Mexican employees work expeditiously to serve piping hot pies to hungry customers.
Slice is the brainchild of Ben Schuder, an expat from Oakland, California. He's one of the growing number of young Americans who've permanently relocated to Mexico, finding life south of the border more appealing.
While visiting Guadalajara during the pandemic, Schuder quickly fell in love with the Colonia Americana neighborhood. It's easy to understand the attraction. Recently crowned "the coolest neighborhood in the world" by Time Out magazine, Colonia Americana is flush with varied gastronomy, mixology, and nightlife. 
"It has a very European flair," Ben tells me. "With all the little cafes and bistros, sometimes I feel like I'm in Paris when I'm walking down the street."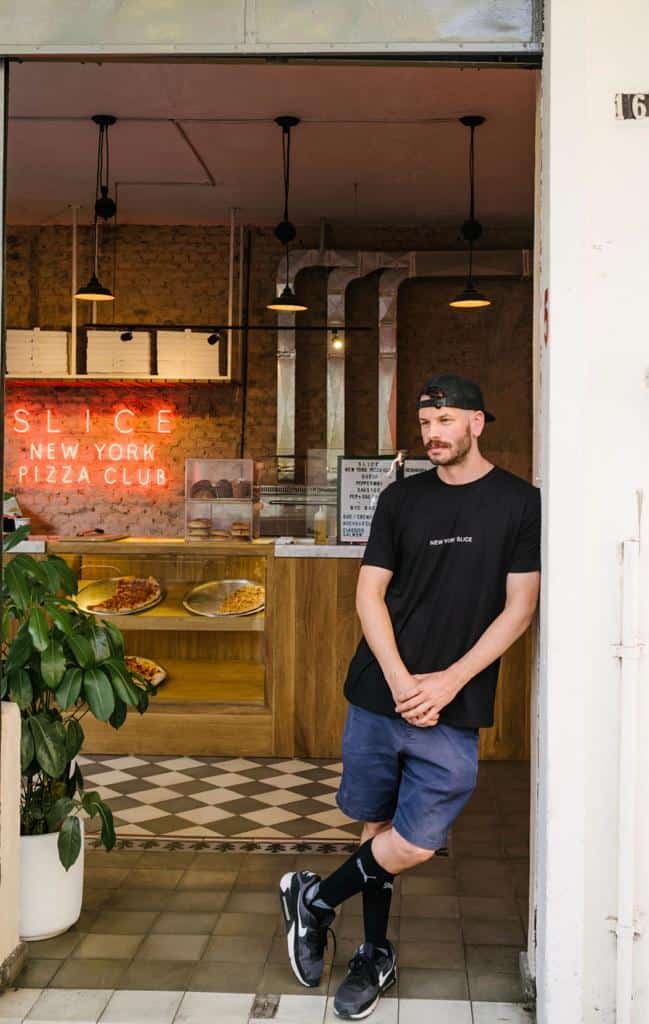 Aesthetics and cuisine aside, there were other factors that led him to settle in Guadalajara. Frustrated with the high cost of living in his native California, Ben saw Mexico as a way for him to accomplish something that felt increasingly impossible back home.
"It's kind of ironic for me to say that I think there's more opportunity here in Mexico than there is in the states," Ben remarks. "So many Mexicans are trying to go to the United States for the same reason, but that's the power of the dollar, right?" 
"If I wanted to open something like Slice back home, I'd have to find a wealthy backer," Ben continues. In Guadalajara, he was able to open a restaurant with just his savings, help from friends, and hard work.
"That's the American dream. Right now, it feels like that dream is more attainable here in Mexico than it is in the USA," Ben says.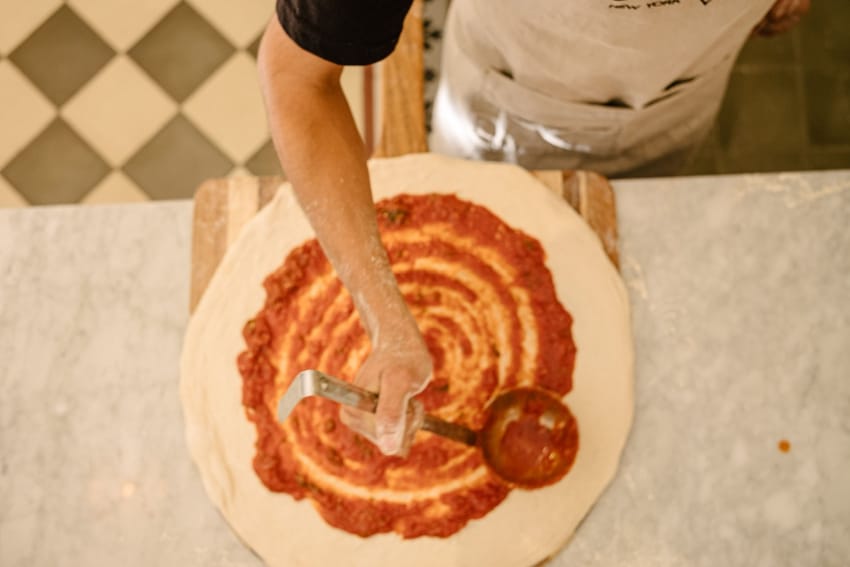 While Mexico has always been a destination for retirees, the last few years have seen record leaps in the scale of the gringo diaspora – the number of U.S. citizens living in Mexico on a temporary or permanent basis has grown by a whopping 75% since 2019.
Much has been written about what's driving this influx of immigrants, such as the ability to work remotely or the exorbitant prices of US real estate, but for Ben, a large part of his decision to move to Mexico was his genuine appreciation of the culture.
"I'm sure I could open a restaurant in any other country, but there's something special about Mexico," Ben says. "I love the people here, I love the culture, I love the music, I love the food. I've made so many friends and met so many amazing folks in the course of my time here. I think even if I didn't have Slice, I'd still be living here. It feels like home to me now."
And Mexico has taken kindly to Ben. His business partner, Rogelio Haro Quintero, is a seasoned chef and Guadalajara local who owns a micro-bakery specializing in artisanal breads and long fermentation processes. The pair met through an expat group on Facebook, where Ben hired Rogelio to make some bagels for him. They ended up becoming fast friends, and Ben eventually pitched Rogelio on his idea for Slice.
"I honestly didn't know much about the concept at first, so, Ben showed me some videos of New York pizzerias," Rogelio remembers. "I realized [then] that it could be a good idea, as the pizzerias we have here aren't great." 
At first, Rogelio was a little skeptical about just offering cheese and pepperoni pizzas because he thought that locals would prefer more toppings, but they've had "a really good response so far," Rogelio says. "Going forward, we both want to try to incorporate more local flavors into our pizzas. We just dropped a pizza with huitlacoche and squash blossom, for example."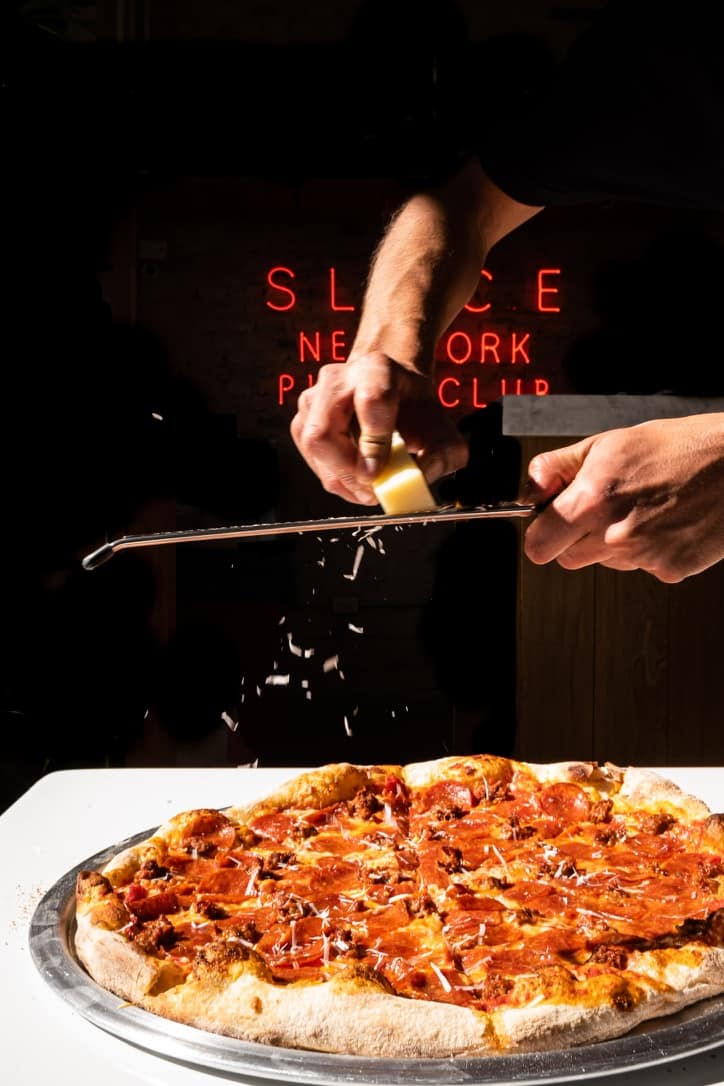 "Tacos al pastor came from shawarma, brought over to Puebla by Lebanese immigrants in the 1930s," Rogelio tells me. "I look at what we're trying to do with New York pizza here as a similar thing. It's been a really fun adventure. It feels like we are doing something that we love, rather than just trying to get a business off the ground," he adds.
A restaurant born out of friendship and cultural cross-pollination has proven to be a winning formula. I ask Ben what the future holds for Slice.
"Eventually, we'd like to franchise, but right now we're focused on establishing ourselves in the community," Ben says. Soon, he wants to rent out a nearby space where he can have a "pizza party" for the whole neighborhood. "I reached out to a bunch of local graffiti artists to paint some murals, and I'm looking for a local band to perform as well. I want this to be a place that brings everyone in the community together, locals and foreigners alike."
Ben smiles, motioning at the bustling crowd lined up for pizza behind him. 
"Building relationships, connecting cultures, growing your roots in a place you love…. that's what I'm trying to do here…because that's what life's all about, right?"
Check out Slice on Instagram: @SlicePizzaClub and Rogelio's Bakery: @lacocciongastronomia