If you're on a quest to understand Mexican humor – or at least to find the best Mexican memes to share with your friends – we've got you covered! Here's this week's curated collection with a translation, background, any relevance to current events, and hopefully, a good chuckle.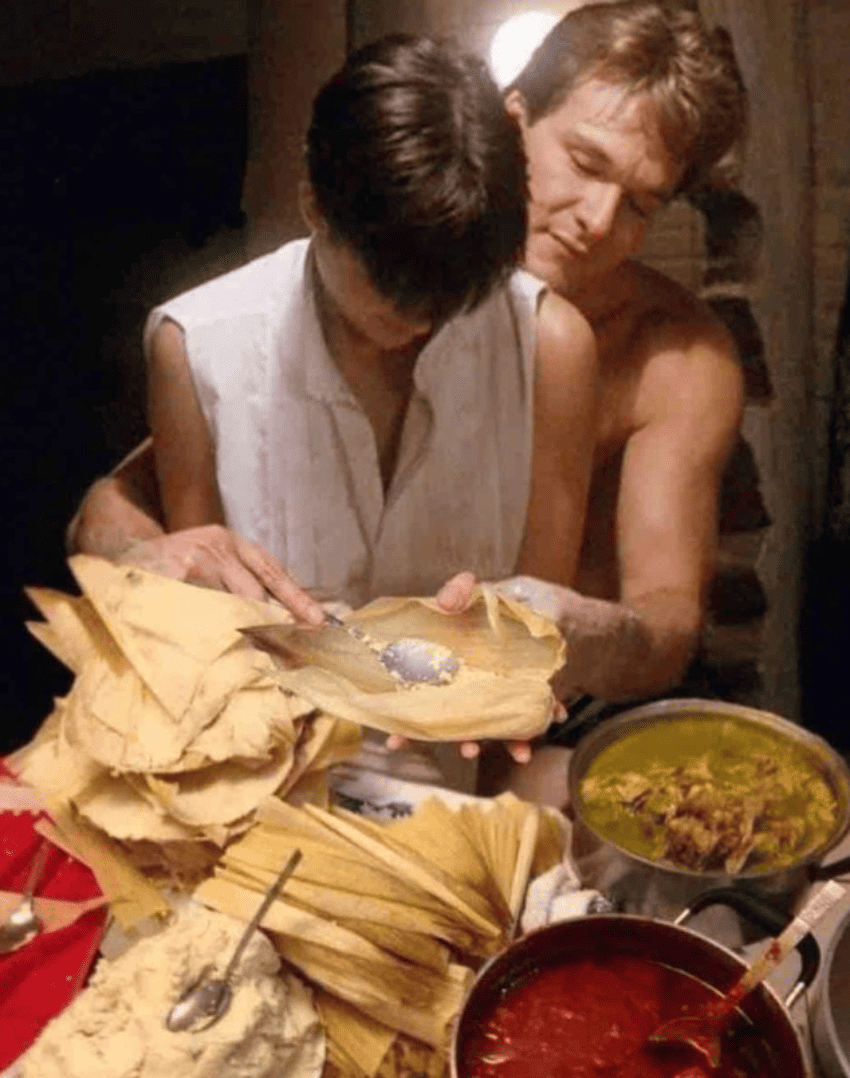 Meme Translation: I mean, none needed, right?
What does it meme?: When it starts getting cold outside, Mexican tamal season is upon us. Actually, it's never absent! 
From the magic of AI – I'm assuming – comes this work of true art! The iconic scene from the blissful but short pre-ghost time in the movie Ghost has been adapted for even steamier levels of tender romance (tamales are cooked by steaming, after all): the clay vase has been replaced with the ingredients of tamales – masa (dough), carne de puerco en salsa verde y salsa roja (pork in green and red sauce). Hopefully the tamales they're making make out better than that vase in the movie did!
And since we're talking about tamales: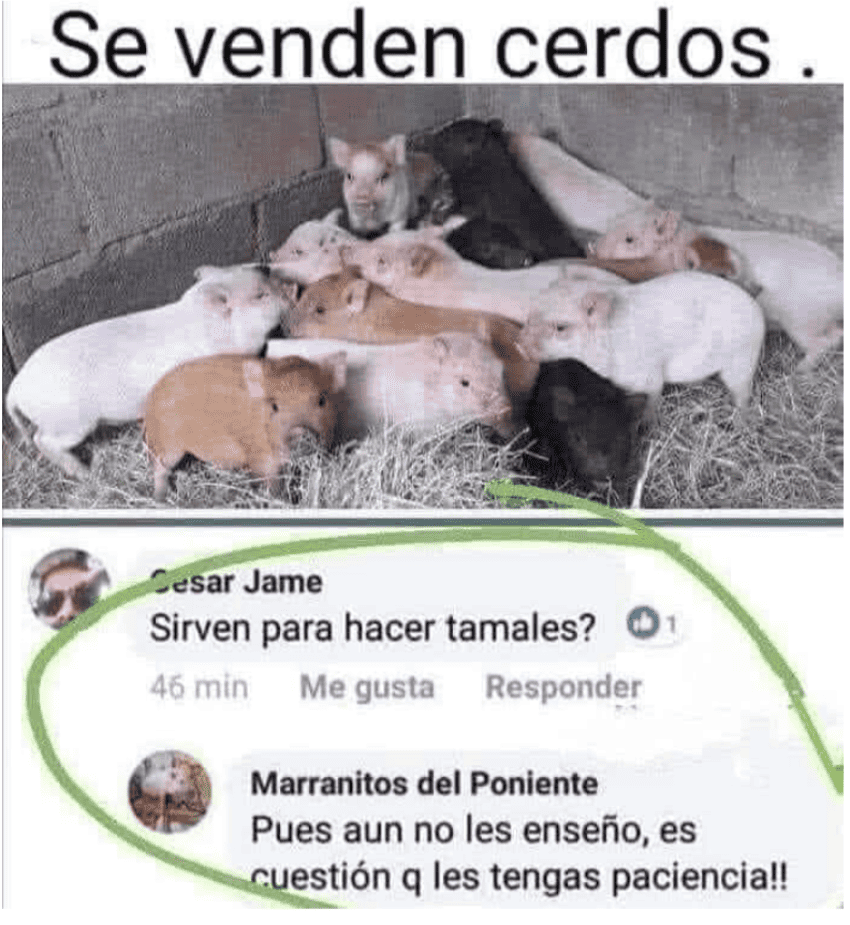 Meme Translation: (Announcement) "Pigs for Sale" → (first comment) "Are they good for tamales?" → (second comment) "Well I haven't taught them yet, it would just be a question of patience!"
What does it meme?: Want to know how to make Mexican tamales? Well, one of the most common meat ingredients is, sadly for the future chefs above, pork. Here's hoping these ones are fast learners! While they're probably smart enough, their lack of opposable thumbs for scooping out the masa, distributing the ingredients, and folding the corn husk over it will probably work against them.

Meme Translation: "Look at me, I'm paying my rent with the honor of managing Eugenio Derbez's social media accounts!"
What does it meme?: This one will take some explaining. Eugenio Derbez is a famous comedic actor in Mexico (you'd probably recognize him) who had the misfortune of saying something dumb and tone-deaf on camera. The internet never forgets, people! 
In an interview from 2018 – I'm unsure why there are suddenly so many memes about it making the rounds now – he seemed to take offense to the fact that a young person had asked him, after being offered the job of managing his social media accounts, how much he would be paid for doing so. He went on to say that he would have done it for free simply for the honor and opportunity that working with such a famous person would bring. 
How quickly those with plenty forget (or perhaps never knew) what it's like to worry about meeting one's monthly expenses!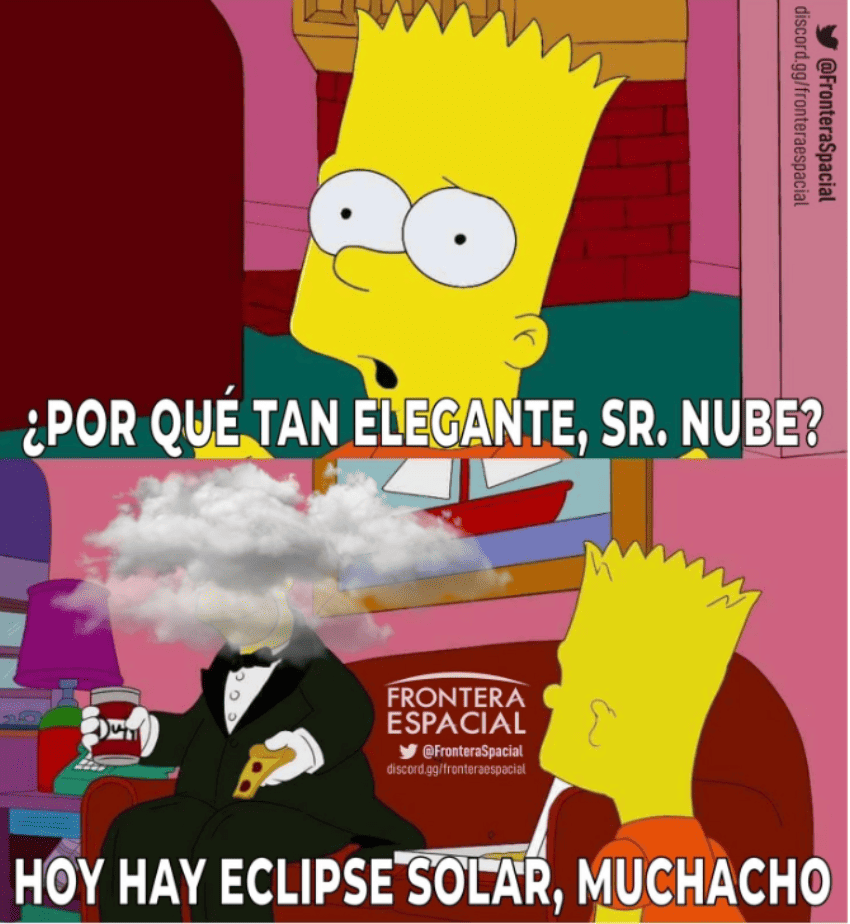 Meme Translation: "Why so dressed up, Mr. Cloud?" → "There's a solar eclipse today, boy."
What does it meme?: Xalapeños were pretty sad about their inability to view the solar eclipse that took place on a cloudy and overcast morning…especially after a full week of unusually sunny and hot weather. We weren't the only ones in Mexico that missed a good view of it though, and as always, the memes poured in. 
This is one of my favorites, along with this other close contender shared locally by my friend who works in the civil protection department:
"Aviso importante a los xalapeños* A fin de proteger la vista y dado la imprudencia de querer ver el eclipse directamente sin protección hemos decidido mantener nublado el cielo mientras dura el fenómeno. Gracias por su comprensión, Protección civil a su servicio.
(Translation: "Important announcement for xalapeños: To protect the sight of our citizens in light of their intentions to watch the eclipse directly without protections, we have decided to keep the sky cloudy throughout the event. Thank you for your understanding. Civil Protection, at your service.")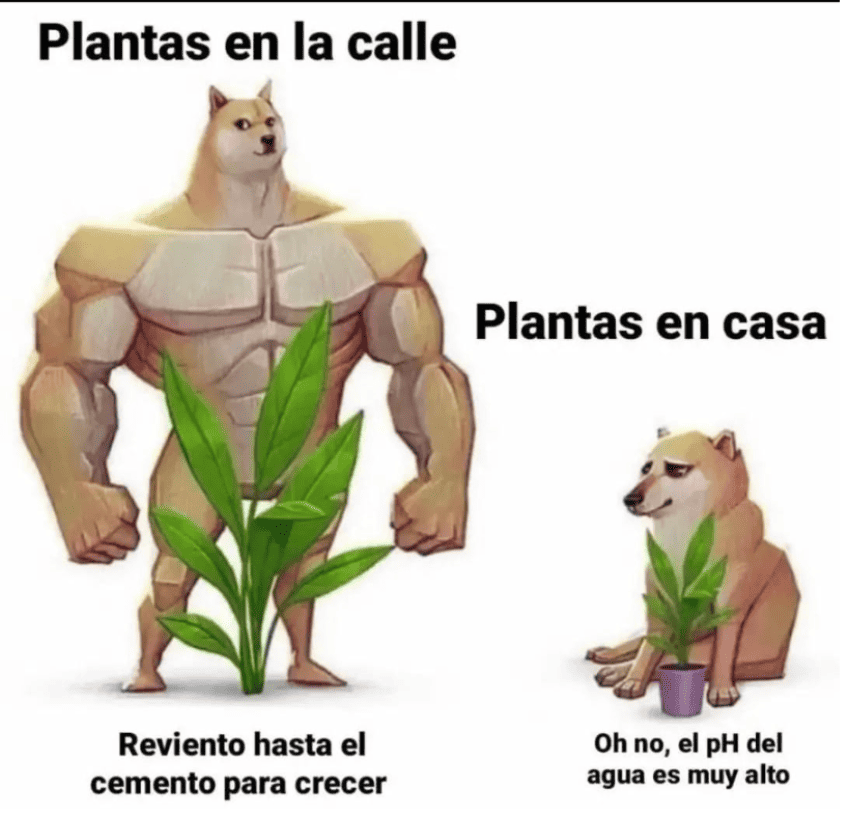 Meme Translation: "Plants on the street: I don't care, I'll break the cement to keep growing." → "Plants at home: Oh no, the pH of the water is too high."
What does it meme?: The struggle is real! I've got plants on my mind since the article on native plants, and am just constantly amazed at how impossible it seems to get rid of some and how easy it is for the ones you actually want to grow inside to die. Alas, plants prefer the ground to a maceta (pot) just like fish prefer the sea to a fishbowl. 
Also, this meme format of the giant muscle dog next to the wimpy dog, popular in Mexico at the moment, cracks me up.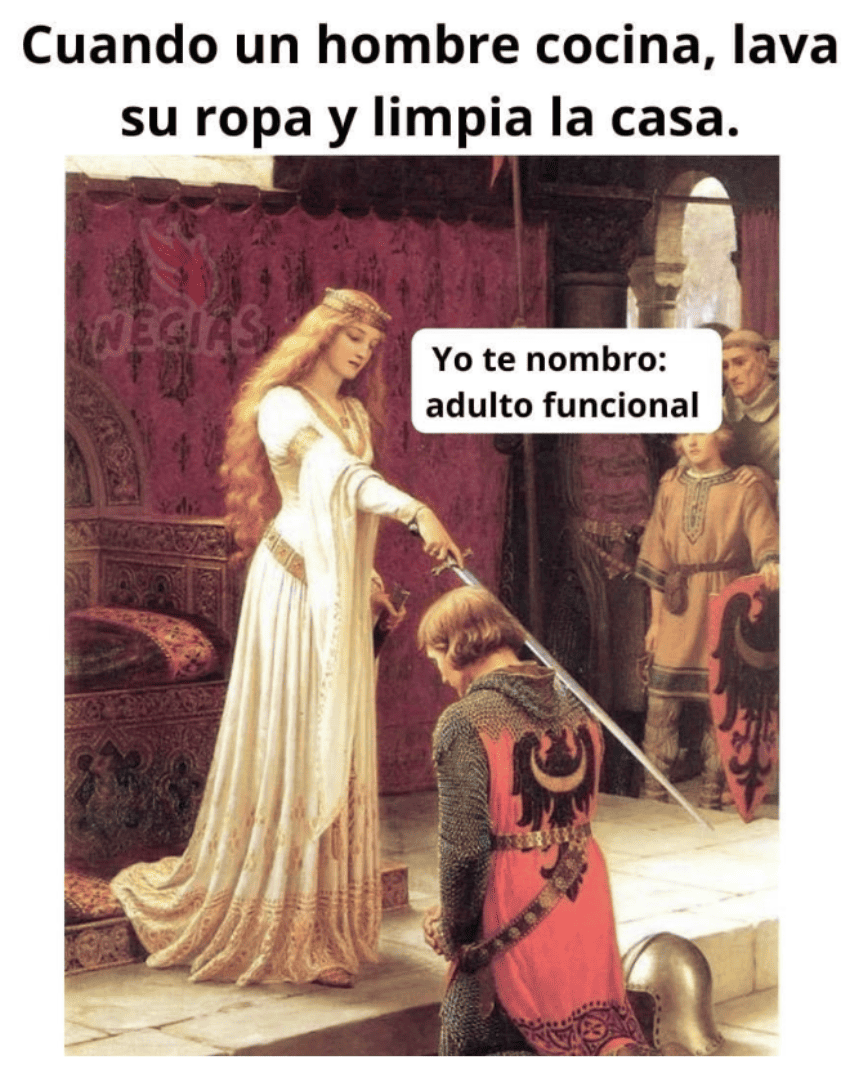 Meme Translation: "When a man cooks, washes his clothes, and cleans the house." → "I hereby name you: Functional Adult."
What does it meme?: Feminism in Mexico has taken a while to catch on, admittedly, and the struggles this movement faces are one of my favorite topics to write about. But with younger and more educated generations especially, the idea that women must forever be the handservants of the men in their lives is losing popularity (finally).
Child-rearing is still widely seen as the realm of the mother. However, an area where it's hard to win (like everywhere, I suppose): women are both ultimately held responsible in a "buck stops here" sort of way and also blamed for raising what turn out to be spoiled men. (Here's an article I wrote about child-rearing attitudes in Mexico if you're interested).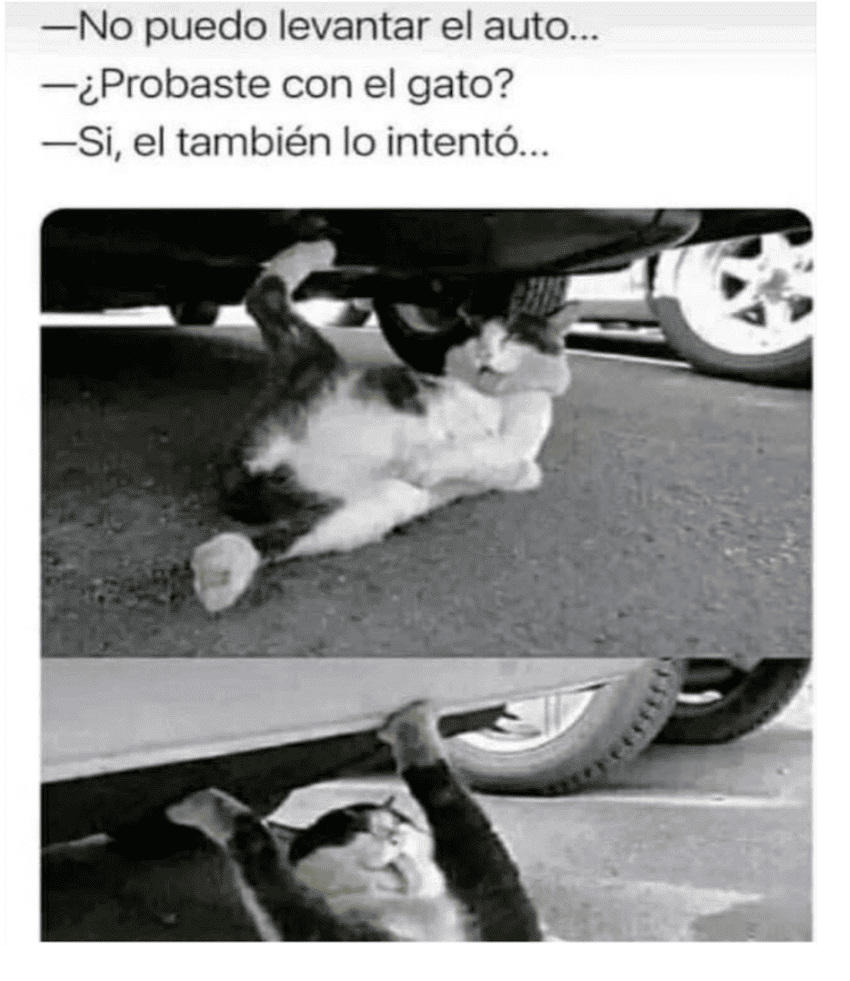 Meme Translation: "I can't lift the car…" → "Did you try using the jack?" (in Spanish the word for "jack" and "cat" are the same: "gato") → "Yeah, he tried, too."
Most of these memes are found in the normal way: in chat groups, on Instagram, and on Facebook. If you've got a suggestion about one to include, feel free to send it my way! Now, without further ado…
I hope you all are enjoying these and that you have a fantastic week! 
Sarah DeVries is a writer and translator based in Xalapa, Veracruz. She can be reached through her website, sarahedevries.substack.com.