More than 100 wildfires are burning across the country, creating dangerous and smoky conditions especially in southern and central states where the blazes are concentrated.
According to a count by the newspaper El Universal, there were at least 108 active wildfires in 17 states yesterday. Federal Civil Protection chief David León placed the figure at a slightly more modest 106.
El Universal said there were 14 fires in Guerrero, 13 in Oaxaca, 12 in México state, 11 in Veracruz, 10 in Michoacán, nine in both Puebla and Chiapas, six each in Jalisco and Chihuahua, four in Mexico City and San Luis Potosí, two in Tamaulipas, Hidalgo, Guanajuato and Yucatán, and one apiece in Aguascalientes and Querétaro.
A satellite map published by NASA showed much of Mexico replete with red dots, each one representing an active wildfire.
León said that 7,500 firefighters are working across the country to control and extinguish the blazes and called on the public to be alert to warnings and instructions from authorities.
He said that Puebla was the worst affected state in terms of the area of land affected by wildfires.
In Guerrero, Governor Héctor Astudillo Flores yesterday called on federal Civil Protection to declare a state of emergency in the state due to the high number of fires and the extent of land affected.
The aim of the request, he said, was to "have the greatest human capital and tools to reduce the impact" of the fires.
In México state, 11 municipalities were affected by fires yesterday including the popular tourist destination of Valle de Bravo.
Fires also burned in Cuatitlán Izcalli, Tultitlán, Atizapán de Zaragoza, Naucalpan and Huixquilucan, all of which are located in the Mexico City metropolitan area.
In Huixquilucan, where fires were ablaze for a fifth consecutive day, Mayor Enrique Vargas del Villar said the situation was "like nothing we've had before."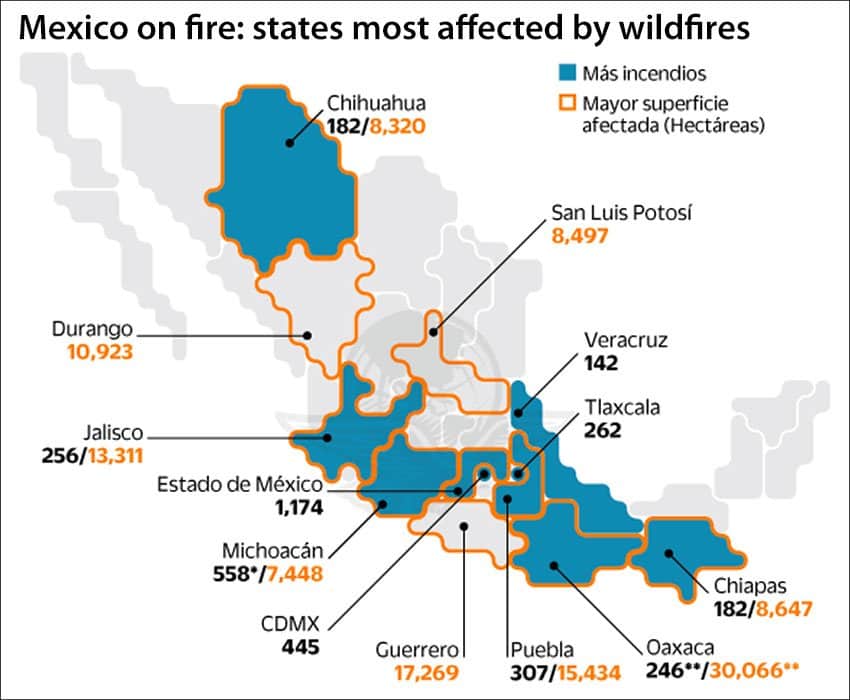 In Mexico City – where an Extraordinary Environmental Contingency was issued today due to extremely high levels of fine particle matter in the air – four fires continued to burn last night but firefighters yesterday fought a total of 23 blazes in 11 boroughs of the capital. Sixteen were wildfires, El Universal said.
In Oaxaca, where almost 30 fires have been burning in different regions of the state for as long as 30 days, the Interior Secretariat declared a state of emergency last Saturday for 11 municipalities.
A forest fire in the Chimalapas jungle that had been burning for a month was finally extinguished over the weekend.
Aaron Juárez, chief of the State Forest Commission, said that more than 20,000 hectares of forestland were lost in the blaze but added that a reforestation plan is already being drawn up.
Across Mexico, there have been more than 4,400 wildfires in 30 states this year, according to the National Forestry Commission. More than 150,000 hectares of land has been affected, 94% of which was covered with grass or brush. The other 6% was forest.
Almost half of all the fires have occurred in just four states: México, Mexico City, Puebla and Tlaxcala.
Civil Protection chief León told El Universal that the number of fires recorded is not atypical, pointing out that between January 1 and May 9 last year there were 697 more blazes than this year.
Nine of every 10 fires are the result of "people's carelessness or irresponsibility," he said, explaining that 41% of blazes are caused by burns that get out of control, while 10% start from discarded cigarette butts.
León explained that climate factors including high temperatures, wind and low humidity also contribute to the commencement and spread of fires.
Six firefighters have been killed fighting fires this year, he said.
Source: El Universal (sp), Milenio (sp)