At least 27 people were killed in a fiery crash on a highway in Tamaulipas on Sunday morning.
The Public Security Ministry (SSP) in the northern border state said that a tractor-trailer and a van collided on the Hidalgo-Zaragoza highway in the municipality of Güémez, near the capital city of Ciudad Victoria.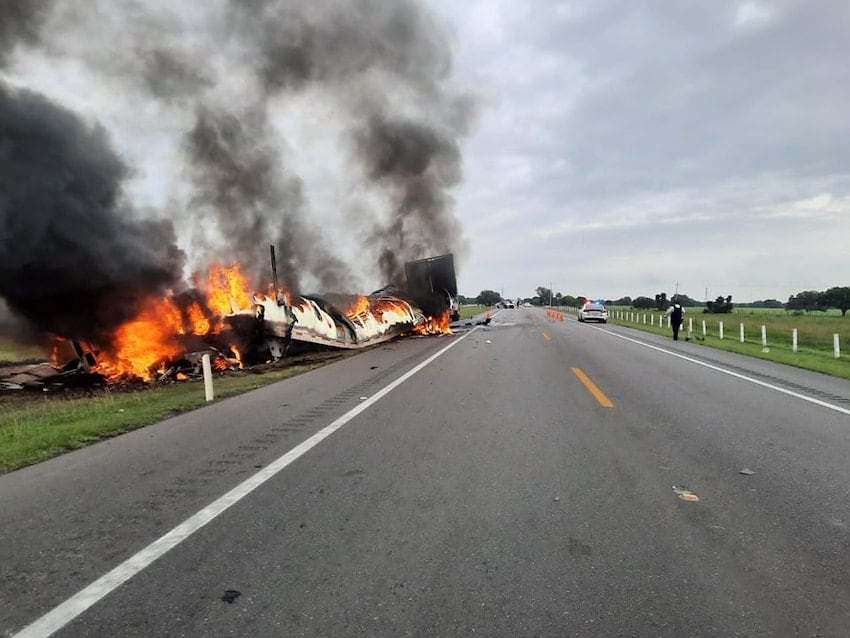 Both vehicles subsequently caught fire, the SSP said in a post on its Facebook page. According to preliminary reports, the bodies of most victims were badly burned.
The SSP initially reported 13 deaths, but the number was revised to 27 later on Sunday.
The ministry said that when state police arrived, the tractor carrying the freight trailer was not there, suggesting that the driver uncoupled the truck and fled the scene.
A source at the Tamaulipas Attorney General's Office told the Reuters news agency that investigators could not yet confirm whether the driver fled or was killed in the accident.
The van was reportedly traveling from the state of Veracruz to Monterrey, Nuevo León. Children were among the passengers who lost their lives in the accident.
Reciban un abrazo afectuoso y nuestras condolencias, familiares y allegados de las personas que perdieron la vida esta mañana en el accidente de la carretera Güémez -Zaragoza. pic.twitter.com/k7grg3HmwS

— Américo Villarreal (@Dr_AVillarreal) May 14, 2023
Tamaulipas Governor Américo Villarreal left messages of condolences to the victims' families on Twitter on Sunday. (Américo Villarreal/Twitter)
The truck was transporting air conditioners, according to a Univision report.
Reuters' source said that all the victims were believed to be Mexican, as authorities recovered national ID cards.
Governor Américo Villareal Anaya sent his condolences to the victims' families in a message posted to Twitter. He said he had instructed authorities to investigate the cause of the accident and provide "all possible help" to the victims' relatives.