High and middle-income areas of Mexico City are the favored hunting grounds for thieves who target people who have just withdrawn money from their bank.
An investigation by the newspaper Milenio using publicly available government data identified nine neighborhoods in the capital where bank customers are most at risk of being mugged after using an ATM or withdrawing money inside a bank.
They are Colonia Del Valle, Roma Norte, Lomas de Chapultepec, Narvarte, Anáhuac, Hipódromo (Condesa), Polanco, the historic center and Lindavista.
Information on the Mexico City government's open data platform shows that between 2016 and 2018, there were 977 street robberies reported by people who had just withdrawn money in the capital and 15% of them occurred in those neighborhoods.
Most robberies occur on streets within a 100-meter radius of the bank where the victim withdrew money.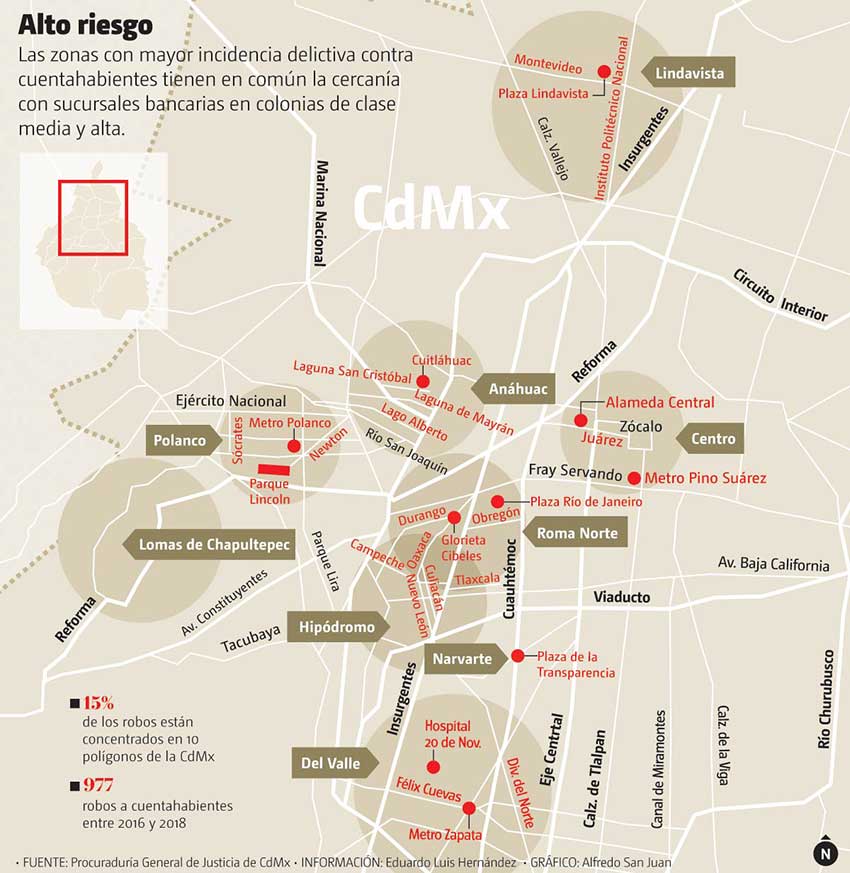 The thieves most commonly approach their victims on motorcycles, either in groups or alone, to quickly snatch bags, purses and wallets. However, the threat and/or use of violence is reported in some cases.
In Colonia Del Valle, a middle-class neighborhood in the south of Mexico City, one person was killed after leaving a bank in April last year.
With a total of 24 reported robberies between 2016 and 2018, Del Valle had the equal highest incidence of the crime along with Roma Norte, a trendy neighborhood full of bars and restaurants located to the west of Mexico City's downtown.
Lomas de Chapultepec, an affluent neighborhood in the Miguel Hidalgo borough, and Narvarte, a middle-class neighborhood that borders Del Valle, both saw 17 reported cases of robberies of recent bank users over the past three years to tie for third place for the incidence of the crime.
All nine neighborhoods identified by Milenio have several banks which are clustered together in the same area, providing a clear focus for would-be thieves.
Source: Milenio (sp)