A senior government official has predicted that the United States will return as many as 50,000 asylum seekers to Mexico in the coming months, a figure that would represent a nearly fivefold increase on the number of migrants already returned under the Trump administration's "Remain in Mexico" policy.
With the number of migrants seeking asylum in Mexico also on the rise, Alejandro Encinas, undersecretary for human rights, migration and population, said yesterday that the government will have to quickly strengthen its capacity to attend to the "refugees."
As part of a bilateral deal reached last Friday that ended United States President Donald Trump's threat of a 5% tariff on Mexican goods, Mexico committed to send 6,000 members of the National Guard to the southern border to deter the entry of undocumented migrants and agreed to allow the return of all migrants seeking asylum in the U.S. as they await the outcome of their claims.
In a joint declaration issued on June 7, the two countries said that "those crossing the U.S. southern border to seek asylum will be rapidly returned to Mexico" and "Mexico will authorize the entrance of all of those individuals for humanitarian reasons."
The statement also said that Mexico will offer returning migrants "jobs, health care and education according to its principles."
The expanded implementation of the Migrant Protection Protocols, as the "Remain in Mexico" policy is officially called, will stretch government resources, especially in northern border cities where there are already large numbers of migrants.
A Mexican immigration official said last week that nearly 10,400 asylum-seekers have already been returned to Mexico as their cases are processed in United States immigration courts, while many more migrants are still waiting in border cities for an opportunity to file claims with U.S. authorities.
The director of a migrant shelter in Reynosa, Tamaulipas, this week condemned the new migration pact, stating that already overwhelmed shelters will be unable to cope with the increased number of arrivals from the U.S.
The number of migrants crossing the northern border into the United States has increased significantly in recent months, fueling Trump's anger as he attempted to pressure Mexico to do more to reduce migration flows.
The United Nations Refugee Agency (UNHCR) said yesterday that 593,507 migrants have arrived at the southern U.S. border from Mexico this year, and that asylum applications in Mexico have increased 196%.
The agency called for "an urgent meeting of states in the region to map out coordinated action to address this growing displacement challenge effectively and sustainably, in ways that prioritize protection of lives and well-managed borders."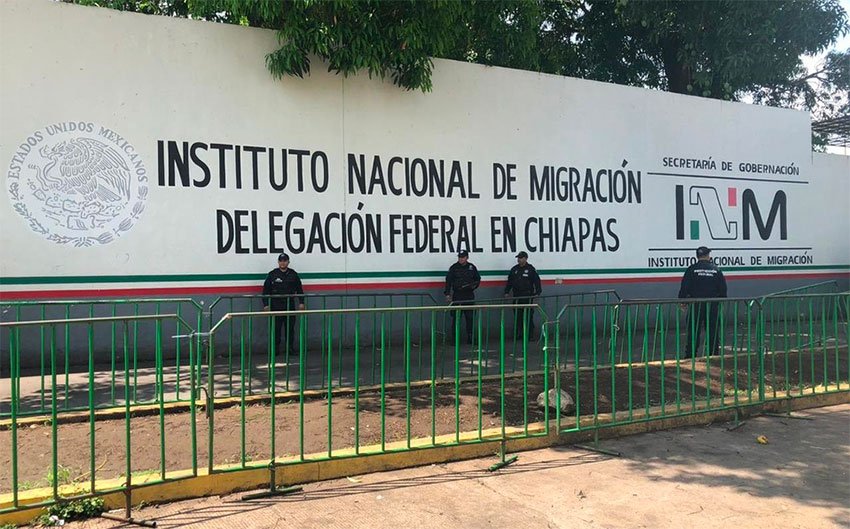 UNHCR Mexico official Joseph Herrero told the newspaper Milenio that more than 27,000 Central Americans have filed asylum claims this year and that 30% of those are minors.
More than 1,000 children are currently housed in the country's 53 migration detention centers, according to the National Immigration Institute, some of which are severely overcrowded.
Interior Secretary Olga Sánchez Cordero said yesterday that there is an "emergency situation" in Mexico with regard to migration, citing statistics from the United States Customs and Border Protection that show that more than 144,000 people were arrested after illegally crossing the northern border last month.
The measures to curb migration that Mexico has agreed to adopt respond to that situation, she said.
"We're going to have a special Mexican model," Sánchez said, adding that it will comply with the United Nations Global Compact for Safe, Orderly and Regular Migration.
"We're going to sponsor work visas for migrants and we're going to give attention to their human rights," she said.
President López Obrador said yesterday that the sale of the presidential plane will help to fund the attention given to migrants – and efforts to curb their entry into, and travel through, the country.
After predicting that the number of people seeking asylum in Mexico will reach 80,000 before the end of the year, undersecretary Encinas also said that migrants' rights will be protected.
"We will have to strengthen . . . our commitment with regard to migration and attention to refugees because we're not going to renounce what has been one of the clear, historical characteristics of Mexican policy – to guarantee [the right to] asylum, refuge and dignified treatment for those people who come to our country to seek a different opportunity in life."
Source: El Financiero (sp), Milenio (sp)