Mexico's known tally of coronavirus cases approached 3.5 million on Friday with 14,233 new cases reported, while the official COVID-19 death toll rose by 699 to 266,849.
The accumulated tally now stands at just over 3.49 million, the 15th highest total in the world.
Mexico's death toll, which like the case tally is considered a significant undercount, is the fourth highest in the world after those of the United States, Brazil and India.
On a per capita basis, Mexico has the 19th highest COVID death rate with 208 fatalities per 100,000 people, according to data compiled by Johns Hopkins University.
There are currently 100,643 estimated active cases in Mexico, a 1% increase compared to Thursday.
Tabasco continues to lead the country for active cases with more than 250 per 100,000 people, while Colima ranks second with exactly 250.
With more than 18,000 active cases, Mexico City easily has the largest current outbreak in the country but ranks third on a per capita basis with about 200 infections per 100,000 people.
In other COVID-19 news:
• Two hundred and fifty-nine days, or about 8 1/2 months, after the first shot was given on December 24, the total number of vaccine doses administered in Mexico passed 90 million on Thursday.
More than 90.3 million jabs have now been administered, according to the most recent Health Ministry data, after 865,661 shots were given Thursday.
More than 37.5 million Mexican adults are fully vaccinated while another 22.4 million have had their first dose of a two-shot vaccine.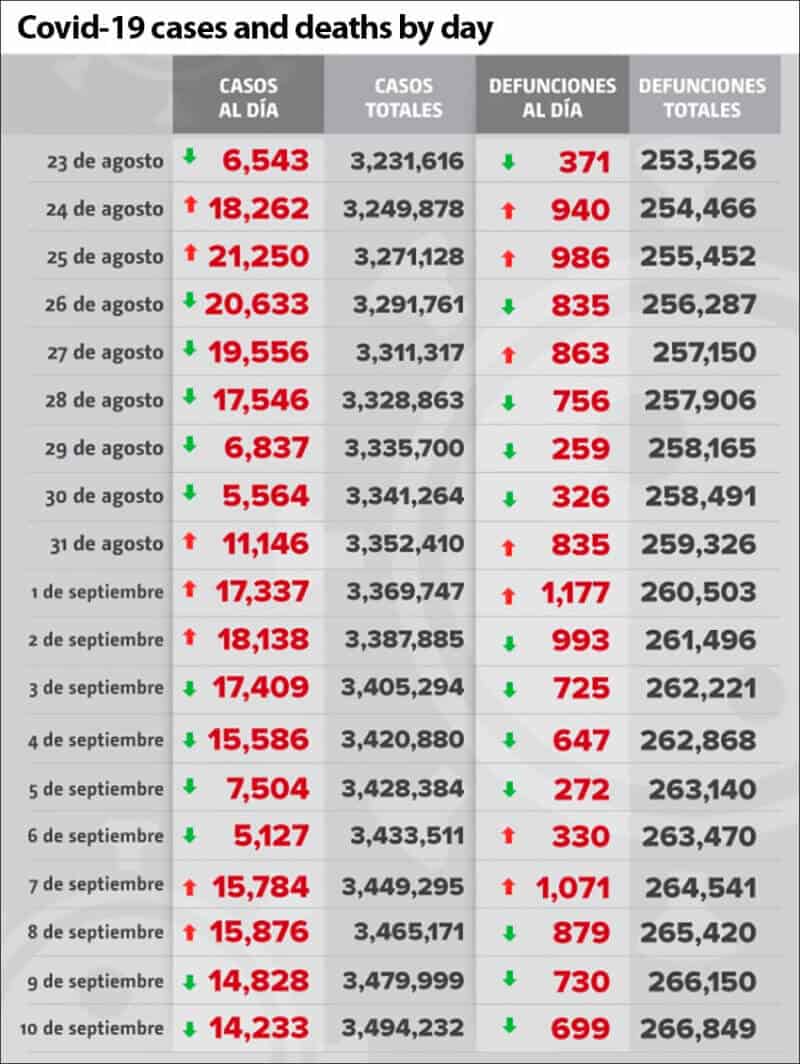 • There are 3,159 COVID-19 patients in hospitals in the metropolitan area of Mexico City, city official Eduardo Clark said Friday. The figure is 645, or 17%, lower than a week ago.
Mexico City will remain medium risk yellow on the federal stoplight map next week. Mayor Claudia Sheinbaum said the return to in-person classes in the capital and the further reopening of the economy hasn't caused an increase in new cases.
She also said the government is in talks with the organizers of the Corona Capital music festival and Formula 1 Grand Prix with a view to those events going ahead with spectators. Both are scheduled to take place later this year.
• At the municipal level, the Mexico City borough of Álvaro Obregón had the highest number of active cases in the country as of Thursday with 3,486. Iztapalapa, another Mexico City borough, ranked second with 3,140 followed by Centro (Villahermosa), Tabasco, with 3,107; Gustavo A. Madero, Mexico City, 1,897; and Puebla city, 1,765.
Ranking sixth to 10th with more than 1,200 active cases each were Mérida, Yucatán; Tlalpan, Mexico City; Querétaro city; Monterrey, Nuevo León; and Guadalajara, Jalisco.
• More than 700 people who work in the lower house of federal Congress have tested positive for COVID-19 since the start of the pandemic and 39 have died. The newspaper El Universal reported that 115 deputies and 594 employees had been infected up until August 31.
The official COVID-19 death toll for the Chamber of Deputies is 39, a figure that includes four deputies who succumbed to the disease.
The "Chamber clusters" have occurred despite the investment of millions of pesos on initiatives designed to mitigate the spread of the virus in Mexico's halls of power.
• Eight children were vaccinated in Nuevo León on Thursday after their parents obtained injunctions that ordered they be given shots. The jabs were given in San Nicolás de los Garza, a municipality in the metropolitan area of Monterrey.
State Health Minister Manuel de la O Cazavos said that all children aged over 12 who have obtained court orders will be vaccinated whether they suffer from an underlying health condition or not.
• At least seven people were injured on Friday when three buses that were part of a convoy taking Nuevo León residents to be vaccinated in the United States were involved in an accident on the Monterrey-Nuevo Laredo highway. Three people were reportedly taken to hospital.
Intended for the employees of manufacturing businesses that export products to the U.S., the cross-border vaccination initiative, which began last month, is the brainchild of Nuevo León governor-elect Samuel García.
With reports from El Universal, El Economista, Milenio, Aristegui Noticias and La Jornada