"Mexico. Our brother from another mother. A country, with whom, like it or not, we are inexorably, deeply involved, in a close but often uncomfortable embrace. Look at it. It's beautiful. It has some of the most ravishingly beautiful beaches on earth. Mountains, desert, jungle. Beautiful colonial architecture, a tragic, elegant, violent, ludicrous, heroic, lamentable, heartbreaking history."
There could be no doubting chef Anthony Bourdain's deep love of Mexico — and particularly authentic Mexican food — that was cultivated during several trips to various parts of the country and which he wrote about in a 2014 essay entitled Under the Volcano.
But the writer, television personality and celebrity chef's love affair with Mexico — and many other countries around the world — has come to an end. Bourdain died in France yesterday by his own hand. He was 61.
After shooting to fame on the back of a 1999 confessional piece in The New Yorker in which he spilled secrets about the restaurant trade and then a follow-up book entitled Kitchen Confidential, Bourdain entered the world of television.
While filming for his first show, A Cook's Tour, Bourdain made his first professional visit to Mexico, traveling to the hometown of a Mexican cook with whom he worked in the New York restaurant Brasserie Les Halles.
In Izúcar de Matamoros, Puebla, Bourdain learned about the elaborate process to make mole poblano, chowed down on escamoles (ant larvae) and enchiladas and sampled the viscous, pre-Hispanic drink of the gods made out of the fermented sap of the maguey plant, pulque.
An infatuation with real Mexican food that would last for years was born.
During visits to Mexico City, Bourdain ate tacos al pastor on the streets of the historic center, migas (a traditional soup) — washed down with a michelada — at La Güera in the notorious neighborhood of Tepito and fell in love with the cerdo en salsa verde and refried beans at the breakfast diner Fonda Margarita in Colonia del Valle.
He also visited the massive wholesale market Central de Abasto, enjoyed some of the capital's famous cantinas and dined at the upscale restaurant Máximo Bistrot.
While making his second show, No Reservations, Bourdain visited Baja California where he ate tacos and drank mezcal in Tijuana and devoured a lobster lunch on the beach at Rosarito.
The highlight, however, was undoubtedly his visit to the seafood street stand in Ensenada called La Guerrerense.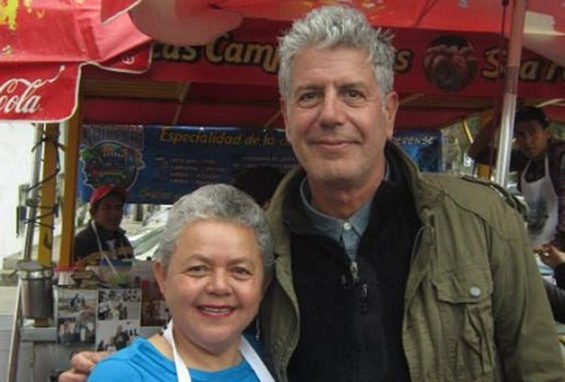 There, Bourdain ate ceviche, scallop, sea snail, sea urchin and octopus tostadas and met the stand's owner and namesake, Guerrero-native Sabina Bandera, whom he called a "genius." He would later invite her to show off her culinary talents at a street food convention in Singapore.
Oaxaca was another favorite hunting and eating ground for the acclaimed television personality, whose death yesterday triggered an outpouring of emotion from fans around the world.
On his first visit to the southern state, Bourdain ate iguana and tamales while on a more recent visit he sampled tlayudas (a large, crispy tortilla filled with a variety of ingredients), squash blossom soup and atole (a hot corn-based beverage) with internationally renowned chef Abigail Mendoza in the town of Teotitlán del Valle. While there, he marveled at the delicateness of a Zapotec woman's hands and the strength of her forearms as she ground corn to make tortillas.
Bourdain also ate at the renowned pasillo del humo, or smoky aisle, in Oaxaca City's central market, where visitors are usually affected more by the delicious smells of the grilling meats than the wafts of smoke.
The New Yorker, however, was more than just a connoisseur of all kinds of weird and wonderful food from all over Mexico and beyond.
He was also a champion of the underdog who stood up for immigrants in the United States, aware that they are the backbone of some sectors of the economy.
"Despite our ridiculously hypocritical attitudes towards immigration, we demand that Mexicans cook a large percentage of the food we eat, grow the ingredients we need to make that food, clean our houses, mow our lawns, wash our dishes [and] look after our children," he wrote in his 2014 essay.
He also questioned why many of his compatriots embrace Mexican food, beverages, people and other products and aspects of the country but not Mexico itself.
"Americans love Mexican food. We consume nachos, tacos, burritos, tortas, enchiladas, tamales and anything resembling Mexican in enormous quantities. We love Mexican beverages, happily knocking back huge amounts of tequila, mezcal and Mexican beer every year. We love Mexican people — as we sure employ a lot of them . . ." Bourdain said.
"We love Mexican drugs. Maybe not you personally, but "we," as a nation, certainly consume titanic amounts of them — and go to extraordinary lengths and expense to acquire them. We love Mexican music, Mexican beaches, Mexican architecture, interior design, Mexican films," he continued.
"So why don't we love Mexico?"
Source: El Universal (sp)