The arrival in Tijuana of large numbers of Central Americans seeking asylum in the United States has triggered an anti-migrant backlash from residents and the city's mayor, who has been labelled "Tijuana's Trump."
Members of the first migrant caravan, made up mainly of Hondurans who entered Mexico October 19, began arriving in the Baja California border city early this week after a journey of more than 4,000 kilometers.
There are now almost 2,000 caravan members in Tijuana and another 4,500 migrants are expected to arrive today.
Tijuana has a long history of welcoming migrants from many different parts of the world but not everyone is happy about the current mass arrival.
Anti-migrant groups have sprung up on social media including one on Facebook called Tijuana en contra de la caravana migrante (Tijuana against the migrant caravan) that has attracted almost 400 followers.
Some posts to the page have included claims that there are gang members, drug addicts and even murderers among the caravan members while others have sought to incite violence against them.
At least one group created on the mobile messaging service WhatsApp has also been used to provoke anti-migrant sentiment and to urge violent action against caravan members.
The virtual opposition turned real Wednesday night when a group of about 200 residents confronted migrants sleeping on the beach next to the border fence that separates Mexico from the United States.
The residents threatened the migrants, telling them they were not welcome and threw stones at them. Scuffles broke out but a contingent of police arrived at the scene and prevented an escalation of hostilities by directing the migrants to a bus and taking them to a shelter at the Benito Juárez sports center.
Honduran Jairo Sorto said that Mexicans throughout the country had welcomed the caravan and wondered why things were different in Tijuana.
"We've walked across Mexico and not one state said, 'we don't want immigrants in this country,'" he said.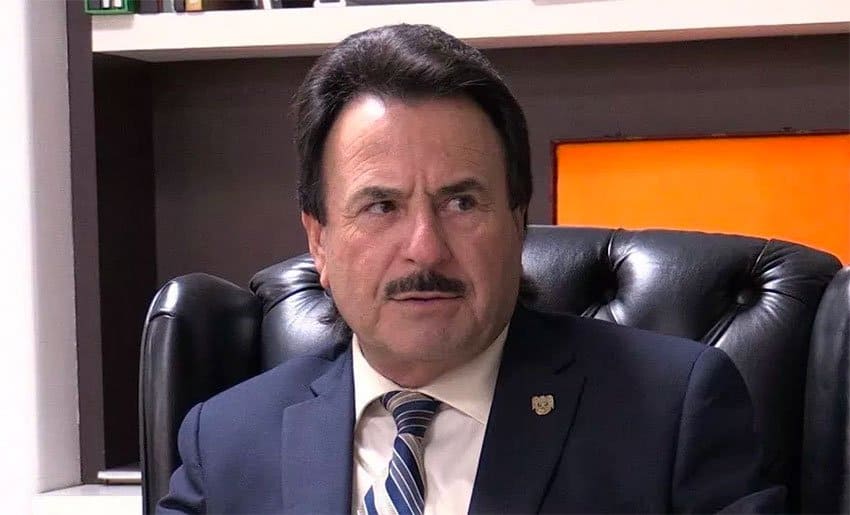 Municipal police director Mario Martínez said that two migrants involved in the confrontation had been detained for misconduct, adding that three others had been arrested for consuming drugs inside a shelter.
All five will be deported to their country of origin, he said.
Tijuana Mayor Juan Manuel Gastélum added his voice to the opposition against the caravan, declaring in a television interview that the migrants are not wanted in the border city.
Echoing the claims made on social media, Gastélum said that there are "pot smokers," "bums" and "bad people" among the caravan members, adding that he would organize a citizens' consultation in order to decide whether the city would continue to welcome the migrants.
"Tijuana is a city of migrants but we don't want them [arriving] in this way. It was different with the Haitians, they had [immigration] papers, [their arrival] was orderly, it wasn't a horde, excuse the expression . . ." he said.
"These people arrive in an aggressive, rude way, chanting, challenging the authorities, doing what we're not accustomed to doing in Tijuana . . . I don't dare to say that it is all the migrants but there are some who are bums, pot smokers, they're attacking families in [the beachside borough] Playas de Tijuana, what is that?"
The mayor also called on federal lawmakers to allocate resources to Tijuana so that it could attend to the migrants. Most shelters in the border city are already at or near capacity.
"We need the support now or never . . ." Gastélum said.
His comments were criticized by the head of a migrants' advocacy organization, Agenda Migrante, who called the mayor "Tijuana's Trump" and warned he was inciting xenophobic attitudes with discriminatory remarks.
Eunice Rendón urged Mexicans to consider "the racism and language" of President Trump and its impact on hate crimes, which recorded an increase last year.
Federal Interior Secretary Alfonso Navarrete Prida also expressed concern over the situation in Tijuana.
He told a press conference yesterday that the government is worried about the possibility of a confrontation on the border if the migrants don't agree to lodge asylum requests in an orderly manner but instead try to enter the United States en masse.
"What is it that we don't want? For violence to be the dynamic moving forward from here in the face of a possible attempt to enter the United States in an untimely and disorderly way, knowing that the actions and discourse of our northern neighbor towards a vulnerable population are extraordinarily hostile," he said.
What approach the migrants will take to try to cross into the United States remains unclear with a decision set to be made once the largest cohort of the first caravan has arrived in Tijuana.
There are already around 3,000 migrants in Tijuana waiting to lodge asylum requests with United States authorities, meaning that the new arrivals could face lengthy waits to file their claims.
Nick Miroff, a national security reporter for The Washington Post, wrote on Twitter today that "if there are 3,140 [migrants] on waiting list and CBP [Customs and Border Protection] is processing 90/day, that's 1 month before caravan members can begin to approach the port [of entry]."
With members of two other migrant caravans likely to arrive in Tijuana in the coming weeks, Miroff said that it could take two to three months for U.S. authorities to hear all the asylum requests.
"Are the younger and more restless members of the caravans going to wait that long?" he asked.
The United States government has deployed 5,900 troops to the southern border to bolster security in the face of what U.S. President Trump has called an "invasion."
Barbed wire is also being affixed to the border fence to act as an additional deterrent to any attempts to scale it illegally.
Trump frequently railed against the caravan in the lead-up to the November 6 U.S. midterm elections but has been much quieter on the issue since.
Despite his hardline rhetoric towards the migrants, the majority remained determined to reach the Mexico-United States border.
How many achieve their final goal of asylum in Trump's America remains to be seen.
Source: El Universal (sp), Milenio (sp)