Residents of Tijuana are divided over the presence of large numbers of Central American migrants in their city.
Protests both for and against members of the first migrant caravan were held yesterday in the northern border city.
Around 500 people gathered in front of a statue of Aztec ruler Cuauhtémoc that stands atop a Tijuana traffic circle and began an anti-migrant march towards a sports complex serving as a temporary shelter for about 2,500 Central Americans.
During the march, protesters demanded that the caravan members be sent back to their countries of origin.
"Out Hondurans, we don't want you here" and "long live Mexico" were among the slogans chanted by the demonstrators as they waved Mexican flags and held up signs declaring "Basta de migración" (Migration, enough already) and "Primero nuestra gente" (Our people first).
Some protesters claimed that there are gang members, thieves and rapists mixed in with the migrants in the first caravan, whose members began arriving at the border city early last week.
"Their presence here makes me very afraid. I don't know if something is going to happen to me or my neighbors . . . They could break into a business . . . or assault someone. That worries me," Tijuana business owner María de Jesús told the newspaper Milenio.
Others said they are not against migration per se but rather the way in which many of the caravan members entered the country.
"They arrived and kicked down the door and that makes them criminals," said Emilio Zúñiga, a Guanajuato native who has called Tijuana home for the past 20 years.
The marchers were stopped from reaching the entrance to the Benito Juárez sports center by a large contingent of municipal police sporting riot gear.
A standoff lasted for several hours, with protesters throwing water and beer cans at the officers before eventually dispersing.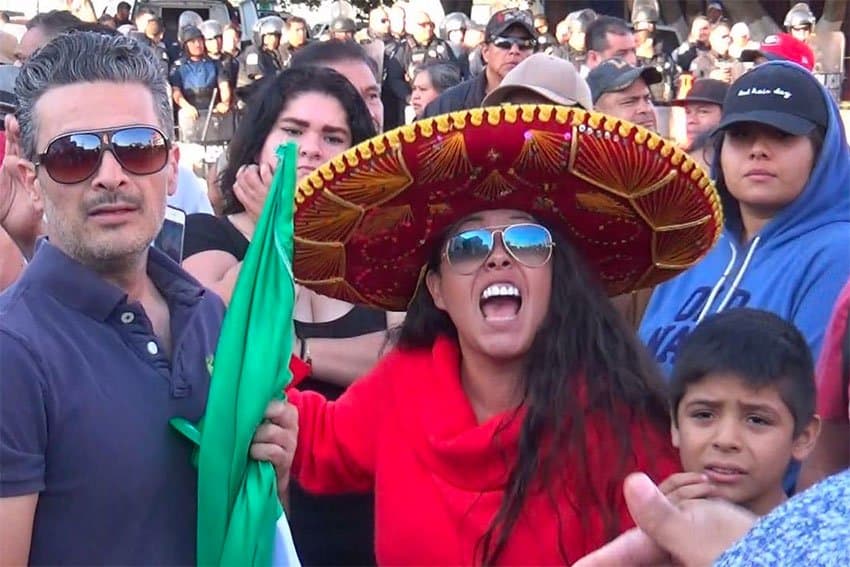 Just one street away from where the anti-migrant march started, a smaller group of demonstrators held their own rally at which they denounced racism and discrimination and declared that the migrants are welcome in Tijuana and that their human rights must be respected.
Yesterday's protests followed a week of heightened tension in Tijuana during which some residents made it clear that the migrants are not welcome.
Social media posts aimed at inciting violence against the Central Americans began appearing in anti-migrant groups on platforms such as Facebook virtually as soon as they arrived in the city.
Rumors circulating on the mobile messaging service WhatsApp that the migrants had looted stores, referred to Mexicans as "dogs" and even murdered someone only served to fuel the anti-migrant sentiment.
A confrontation occurred Wednesday night between an angry mob and migrants sleeping on the beach next to the border fence that separates Mexico from the United States.
Mayor Juan Manuel Gastélum, who has been labelled Tijuana's Trump, has also spoken out against the caravan, declaring that the migrants are not wanted.
United States President Trump yesterday seized on the mayor's opposition to the migrants, writing on Twitter that "The Mayor of Tijuana, Mexico, just stated that 'the City is ill-prepared to handle this many migrants, the backlog could last 6 months.'"
In the same tweet, he added: "Likewise, the U.S. is ill-prepared for this invasion, and will not stand for it. They are causing crime and big problems in Mexico. Go home!"
In a subsequent Twitter post, Trump wrote: "Illegal Immigrants trying to come into the U.S.A., often proudly flying the flag of their nation as they ask for U.S. Asylum, will be detained or turned away. Dems must approve Border Security & Wall NOW!"
The United States government has deployed 5,900 troops to the southern border to bolster security and barbed wire is also being affixed to the border fence to act as an additional deterrent to any attempts to scale it illegally.
With two other caravans currently traveling through Mexico, Tijuana officials have estimated that the number of migrants in the city could reach 10,000, stoking concerns about the city's ability to cope with such a large cohort.
There are already around 3,000 migrants on a waiting list to apply for asylum in the United States, meaning that the new arrivals, and future ones, face a lengthy wait just to have the opportunity to plead their case.
But after traveling more than 4,000 kilometers to reach Mexico's northern border, the vast majority are determined to do all they can to enter the United States, even if that means attempting to cross illegally.
"If I die on the way, at least I will have fought for something," 24-year-old José Adan Núñez told The New York Times.
Source: El Universal (sp), Milenio (sp)