The Mexico City Police Department dismantled over the weekend an encampment in front of the Senate that had been occupied by pro-cannabis legalization activists for the past three years.
Soon after midnight on Saturday, a group of about 150 officers arrived at the municipal Louis Pasteur Park and spent four hours dismantling the structures first set up in January 2020 by the activists and erecting metal fences around the park's perimeter. According to the newspaper Sin Embargo, they also removed various cannabis plants.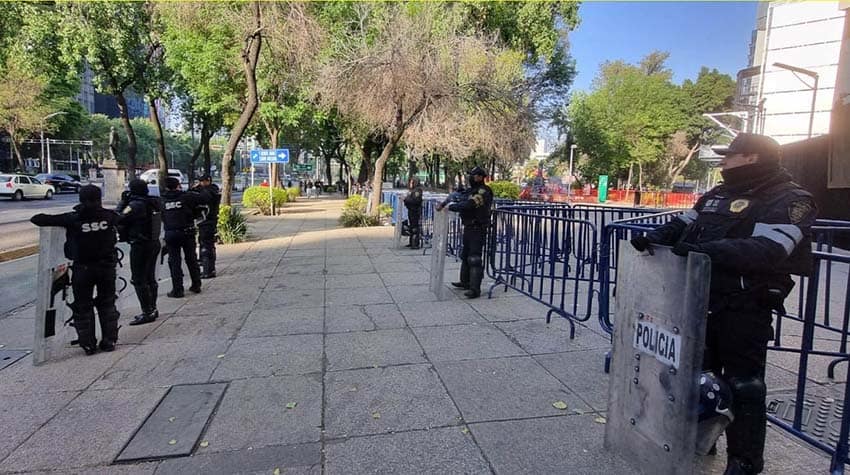 The loosely connected pro-cannabis legalization activist group that had led the multi-year sit-in, known as Plantón 420 (The 420 Collective), had already packed up and left the site more than two weeks ago, but some straggler groups had remained. 
Senate majority leader Ricardo Monreal had called for their removal — and whatever encampment remained — last week.
"We are going to respectfully request that the city government recover this space for citizens," the Morena senator said. "We are concerned that illegal acts could be committed in [Plaza Luis Pasteur], where it is in total darkness," he also said, noting that residents in the nearby neighborhoods of San Rafael, Tabacalera and Juárez had asked for the park to be fully cleared. 
While city official Marti Batres stressed on Twitter that the operation to clear out the park was done with "full respect for human rights and with the cooperation of the protesters," at least one group was unhappy about the move and blocked the intersection of Reforma and Insurgentes Avenues for three hours on Sunday, the newspaper La Jornada reported.
The park had been continuously occupied since 2020 by pro-cannabis legalization activists, and its perimeter had grown over time to encroach on land belonging to the Senate, according to La Jornada. In response, the legislative body installed temporary walls around the Senate building to prevent further encroachment.
In announcing their withdrawal, Plantón 420 leaders said they would be formulating a new strategy to further their objective: that cannabis be legalized for both recreational and medicinal purposes. In a press release, they noted that the three-year sit-in, which included thousands toking up outside the Senate on World Cannabis Day last year "has stopped bothering the government of Mexico City and the Senate."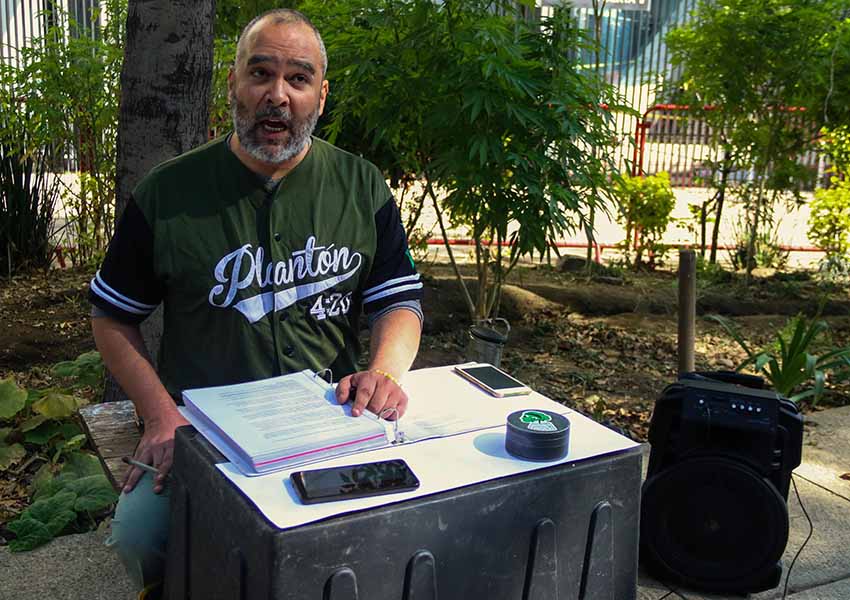 The environment in the park was negatively affecting the pro-cannabis movement and its supporters, the press release said, adding that the collective wanted to distance themselves from the sale of marijuana going on in the park and also from criminal groups offering various kinds of drugs outside the Senate. 
Buying, selling or trading (as well as importing) marijuana goes against the current government decriminalization of the substance. Consumption that does not affect third parties and doesn't occur in public spaces or in front of minors is currently decriminalized, however. And in May 2022, the Supreme Court ruled that penalizing the possession of more than 5 grams of marijuana for personal use (a tad more than ⅛ of an ounce) is unconstitutional. 
So, while using and carrying the above-stated amount of marijuana is "allowed," Sin Embargo recently reported that "legal marijuana" movement in Mexico has spent "one year in the freezer," following an initiative that was presented in the Senate in December 2021 and signed by 20 senators from various parties.
The initiative proposed the creation of a Mexican institute for regulating and controlling cannabis, which would report to the Ministry of Health and would cover the regulation of the planting, commercialization, distribution and consumption of marijuana.
It has been a source of controversy in the federal legislature, however, since it goes against President López Obrador's calls for austerity and for decreasing the number of government agencies. Moreover, there remains a lack of consensus on exactly how to move forward.
The road to getting recreational marijuana legalized in Mexico has been a slow and rather boring one. 
Esta madrugada el @GobCDMX recuperó la Plaza Luis Pasteur, que estaba ocupada desde hace tres años por un plantón de personas que promueven la despenalización de la marihuana. La acción se llevó a cabo con pleno respeto a los derechos humanos y la cooperación de los activistas. pic.twitter.com/oDfDGP0W2z

— Martí Batres (@martibatres) February 18, 2023
Mexico City's Minister of Government Marti Batres emphasized on Twitter that the clearing of the park was done with "full respect for human rights."
Medicinal use of marijuana has been endorsed in Mexico since 2017.
In 2018, the Supreme Court declared as unconstitutional a ban on recreational use because such a ban violated the "free development of personality" and was not necessary to protect health or public order. 
In turn, Congress was ordered to issue regulations on the matter, but several deadlines to act have come and gone.
With reports from El Universal, La Jornada Infobae and SinEmbargo