Mexico generated 24.2 billion pesos (USD$ 1.25 billion) of Gross Domestic Product (GDP) in 2021, according to data from the National Institute of Statistics and Geography (Inegi), with a third of the total contributed by just three states: Mexico City, Mexico state, and Nuevo León.
Together, the three states made up 32.7% of Mexican economic activity, mostly concentrated in the services and trade sector. Mexico City generated 15.3 billion pesos (US $787.8 million), Mexico State 9.1 billion (US $468.6 million), and Nuevo León 8.3 billion (US $427.4 million).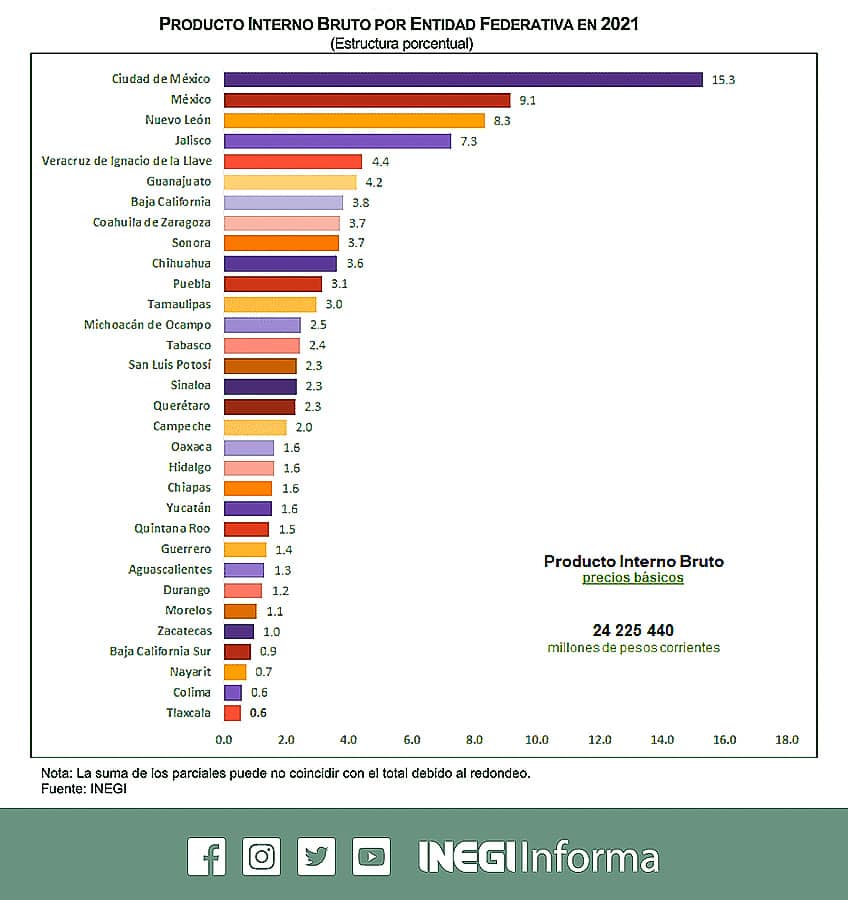 INEGI also reported Friday that Nuevo León was also one of the top three contributors to Mexico's total exports in the third quarter of 2022 (July–September), having contributed 10.2% toward Mexico's total quarterly exports of US $134.9 million. Nuevo León followed top exporter Chihuahua, which contributed 14.9% and Coahuila, which contributed 11.6%.
Jalisco, Veracruz, Guanajuato, Baja California, Coahuila, Sonora, Chihuahua and Puebla were also significant contributors to GDP: added to the total percentage of GDP coming from Mexico City, México state and Nuevo León, these other eight states helped make up two thirds of the national total. 
Services and trade was by far the leading economic sector, generating 15.3 billion pesos (US $787.8 million) of GDP, of which 21.7% was generated in Mexico City. The industrial and mining sector generated 7.9 billion pesos (US $406.8 million), led by Nuevo León, México state and Jalisco. The agricultural and livestock sector contributed 1 billion pesos (USD $51.5 million), led by Jalisco, Michoacán and Sinaloa.
Overall, GDP increased by 4.6% in real terms relative to 2020. Particularly large leaps, of around 16%, were seen in Quintana Roo and Baja California Sur, likely explained by the recovery of tourism after Covid-19 travel restrictions were lifted. The only state to see an economic contraction was Campeche, with a negative growth of -4.1%.
Data suggests that this national growth trend continued into 2022, with the Inegi's Global Indicator of Economic Activity (IGAE) showing a 4.8% real-term increase between October 2021 and October 2022. However, preliminary figures suggest that this growth may now be tailing off, as the short-term impact of reopening the economy dissipates.
 With reports from La Jornada