A new incarnation of the train known as El Chepe is now offering a premium travel experience to tourists visiting northern Mexico and in particular Chihuahua's Copper Canyon.
The Chepe Express started operations last month on the 653-kilometer railroad that links the capital of Chihuahua with the Pacific Coast city of Los Mochis, Sinaloa, via the Tarahumara Sierra.
Differentiating the six-car Express from other Chihuahua-Pacific (Chepe) trains that have run on the line since its inauguration in 1961 are its luxury reclining seats, a bar and lounge affording panoramic views of the surrounding landscape, a double-story restaurant car, a terrace and wifi internet service.
The train is divided into executive and tourist classes and unlike regular services, the Chepe Express only makes two stops: one at El Fuerte, a magical town in Sinaloa, and the other at Divisadero, one of the most popular places to alight to experience the beauty of the Barrancas del Cobre, or Copper Canyon.
The nine-hour journey starts and terminates in the tourist town of Creel rather than the city of Chihuahua as is the norm on regular-service trips.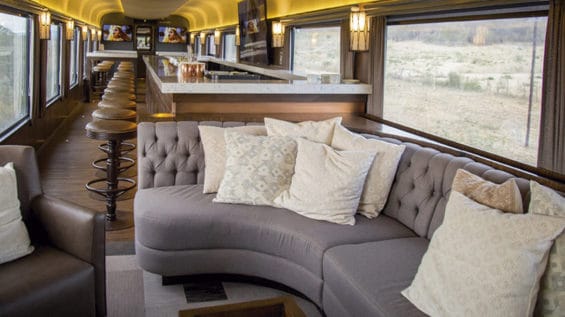 In the Urike restaurant car, diners can enjoy typical northern Mexican dishes prepared in a kitchen overseen by acclaimed chef Daniel Ovadia while in the bar, a variety of drinks and snacks are available.
The Chepe Express departs daily at 6:00am from Creel and arrives in Los Mochis at 3:05pm. The return journey departs at 3:55pm and arrives in Creel at 12:55am.
The train has a maximum capacity of 340 passengers and the Chepe website recommends making reservations four months in advance, especially if planning to travel during the high season (July/August, December and the Easter vacation period).
A full return trip (Creel-Los Mochis and back) costs 5,243 pesos (US $262) in tourist class and 8,400 pesos (US $420) in executive class. The prices for a one-way trip are 3,743 pesos (US $187) and 6,000 pesos (US $300) respectively.
Passengers can choose to stay overnight at either of the two stops and board the train the next day at no additional cost.
The Copper Canyon, located in the southwestern part of Chihuahua, is actually a system of six distinct canyons in the Sierra Madre Occidental.
The indigenous Rarámuri people, who are well-known for their long distance running prowess, are the traditional inhabitants of the region.
Source: Mundo Ejecutivo (sp)