A contingent of Sinaloa Cartel gunmen made an audacious and ostentatious entrance to southern Mexico on Saturday, arriving in a region on the border with Guatemala in a convoy made up of more than a dozen vehicles, including ones specifically equipped for armed combat.
The convoy – captured in video footage that was widely shared on social media – drove into Frontera Comalapa, Chiapas, a municipality that is part of a border region where the Sinaloa Cartel and the Jalisco New Generation Cartel (CJNG) are involved in a long-running turf war that has disrupted the lives of hundreds of thousands of people.
#Chiapas: Incursión del Cártel de Sinaloa en Chamic, kilómetros antes de #FronteraComalapa. Algunos periodistas hemos valorado o no informar de esta y otras acciones porque nuestra seguridad está en riesgo: O estamos informando de lo que pasa o estamos prestándonos o siendo… pic.twitter.com/kMXNsDjgDq

— Isaín Mandujano (@isain) September 24, 2023
The video footage shows residents apparently welcoming the convoy. (Isaín Mandujano/X)
Hundreds of residents lined the highway and cheered as pickup trucks filled with heavily armed men and other vehicles arrived in Frontera Comalapa after passing through the neighboring municipality of La Trinitaria.
According to a report by the news website Aristegui Noticias, men and women were "forced" to stand next to the highway in the town of San Gregorio Chamic to welcome the Sinaloa Cartel operatives, who reportedly arrived in Chiapas from Zacatecas and Durango.
The newspaper El Universal reported that locals shouted messages of support for the criminal organization, whose members declared their allegiance to Sinaloa Cartel leader Ismael "El Mayo" Zambada and assured residents they were coming to help.
The arrival of the cartel convoy in Frontera Comalapa came after weeks of highway blockades and unrest in the border region of Chiapas. The Sinaloa Cartel gunmen also reportedly moved into the nearby municipalities of La Grandeza and Siltepec, where they were said to be searching for their CJNG adversaries on Sunday.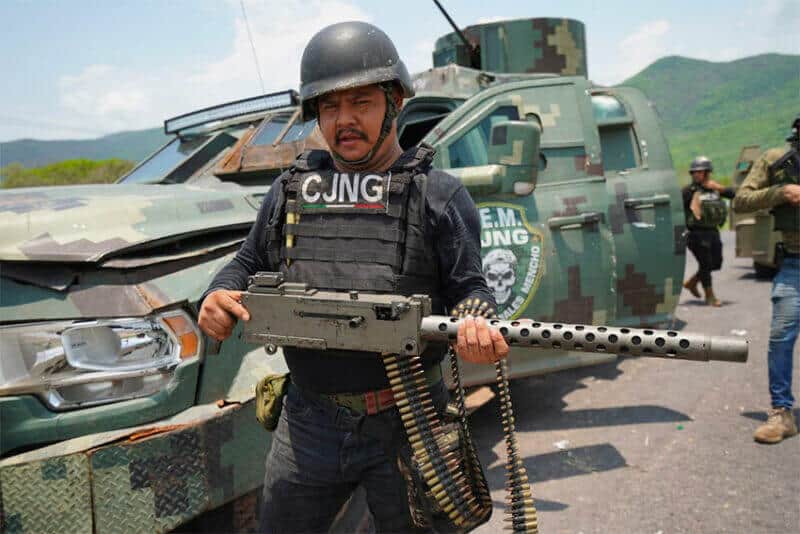 El Universal reported that the CJNG has recently maintained control over the town of Frontera Comalapa, the administrative center of the municipality of the same name. The CJNG also controls the municipal administrative centers of Siltepec and Motozintla, but the Sinaloa Cartel has surrounded those towns and Frontera Comalapa, according to Aristegui Noticias.
According to El Universal, the Sinaloa Cartel controls almost 300 communities near the border with Guatemala.
The CJNG and the Sinaloa Cartel – and local gangs affiliated with Mexico's two most powerful criminal organizations – are competing to control routes along which narcotics, weapons and migrants are transported north after entering the country from Guatemala.
Blockades they have set up have impeded the entry of essential products such as food, water and fuel in recent weeks, creating shortages in some parts of the southern border region. The Federal Electricity Commission (CFE) has been unable to get into communities where cartel members allegedly cut supply, while schools have canceled classes in recent weeks due to blockades and security concerns.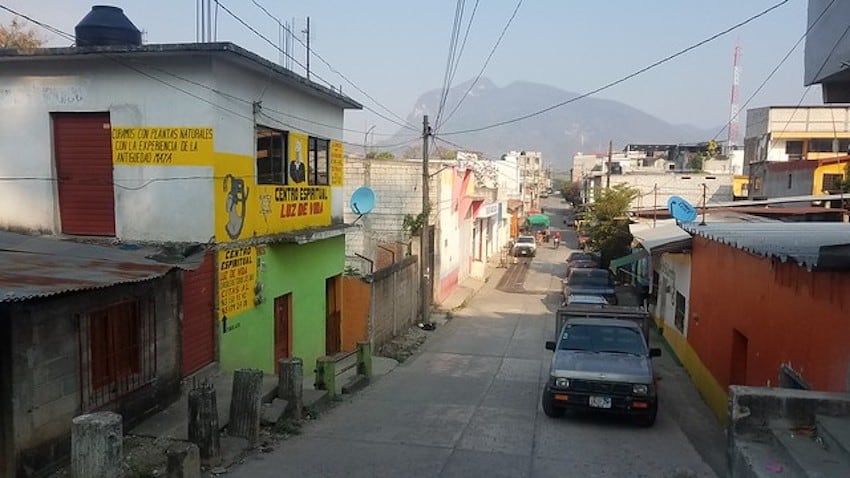 Trucks transporting foodstuffs including pork and eggs were able to get through to border communities after the arrival of additional Sinaloa Cartel members on Saturday, El Universal reported, but President López Obrador said Monday that the CFE still hadn't been able to get into communities to restore electricity service.
The conflict between the CJNG and Sinaloa Cartel in border region municipalities including Motozintla, Mazapa de Madero and Siltepec has flared up periodically during a period of over two years. An outbreak of violence earlier this year forced thousands of Frontera Comalapa residents out of their communities and into the nearby municipality of Chicomuselo.
More recently, the CJNG was blamed for the murder of four men on Friday who apparently betrayed that cartel by switching allegiances.
Aristegui Noticias reported that more than 280,000 residents of several border region municipalities have become "trapped" due to the worsening dispute between the powerful cartels. The Fray Bartolomé de las Casas Human Rights Center and others have highlighted cases of forced recruitment of locals by the criminal organizations.
Meanwhile, state and federal authorities "have denied the seriousness of what the population [of the border region] is suffering," Aristegui Noticias reported.
Teachers and principals have denounced the absence of security forces to combat the criminal organizations, while in a statement issued over the weekend the Catholic Church's Diocese of San Cristóbal de las Casas described the situation as a "crisis."
Isaín Mandujano, a journalist in Chiapas, said on X (formerly Twitter) that colleagues from other states had contacted him "to report from the narco-violence ground zero."
"My response is categorical: NO. No authority of any level can offer the [necessary] security guarantees to do our work," he wrote.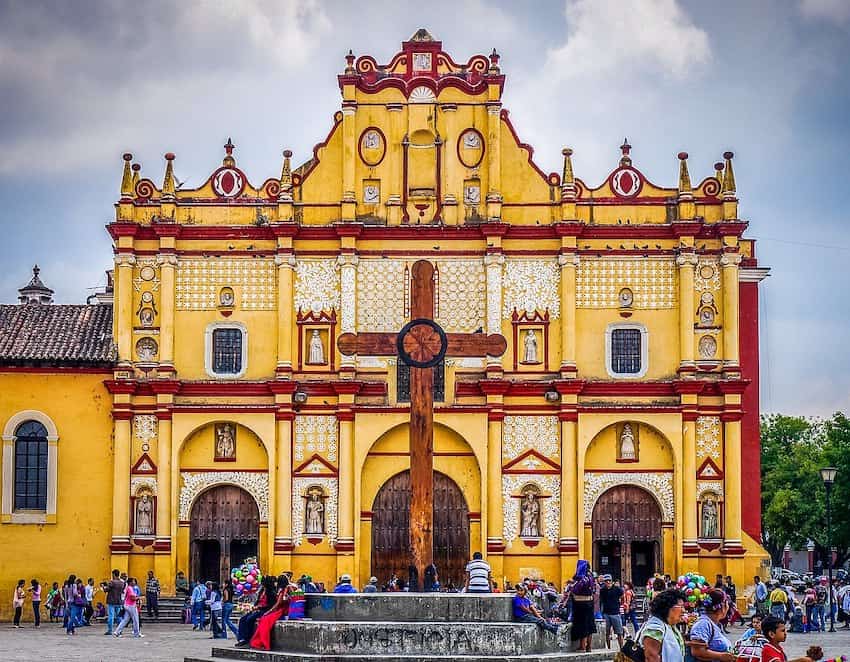 Mandujano, a correspondent for the Proceso news magazine, said that cartel violence has caused the displacement of thousands of border region residents since 2021 as well as the deaths and disappearances of hundreds of citizens, including "a lot of innocent people."
He said that both the army and the National Guard have a presence in the region but "do nothing to stop the violence."
"… Due to the absence of the state, each sector of the population applauds their favorite cartel, [the one] that has them subjugated," Mandujano wrote on X.
"Journalist colleagues from the area have kept quiet, left or dedicated themselves to other activities that have nothing to do with journalism. At the roadblocks, [the cartels] check all cell phones – the chats, contacts, photos, videos, they don't miss anything," he said.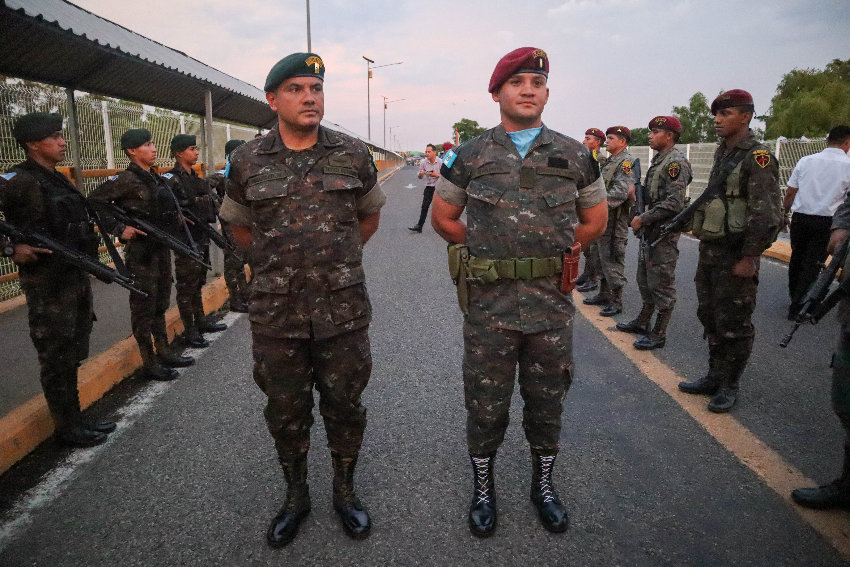 Speaking at his morning press conference on Monday, López Obrador said that the Sinaloa Cartel gunmen's entrance to Frontera Comalapa was part of a propaganda campaign.
In the border region of Chiapas, "there are organized crime groups that are allegedly fighting for territory in order to have space to … [move] drugs that come in from Central America, to have control over that territory," he said.
"And unfortunately they clash [but] there haven't been a lot of murders in Chiapas in general," López Obrador said.
"… There has been a lot of propaganda," he said, making an apparent reference to material posted online by cartels to demonstrate their strength.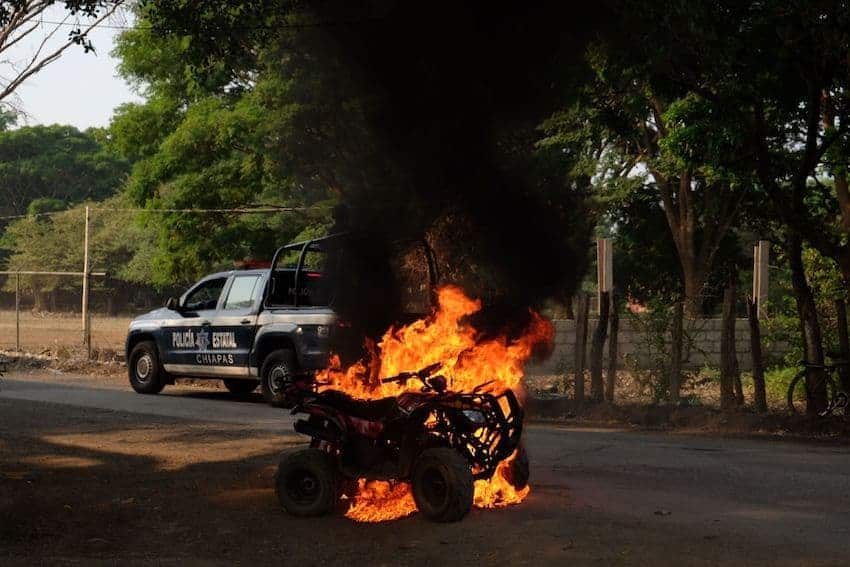 "So they brought out a video in which 20 pickup trucks are going into Frontera Comalapa and people on both sides of the highway are apparently welcoming them," López Obrador said before asserting that opponents of his government – "the conservatives" – are responsible for disseminating the footage and making it go "viral."
He conceded that crime groups have "support bases" in parts of Chiapas and the rest of Mexico because they distribute groceries to locals or "threaten them," but asserted that the problem is "very limited."
The government is attending to the situation in the border region of Chiapas, López Obrador said, noting that the National Guard is there and that citizens benefit from social and welfare programs.
"I already ordered a greater presence of the National Guard in that entire region and we're going to continue helping," he added.
With reports from El País, El Universal, Aristegui Noticias and Reforma