Reported coronavirus cases fell to just under 20,000 on Friday after two days with daily totals above that figure, while COVID-19 deaths totaled more than 800 for a fourth consecutive day.
The federal Health Ministry reported 19,556 new infections, increasing the total number of confirmed cases during the pandemic to 3.31 million. An additional 863 fatalities lifted Mexico's official COVID-19 death toll to 257,150.
There are 133,804 estimated active cases across Mexico, an increase of 1% compared to Thursday. Mexico City leads the country for active cases followed by Nuevo León, México state and Tabasco.
About 6% of all reported COVID-19 deaths around the world – currently just under 4.5 million, according to the World Health Organization – occurred in Mexico, which ranks fourth for total fatalities behind the United States, Brazil and India.
In other COVID-19 news:
• The highly contagious delta strain of the virus is responsible for 94% of new infections in Mexico, a Pan American Health Organization official said Friday.
Jairo Andrés Mendez Rico said that Sinaloa, Baja California Sur, Quintana Roo, Veracruz and Mexico City are all facing large delta outbreaks.
• There are 4,296 hospitalized COVID-19 patients in the Valley of México metropolitan area including 2,864 in Mexico City itself, city official Eduardo Clark said Friday. Hospitalizations have trended downwards since reaching a peak in early August, he said.
Almost nine in 10 adult residents of Mexico City have received at least one vaccine dose, while 49% are fully vaccinated.
The capital is currently high risk orange on the coronavirus stoplight map and will remain that color until at least September 5.
• Among Mexico's 32 states, San Luis Potosí currently has the highest occupancy rate for general care beds in COVID wards with 74% in use, according to federal data. Six other states have rates above 70%. They are Durango, Colima, Veracruz, Hidalgo, Tlaxcala and Puebla.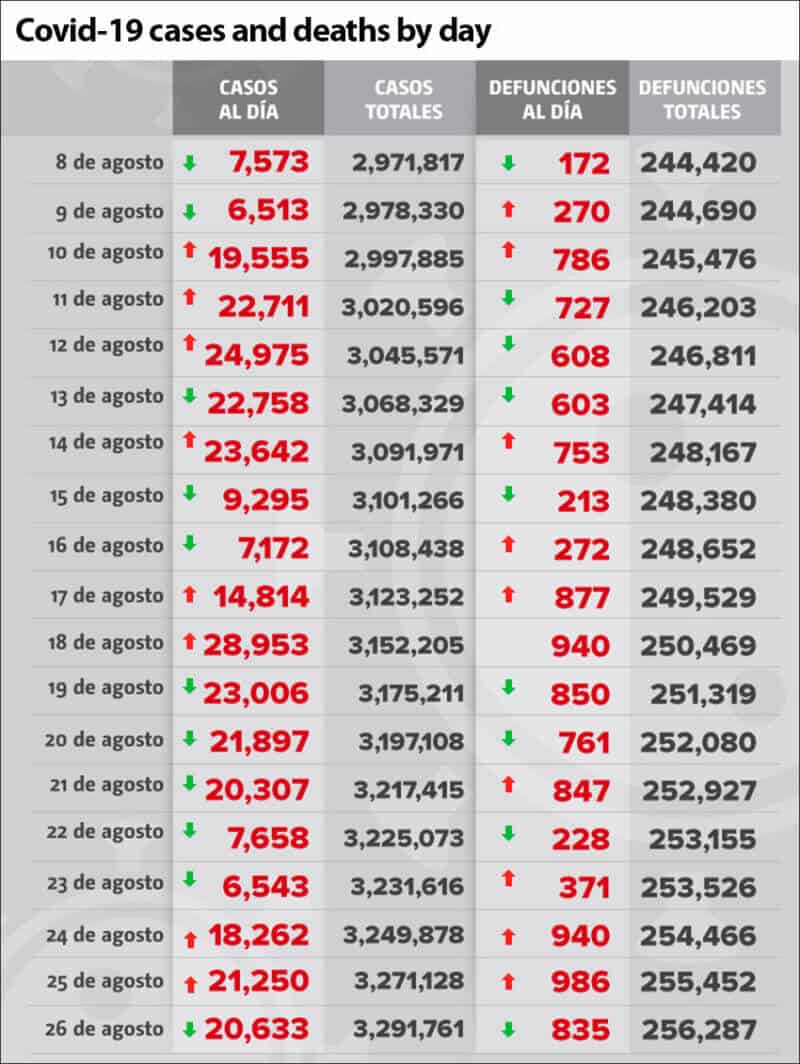 Although hospitals in San Luis Potosí are under pressure, state authorities said the third wave of the virus is showing signs of stabilization.
"… We are now seeing a reduction in the growth of cases but we still have a high number, much higher than we would like," said Governor Juan Manuel Carreras.
San Luis Potosí authorities reported 754 additional cases on Friday and 13 deaths. The state's accumulated case tally is just below 86,000 while almost 6,000 residents have lost their lives to COVID-19, according to official data.
• Health regulator Cofepris has granted emergency use authorization to the vaccine made by Chinese state-owned company Sinopharm. The two-shot vaccine meets quality, safety and efficacy requirements, Cofepris said in a statement on Thursday.
Large scale trials have shown that the vaccine is 79% effective against symptomatic COVID-19. The Mexican government has not yet announced any plans to acquire it.
Cofepris has now granted emergency use authorization to nine vaccines. The Pfizer, AstraZeneca, CanSino, Sputnik V, Sinovac, Covaxin, Johnson & Johnson and Moderna shots have also been approved.
• The parents of a 16-year-old boy in Sonora obtained an injunction that orders the government to vaccinate their son. It is the first such court order issued in the northern state, although judges in several other states have ruled that children have the right to get vaccinated.
The youth was previously turned away from a vaccination center set up a baseball stadium in Ciudad Obregón due to his age.
The government has not yet offered vaccines to minors although one shot, that made by Pfizer, has been approved by Cofepris for children aged 12 and over.
• Just over 83.4 million vaccine doses have been administered in Mexico since the government began its vaccination drive on December 24. According to The New York Times vaccinations tracker, Mexico has administered 65 doses per 100 people and ranks 71st in the world on a per capita basis. One-quarter of the population (adults and children) is fully vaccinated, while 45% of Mexicans have received at least one dose.
With reports from El Financiero, El Economista, El Universal and Milenio