Mexico recorded 4,161 new coronavirus cases and 221 COVID-19 deaths on Monday, increasing its cumulative totals to almost 3.52 million and 267,969, respectively.
There are 82,203 estimated active cases across the country, the Health Ministry reported, an 18% reduction compared to Friday.
The estimated active case tally will likely rise in the coming days as reported cases numbers between Tuesday and Saturday are typically much higher than those recorded on Sundays and Mondays.
Tabasco still leads the country for active cases per capita with almost 250 per 100,000 people. Colima ranks second followed by Mexico City, Yucatán and Quintana Roo.
The five states with the lowest number of active cases per capita are Chiapas, Chihuahua, Baja California, Sinaloa and Guerrero.
In other COVID-19 news:
• As of Sunday, 42% of general care hospital beds in COVID wards were occupied and 38% of those with ventilators were in use, according to federal data.
At 62%, Tlaxcala and Puebla have the equal highest occupancy rate for general care beds among the 32 states. Durango is the only other state with a rate above 60%.
Just over seven of every 10 beds with ventilators are occupied in Morelos, which easily has the highest occupancy rate in the country. The only other state with a rate above 50% is Colima, where just under six in 10 of such beds are taken.
• Almost 60.8 million Mexicans aged 18 and over are vaccinated with at least one dose, the Health Ministry said Sunday. The figure is equivalent to 68% of the eligible population.
Almost 39.1 million people – 64% of the vaccinated population – are fully vaccinated after having both doses of a two-shot vaccine or being inoculated with the single-shot CanSino or Johnson & Johnson vaccines.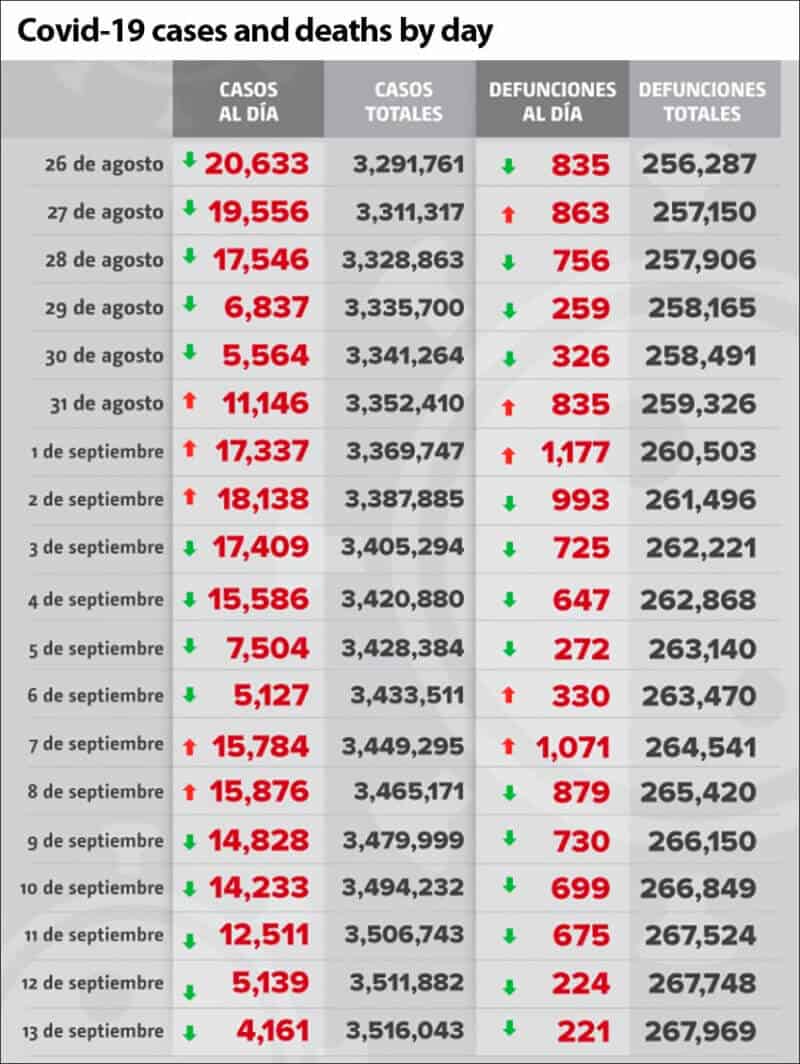 • The Mexican government is unlikely to offer booster shots anytime soon.
Deputy Health Minister Hugo López-Gatell said on Twitter on Monday that the current scientific consensus is that such shots are not needed.
"The government of Mexico will continue to guide its actions based on scientific criteria and recommendations from experts," he tweeted above a link to an article citing experts from the World Health Organization and the United States Food and Drug Administration.
• The federal government has complied with all 262 injunctions ordering the vaccination of minors, according to the National Association of Circuit Magistrates and District Judges.
The association said that the government has fully complied with the court orders despite having questioned the actions of the judges who granted them.
President López Obrador suggested earlier this month that the pharmaceutical industry was behind the legal action to serve its own interests. He said September 3 that his administration was complying with all injunctions but emphasized that the government's medical experts believe that the vaccination of children is unnecessary.
Health regulator Cofepris has approved the use of the Pfizer vaccine to inoculate children aged 12 and over.
With reports from Milenio