The alert level for the Popocatépetl volcano — which has registered several explosions and hundreds of exhalations of water vapor, gases and ash in recent days — was lifted to yellow Phase 3 on Sunday.
National Civil Protection chief Laura Velázquez Alzúa told a press conference that the alert level for El Popo — as the volcano located approximately 90 kilometers southeast of Mexico City is colloquially known — was raised from yellow Phase 2 on the advice of the Scientific Advisory Committee of the National Civil Protection System.
Mexico's "traffic light" volcanic alert system has three stages with phases within each one: a green stage indicative of "normality," a yellow "alert" stage and a red "alarm" stage.
Velázquez said that the yellow phase 3 alert — one notch below red Phase 1 — indicated low to intermediate "explosive eruptive activity," low to moderate ashfall, "significant" growth of lava domes and the possibility of magma expulsions.
She said that mild to moderate explosions that hurl incandescent rock fragments within the volcano's crater were expected, and that "significant explosions" that launch fragments a "considerable distance" were possible.
The National Center for Disaster Prevention (Cenapred) said in a statement on Sunday that "31 exhalations accompanied by water vapor, volcanic gases and ash" were recorded in the previous 24 hours. It also said there had been 1,136 minutes (almost 19 hours) of tremors and six explosions.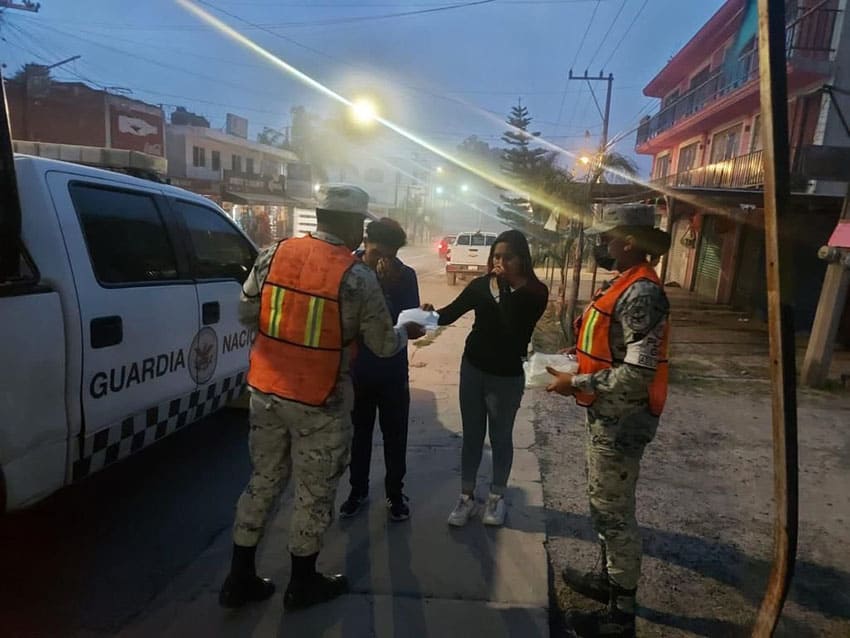 The National Civil Protection Coordination (CNPC) posted a video to Twitter Monday morning that showed El Popo's activity between 3 a.m. and 6 a.m.
"Tremors and the emission of ash remained constant throughout the night. Currently a reduction in high-frequency tremors is registered … [and] the constant emission of water vapor is observed," the CNPC said.
Ashfall from Popocatépetl volcano, which straddles Puebla, Morelos and México state, caused the closure of the Mexico City International Airport (AICM) and the Felipe Ángeles International Airport (AIFA) for several hours on Saturday morning. AICM resumed operations at 10 a.m. while AIFA followed suit an hour later.
Schools in the vicinity of the volcano canceled in-person classes last week and those in 40 municipalities in Puebla and seven in the state of Tlaxcala were ordered to remain closed on Monday.
The Ministry of National Defense (Sedena) said Sunday that members of the National Guard, army and air force had joined forces with municipal, state and federal Civil Protection personnel to form a Joint Popocatépetl Task Force.
The ministry said in a statement that 3,430 troops in that task force were on alert in case of increased activity at the volcano. Sedena said that 3,125 members of the Support Force for Cases of Disaster were also on alert to respond to "any emergency that arises."
AVISO 🌋
Derivado de la constante actividad del #Popocatépetl, continúa la caída de #ceniza en la ciudad de #Puebla #México 🇲🇽
-Si puede quedarse en casa, hágalo, no salga
-Si sale, use cubrebocas y lentes
-Barra la ceniza y póngala en bolsas de plástico
-Cuide a sus mascotas pic.twitter.com/00LAQPj5go

— Geól. Sergio Almazán (@chematierra) May 21, 2023
Grey skies in Puebla city, as ash from Popocatépetl continues to fill the air and fall to the ground.
"In case it is necessary, the Joint Popocatépetl Task Force will put into practice emergency plans … with the objective of supporting the evacuation of communities that could be affected [by increased volcanic activity]," Sedena said.
It said there are 42 established evacuation routes via which over 127,000 people from 51 communities in the states of Puebla, México state, Tlaxcala and Morelos could be evacuated in a "timely" manner. The ministry said that the task force would carry out an evacuation drill from the community of Santiago Xalitzintla, Puebla, at 12:30 p.m. on Monday.
Velázquez advised Civil Protection authorities to be ready for any increase in activity at El Popo, including by preparing shelters for evacuees. She also advised citizens to follow a range of recommendations to protect their health, including covering their mouth and nose with a mask or handkerchief to avoid inhaling ash and closing windows at their homes.
Activity at El Popo, which is also known as "Don Goyo," resumed in late 1994 after a 56-year hiatus. Major eruptions in December 2000 led to the evacuation of over 40,000 people who lived in the vicinity of the volcano.
Popocatepétl, which means "smoking mountain" in Náhuatl, is  Mexico's second highest volcano at about 5,450 meters (Pico de Orizaba is the highest). It is the country's most active volcano and one of the most active in the world, with frequent explosions and exhalations recorded since activity resumed almost 29 years ago.
Mexico News Daily