Fitch Ratings on Friday maintained Mexico's sovereign credit rating at BBB- with a stable outlook.
According to the New York-based credit rating agency, BBB ratings "indicate that expectations of default risk are currently low."
However, the negative appendage added to Mexico's rating emphasizes that the country's sovereign rating is just one notch above speculative grade.
Fitch said in a statement that Mexico's current rating is "supported by a prudent macroeconomic policy framework, stable and robust external finances, and government debt/GDP [ratio] projected to remain stable at levels below the 'BBB' median."
In contrast, the BBB- rating is "constrained by weak governance indicators, muted long-term growth performance, micro policy intervention affecting investment prospects in Fitch's view, and the potential contingent liabilities from Pemex," the state oil company.
Fitch said that the stable outlook it attached to Mexico's credit rating is "supported by stable public finances and the priority policymakers attach to this and broader macroeconomic stability, notwithstanding challenges from subdued economic growth prospects."
The credit rating agency forecast real GDP growth of 2.5% this year, but predicted that the Mexican economy would grow by just 1.4% in 2023.
"Growth continues to be hindered by sluggish investment, partly related to ongoing political noise and regulatory uncertainty, particularly in the energy sector," Fitch said.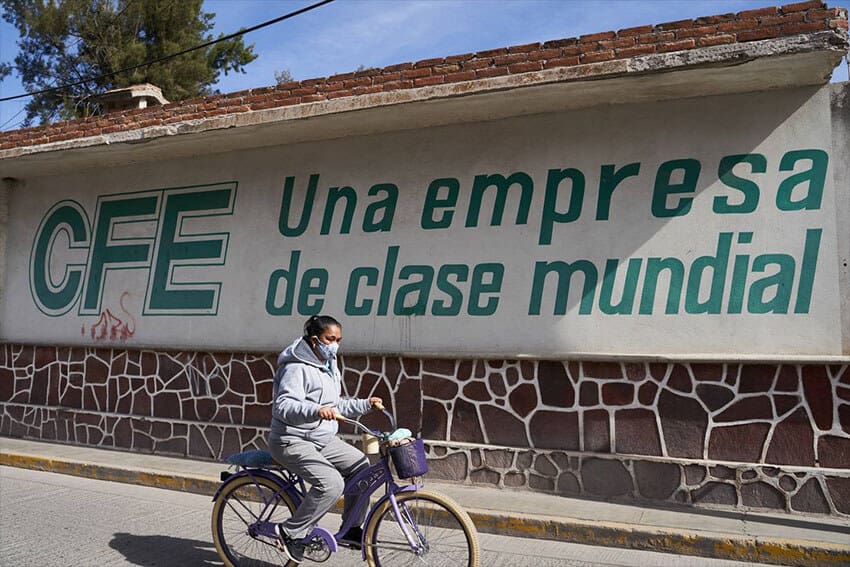 Mexico is currently engaged in dispute resolution consultations with both the United States and Canada after those two countries challenged the Mexican government's nationalistic energy policies under USMCA, the North American free trade agreement.
In its statement, Fitch listed a total of 10 "Key Rating Drivers," including commitment to debt stability, higher expenditure pressures, economic growth continuing to lag, near-shoring economic opportunity and continued inflationary pressures.
It said that the federal government "continues to show commitment to a stable debt/GDP ratio, by maintaining moderate fiscal deficits."
However, government expenditure is "budgeted to increase by 11.6% in real terms in 2023 versus the 2022 budget due to higher interest costs and increased capital expenditure because of higher input costs."
After outlining its growth forecasts for the Mexican economy, Fitch noted that "a mild U.S. economic recession in mid-2023" is currently its "central scenario."
"… A sharper-than-expected U.S. recession is a key downside risk for the Mexican economy," it added.
Elaborating on Mexico's nearshoring opportunity, Fitch said that "evidence points towards higher demand for Mexico's production (though this has yet to translate into higher aggregate investment) as a result of U.S.-China trade tensions and manufacturers' desire for shorter and more resilient supply chains."
"Further reliance of the U.S. on Mexico's goods may improve the latter's resilience despite the expected economic slowdown. Asian countries seem to have benefited from the supply chain reallocation out of China in the short term, but rising shipping costs may tip the scale more in favor of Mexico," it said.
Fitch acknowledged that inflation in Mexico fell to 8.4% in October, but predicted that the Bank of México will continue raising its benchmark interest rate in the near term. "We project policy rate will reach 10.75% by end-2022," the rating agency said, thus predicting a fifth consecutive 75-basis-point hike following the central bank's Dec 15. monetary policy meeting.
The federal Finance Ministry responded to Fitch's credit rating announcement in a statement, noting that the agency highlighted the Mexican government's commitment to "fiscal and monetary prudence."
It also noted that as a result of Fitch's announcement, "Mexico maintains [an] investment grade [rating] with the eight agencies that rate its sovereign debt."
Mexico News Daily