Foreign direct investment (FDI) in Mexico increased 12% in 2022 to just under US $35.3 billion, official preliminary statistics show.
The Economy Ministry (SE) reported a preliminary FDI figure of $35.29 billion on Wednesday, up from $31.54 billion in 2021.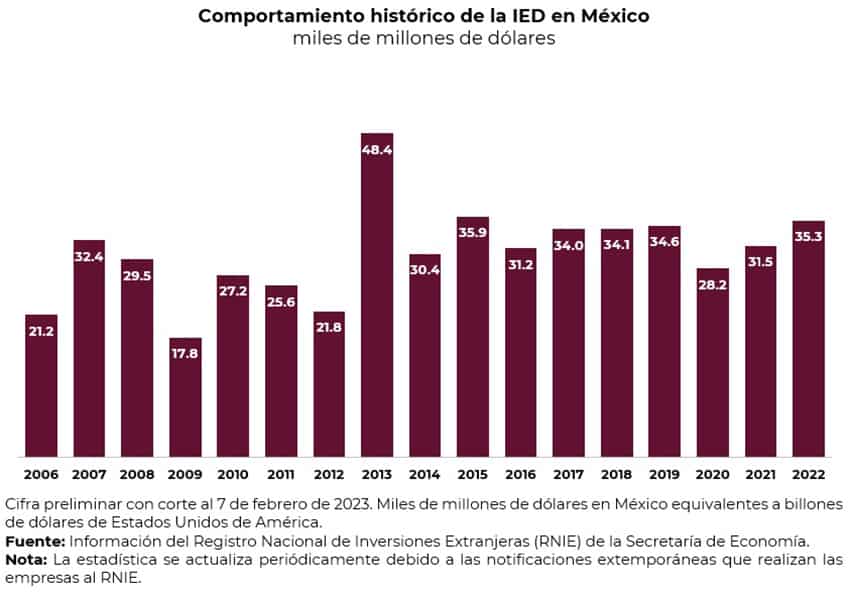 The result is the best for Mexico since 2015, when FDI was $35.9 billion.
In a statement, the SE reported that 48% of FDI last year was new investment in Mexico, while 45% came from reinvestment of profits. The remaining 7% was "loans and payments between companies of the same corporate group," the ministry said.
The United States was the top foreign investor in Mexico last year, with $15 billion in FDI coming from that country's companies and people.
The next biggest investors were Canada, $3.8 billion; Argentina, $2.3 billion; Japan, $1.8 billion; United Kingdom, $1.8 billion; and Spain, $1.6 billion.
South Korea, Hong Kong, France and China rounded out the top 10, but their individual contributions to FDI were below $1 billion.
The SE said that the five federal entities that received the highest FDI in 2022 were: Mexico City, $10.9 billion; Nuevo León, $4.4 billion; Jalisco, $2.9 billion; Baja California, $1.9 billion; and Chihuahua, $1.9 billion.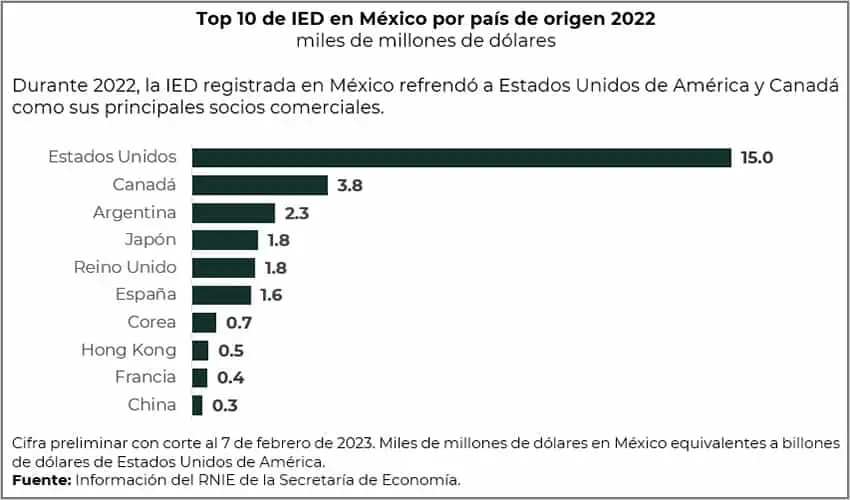 Mexico's manufacturing sector was a big winner, receiving $12.7 billion in FDI, or 36% of the total. The SE said that manufacturers of vehicles, electronic components and auto parts were among the biggest recipients of foreign investment.
The transport sector received 15% of FDI while the financial services and mass media industries got 13% each. The remainder of the investment went to a range of sectors, including retail, mining, construction, accommodation and electricity.
The nearshoring phenomenon — the relocation of companies to Mexico to be close to the United States market — benefited the Mexican economy in 2022, with significant investment flowing into states in northern Mexico and the central Bajío region.
Mexico City has also benefited from nearshoring, the newspaper Reforma reported Tuesday. Honeywell and Siemens are among the companies that have recently expanded their operations in the capital, according to Mexico City Economic Development Minister Fadlala Akabini.
Mexico News Daily