Canadian Prime Minister Justin Trudeau has arrived in Mexico City for talks with President López Obrador and United States President Joe Biden at the 10th North American Leaders' Summit (NALS).
Accompanied by his wife, Sophie Grégoire, Trudeau flew into the Felipe Ángeles International Airport (AIFA), where he was met by López Obrador and his wife, Beatriz Gutiérrez Müller.
"Over the next few days, I'll be meeting with @POTUS Biden, President @LopezObrador_, and business leaders to strengthen our economies, create good jobs, and build a better future for people across North America. More to come — stay tuned," the Canadian PM wrote on Twitter.
Recibimos con mucho afecto en nuestro país al primer ministro de Canadá, Justin Trudeau y a su esposa Sophie Grégoire Trudeau. 1/2 pic.twitter.com/EPIFNxvPdO

— Andrés Manuel (@lopezobrador_) January 9, 2023

President Lopez Obrador tweeted optimistically about Trudeau's visit to Mexico as part of the North American Leaders' Summit.
López Obrador posted a photo to social media that showed the two leaders walking down a red carpet at AIFA accompanied by their wives.
"Our relations are more than good," AMLO wrote on Facebook and Twitter.
"Canadian companies invest in Mexico without obstacles, and the government of that country has been generous in granting temporary work visas to our compatriots."
Trudeau's arrival at AIFA came a day after Biden flew into the same airport, located just north of Mexico City.
The Mexican, Canadian and U.S. leaders will participate in trilateral talks on Tuesday at the National Palace. It will be the second NALS attended by López Obrador, Trudeau and Biden, coming 14 months after they met at the 2021 edition in Washington D.C.
Immigration, energy, trade and transnational crime will be among the issues up for discussion.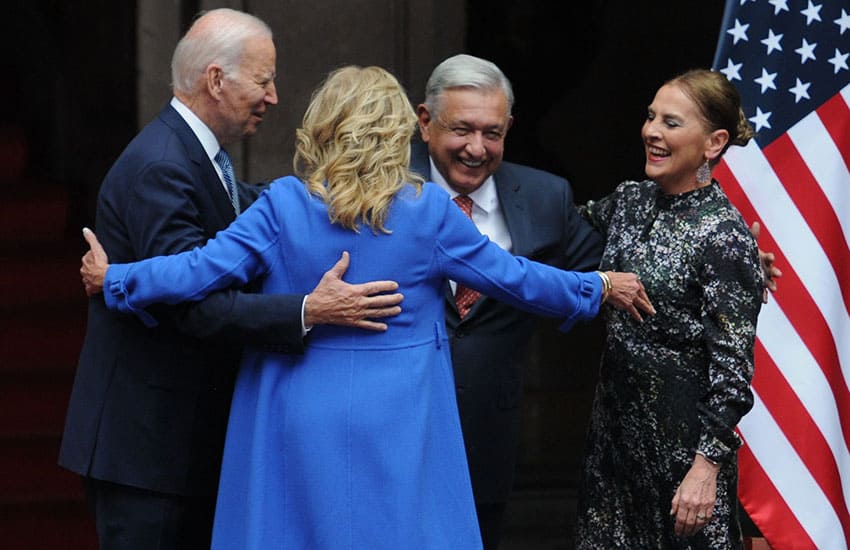 López Obrador and Biden met late Monday afternoon at the National Palace for bilateral talks. U.S. National Security Advisor Jake Sullivan said earlier Monday that the two presidents would discuss ways in which the two countries can "enhance and elevate" cooperation to combat the fentanyl trade.
"President López Obrador and President Biden will [also] have the opportunity to discuss questions related to supply chains, to clean energy cooperation, and to a larger economic vision of North America," Sullivan said.
A day before their formal trilateral talks, the three North American leaders issued a statement condemning the events on Sunday in Brazil, where supporters of former president Jair Bolsonaro stormed the Congress, presidential palace and Supreme Court.
"Canada, Mexico, and the United States condemn the January 8 attacks on Brazil's democracy and on the peaceful transfer of power," they said.
"We stand with Brazil as it safeguards its democratic institutions. Our governments support the free will of the people of Brazil. We look forward to working with President Lula on delivering for our countries, the Western Hemisphere, and beyond."
With reports from Reforma