In its first large-scale event in Guadalajara since the Covid-19 pandemic began in 2020 — and since its leader was convicted last June after pleading guilty in Los Angeles to three charges of sexual abuse of minors — the La Luz del Mundo (Light of the World) megachurch drew an estimated 500,000 people to a religious ceremony on Monday, according to media reports.
During the so-called Santa Cena, a ceremony that recalls the death of Jesus, parishioners of the Guadalajara-based evangelical church listened to a recorded audio message from their spiritual leader Naasón Joaquín García, who faced 23 charges of sex crimes against children — including multiple counts of rape and conspiracy to engage in human trafficking and child pornography. Joaquín was arrested at Los Angeles International Airport in 2019.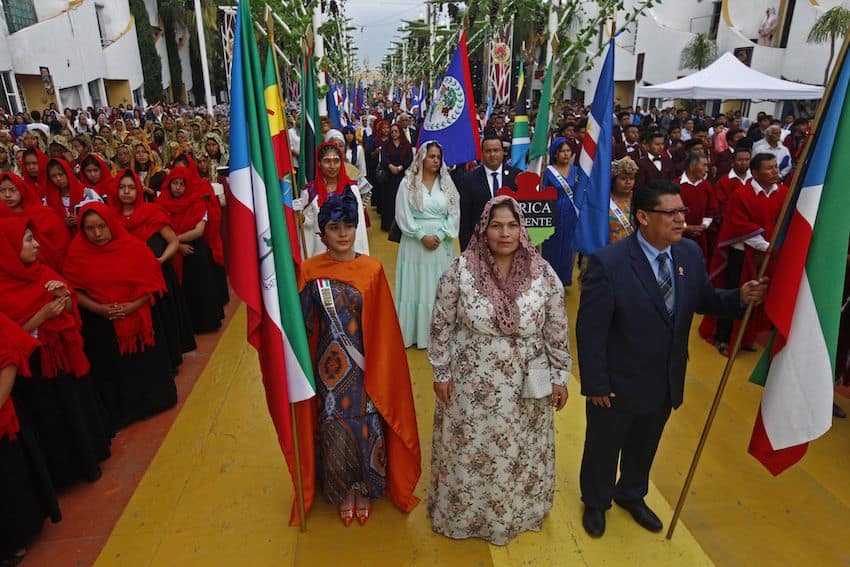 In exchange for prosecutors dropping many of the charges, including the most serious, Joaquín, 54, pleaded guilty last year to two acts of forcible oral sex with minors and performing a lewd act on a child. He was sentenced in June to 16 years and 8 months, a term he currently is serving at a state prison south of Fresno, California.
In his taped remarks Monday, delivered with the same vigor in which he gave his sermons in person, the so-called "Apostle of Christ" said he prays to God "for those who were deceived and confused" and for "those dominated by the flesh." 
"There is no sadder and pitiful state," he said, "than that of the sinner plunged into the field of guilt, the abyss of malice, all due to a whim of his flesh, due to an unhealthy whim and a soft deception that brought him the worst evils, a momentary pleasure that damaged him all his life." He added that he turns to God seeking "mercy and forgiveness."
The ceremony marked the first in-person gathering in more than 2 1/2 years at La Luz del Mundo's main headquarters in Guadalajara's Hermosa Provincia neighborhood. The streets around the 80-meter (262-foot) tall white temple were crowded with people, though few images of Joaquín – especially those alluding to his innocence, something which many believers still maintain – remain on nearby facades and walls.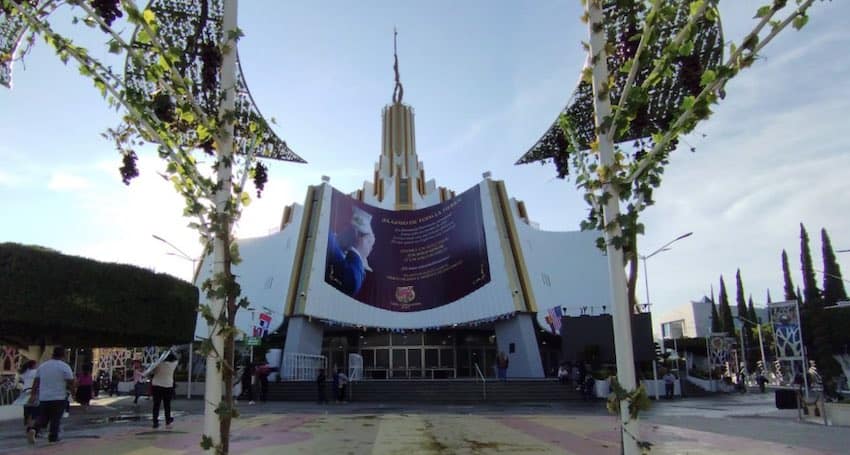 According to one report, some 300,000 people from 60 countries were expected for what used to be an annual gathering called Holy Convocation. Another advance report estimated 400,000, but on Monday, several news sources reported that approximately 500,000 people had attended, primarily at the church's main location, but also at two other sites in Guadalajara. That figure was confirmed by church spokesperson Eliezer Gutiérrez Avelar, who added that most attendees were Mexican nationals.
La Luz del Mundo was founded in 1926 by the late Aarón Joaquín González, the grandfather of the convicted Joaquín. The faithful practice a form of Restorationist theology, which hearkens back to early Christianity. Female members follow a dress code that includes the wearing of long skirts and head coverings during religious services, and are seated apart from men.
The Holy Convocation continued Tuesday with the farewell to national and international delegates.
With reports from Informador, Milenio and López Dóriga Digital