It happened on a Tuesday. Merchants at the Tianguis of San Martín Texmelucan caught wind of a duo of thieves that had assaulted and robbed a clothing vendor as he was going home for the day.
Fed up with the impunity, the merchants caught up with the thieves, two middle-aged men, and took them to the nearby town of Matamoros. In the town's center, the men were tied up, shaved and beaten. Police did not intervene in time.
Known in central Mexico as the largest unofficial open-air market in Latin America, the Tianguis de San Martín is a 35-hectare mecca for food and clothing vendors (dubbed the tianguistas), a dense and sprawling flea market bazaar packed with affordable produce, imitation brands and lax security.
Some San Martín inhabitants jocularly refer to their overpopulated market as the "New York Stock Exchange of central Mexico."
Situated on the border of Puebla and Tlaxcala, the tianguis ("open-air market" in English) brings in upwards of 800,000 patrons per week who arrive by bus or van from four different states — Oaxaca, Quintana Roo, Chiapas and México.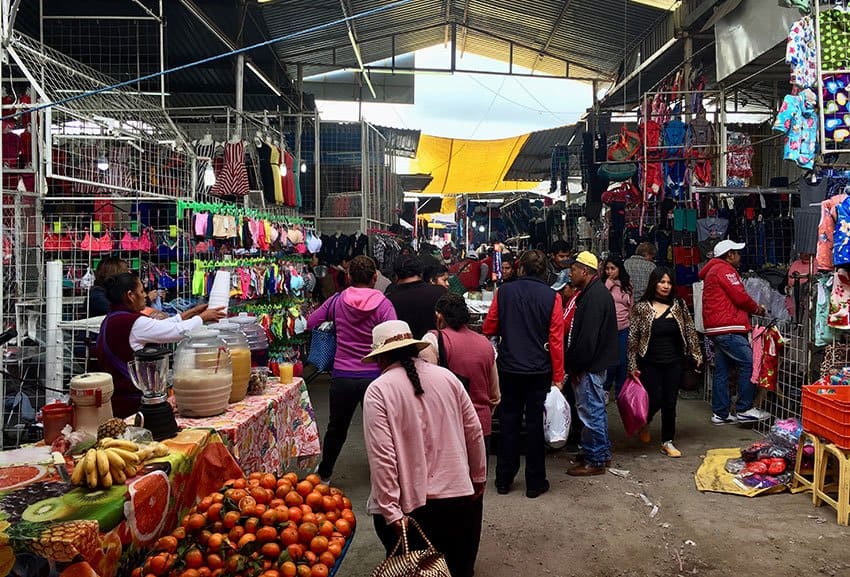 Neftalí Garzón Contreras, a former Puebla representative to Congress, told the newspaper Puebla Noticias in 2006 that this city-wide meeting spot was so dire to Mexican society that "it keeps 100,000 to 400,000 from poverty."
"In view of the serious income problem of Mexico," he said at the time. "it's a priority to preserve and strengthen the market for the prosperity of our people. It belongs to everyone, and we must defend it, rescue it and restore it."
Contreras was highlighting a tough and slightly controversial problem. Several governments have been trying to either perfect or shut down the Tianguis for just about the 45 years it has existed. Other than the 2016 humiliation incident in Matamoros, San Martín sees a large helping of normalized crime just about every week — from non-violent thefts to highway robberies.
In 2017, vendors threatened to hang a woman who stole 7,000 pesos, which led to a small riot. And upwards of 30 to 40 assaults nearby were reported that year, including violence between enraged vendors. Mexican blogger Jesús Contreras Hernandez explained the tianguis's new politics — the fact that there's not enough security to regularly keep justice — as its "anarchic functionality."
None of this crime is denied by the municipal government of San Martín. Completely fresh since a change of administration in October (the last mayor, Rafael Nuñez Ramírez, "ran away," according to a new official), the administration headed by Norma Layón says it has been taking rigid steps to curb the crime that has been growing in the past six months,
Measures run from funding safe shuttles to beefing up market security. The only problem, notes municipal secretary Lorena Migoya Mastretta, is that right now "we as a municipality are completely broke."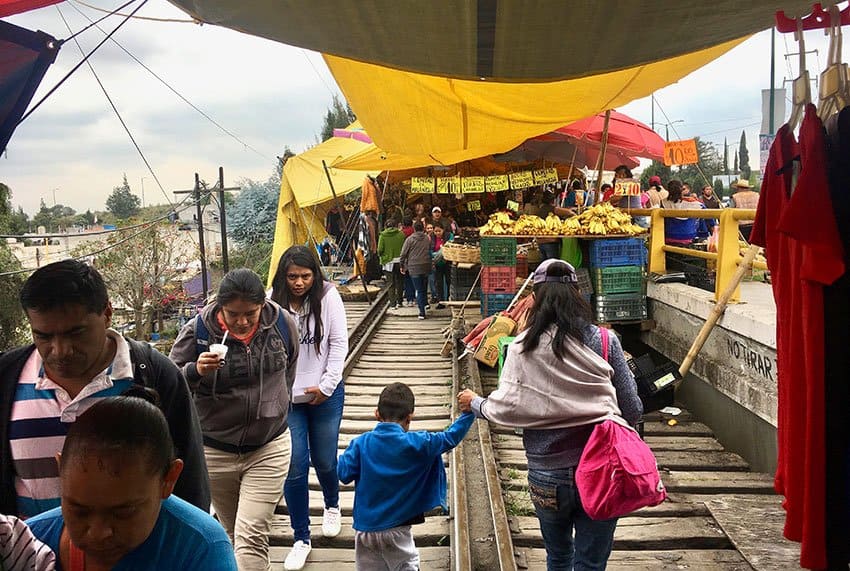 "When you're building a house, you need the bricks to sustain the house," Migoya says. "And we are just doing that. Trying to analyze and diagnose what has to be fixed, and work from there. We see this as a huge opportunity to bring tourists to San Martín, but now the first thing we have to do is to bring order."
With nearly one million people arriving solely for Tuesday event, the question as the tianguis continues to increase in size is simple: how can a brand-new, financially-deflated government promise to keep the tianguistas safe and coming back for more?
On a Tuesday morning in November, San Martín, a town of 70,000 people, has turned into a crowd-packed commercial metropolis. Individuals and families are hunting for deals on athletic shoes or women's underwear. Walking further into the gigantic tarpaulin mass, there's nothing a buyer couldn't find: walls of plastic-wrapped shorts for 30 pesos each, vibrant mariachi suits for infants, glistening dresses, Disney princess bread cloths, mysterious health beans, products for girls' hair. Witnessing the volume, it's hard to believe that most of the clothing you see in the market is fake.
"I can sell each of these pants for 50 pesos," says Raymond Rodríguez, the 52-year-old owner of a tiny jeans kiosk. Below him are stacks of hundreds of lookalike Levi's and Tommy Hilfiger pants Rodríguez's production facility imitates right down to the tag.
"Sure, all of this is illegal," he says. "But no one really cares. The government, the police, they all know about this, and they don't do a thing." ("It's not in our jurisdiction to fight illegal clothing. That's a federal concern," Migoya says.)
Born in San Martín, Rodríguez spent 24 years living in the United States, where he raised three children and ran a Mexican grocery store outside Pittsburgh. He returned a few years ago to work the tianguis with his wife, sister-in-law and brother, all of whom convene for the weekly market, paying about 300 pesos for their spot. To Rodríguez, who lives down the street, San Martín offers a simpler life than that in the U.S., despite the means with which he achieves it.
[wpgmza id="11″]
"In Pittsburgh, you have to have two, three jobs at the same time," he says. "But here? Yes, we compete, and you still have to work. I still have to sell six pairs [of jeans] to pay for my spot. But I like it."
Oscar Sorea, 35, sells leather wallets for about 120 pesos each, and travels from the state of México every Monday. His operation is similar to Rodríguez's: sell product quick, keep an eye out for thieves and shady competitors (he's had stuff stolen by other vendors). Sorea said he has been robbed once in the past year, an incident that made him question even participating at all.
"When we're leaving [at the end of the day], there are always assaults," he says. "Just a month ago, 25 trucks were robbed, and all the merchandise was stolen by a notable gang. And you know what? The police did nothing. There's so much impunity here that people are starting to ask, 'What happens if I'm robbed next?'"
The problem of criminal gangs, as noted by Migoya and San Martín's government, is basically that the tianguis is too large a monster to properly control. Men in yellow shirts saying "Zona Segura" on the back walk around, but for the most part a heavy police presence appears minimal.
This summer, some of the tianguistas petitioned to have the market open on Sundays or Mondays, although the government rejected their plea on just these concerns of safety. Having hundreds of thousands of people arriving in the city more than once a week, Migoya says, wouldn't just be hard to control. It would be near impossible.
"Imagine what it would be like with three days?" Migoya says. "And imagine the people living in San Martín. To them, it's like having a mall inside your house. For many of these people, they just want tranquility."
Around three o'clock every Tuesday, the market begins to shut down. Shoe salesmen push carts of sneaker boxes into the backs of trucks; racks of Pull & Bear coats are loaded into vans; women with sleeves of leather belts and buckles rest outside in the rain drizzle, others barrel through a crowd with a towering cart of tapestries.
The market is a commercial necessity that will be set up again in seven days, one that both San Martín and the tianguistas hope will be safer in future.
"Sure, we have flaws in our municipality," she says. "But that's not going to keep us from putting San Martín on the map."
Mexico News Daily