One of the first things I did when I arrived in Mexico was get tickets to a Lucha Libre event. I'd never seen anything like it. It was in a huge arena with bright lights and thousands of seats. The atmosphere was electric.
Lucha Libre, or Mexican freestyle wrestling, was introduced to Mexico in the first half of the 20th century. It grew into a unique form of the sport, characterized by high-flying maneuvers performed by wrestlers wearing iconic masks that have over time developed special significance. Wrestlers in the public eye often conceal their identity behind their mask full-time. In some matches, the loser must permanently remove his mask.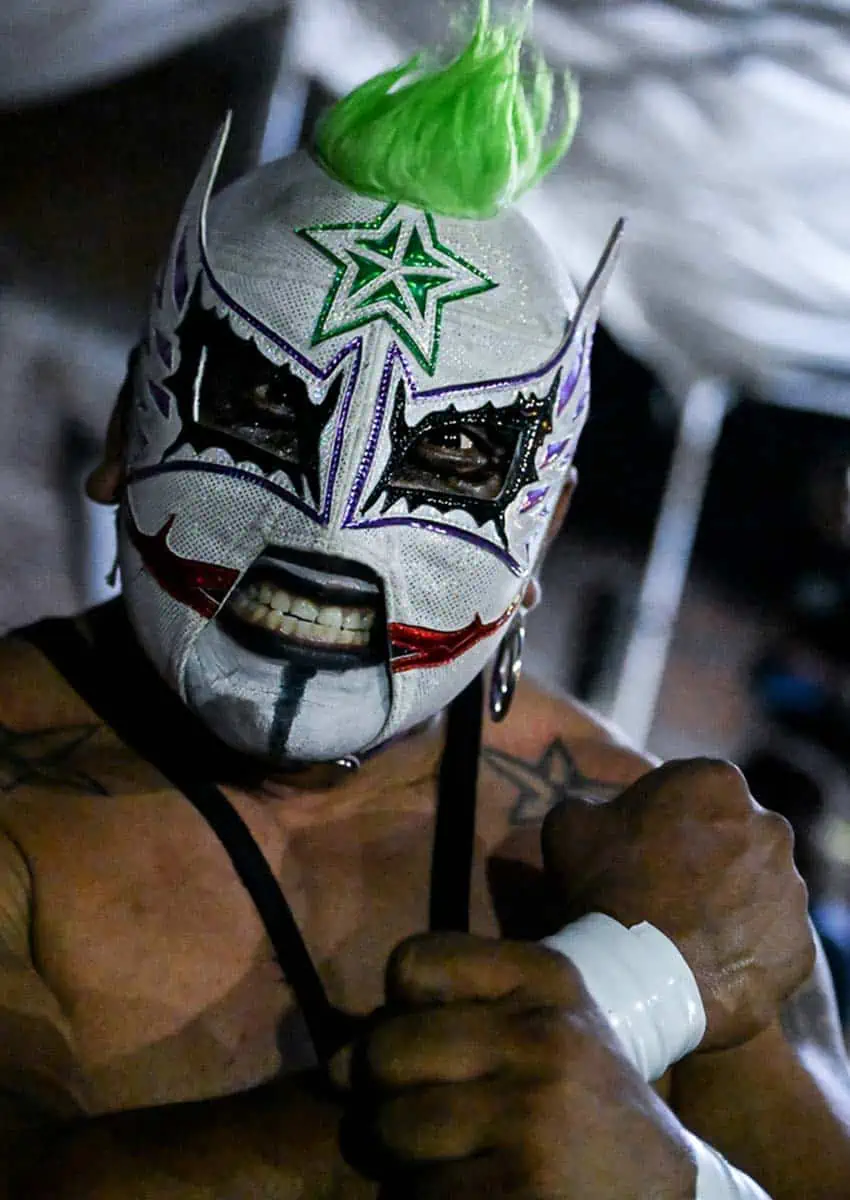 Wrestlers are known as luchadores and usually come from wrestling "families" who form their own stable of fighters.
Mexico City and Guadalajara have the biggest lucha scenes, but the sport is hugely popular throughout Mexico. I live in Oaxaca, where there is also a dynamic lucha scene. Unlike in Mexico City, there are only a few rows of seats around the ring here, so you're part of the action no matter where you sit.
Geraldine, a friend from Guadalajara, took me to my first Oaxacan lucha event at the Pepe Cisnero Arena. I knew it was going to be wild based on her description of what she grew up with:
"To say awesome is an understatement," she said. "There's always heckling going from one section to the other that creates a great atmosphere. All kinds of people go to these events. You see people in their work clothes, straight out of the office, screaming at the wrestlers and just having a good time."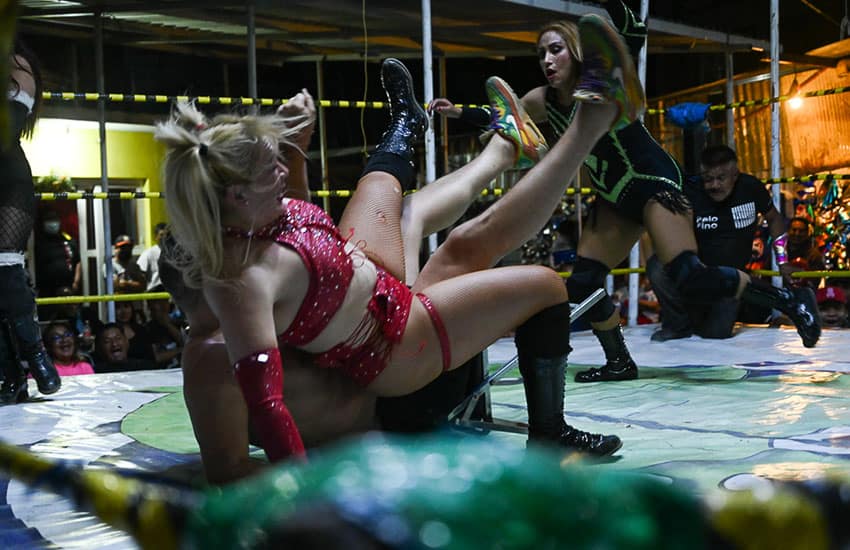 The night really kicked off as the sun was setting and the first wrestlers arrived. The energy immediately changed as the audience started picking sides and heckling the opposing wrestler.
As in American professional wrestling, good guys (técnicos) and bad guys (rudos) create a story arc during the fight — or over several fights. Audiences typically heckle the rudos and back the técnicos. Rudos often fight dirty, breaking the rules and giving the audience plenty to heckle.
Arcana, a Oaxacan wrestler, described himself as a rudo but with a lot of technique. He claimed to have created original wrestling maneuvers.
During the evening, we saw different styles of matches: men's, women's and teams. Arcana loves one-on-one fights but finds team events more enjoyable. The first rounds stayed in the ring, but as the bouts got toward the headliners, things got more and more unruly: even though we were further back in cheaper chairs, we spent a lot of the night leaping out of our seats to avoid flying bodies.
Surprisingly, I found the women's competitions were more intense than the men's: two female wrestlers we saw that night, Cataleya and Pili, had a fight so rough, it ended in a call for an additional grudge match to settle the score. Grudge matches usually end in an unmasking or a wrestler's hair being cut.
Arcana describes these rivalries in championships as "priceless to win."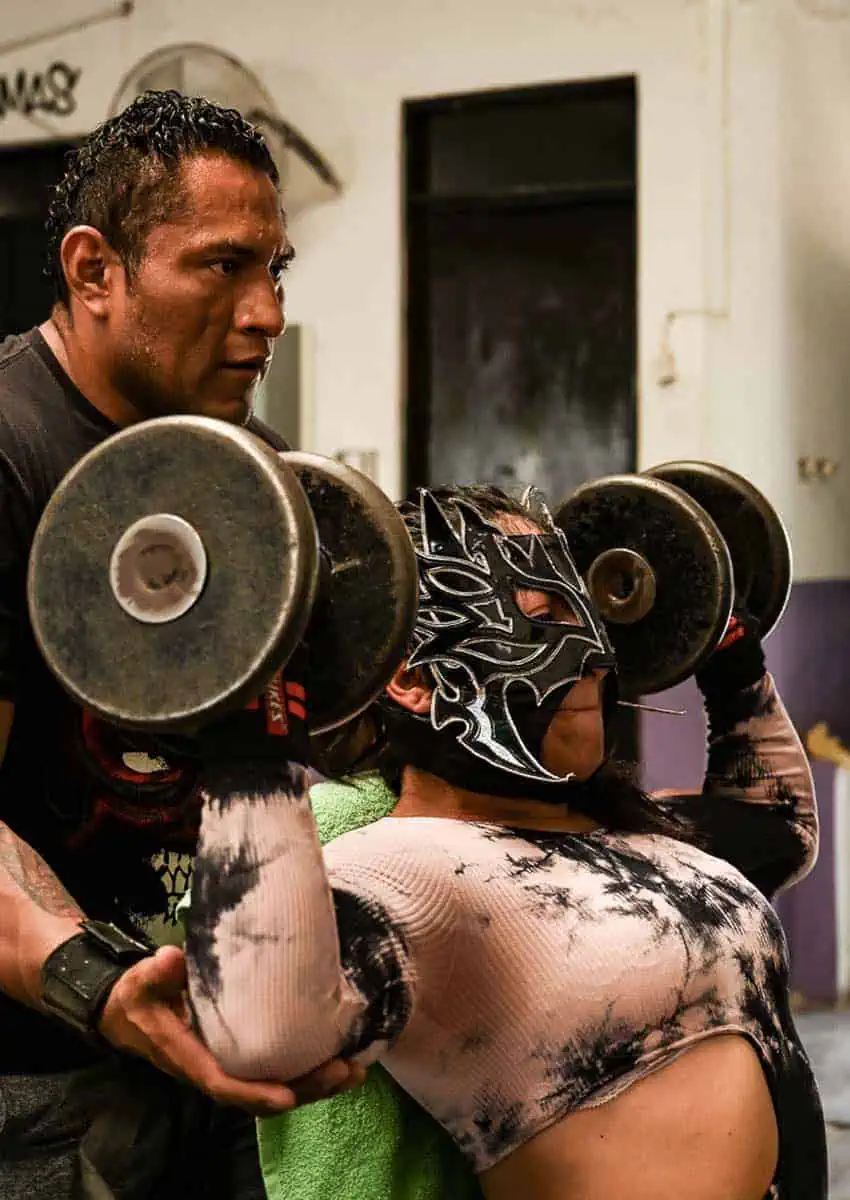 Masks have been part of Lucha Libre since its beginnings in the early 20th century. In the earliest days of the sport, masks were very simple, with basic colors distinguishing a wrestler. In modern Lucha Libre, masks evoke animal imagery, gods and heroes, helping define a wrestler's character.
"Personalities in the wrestling world, like the son of the legendary Blue Demon, don't take their masks off in public, even on their holidays," Geraldine said. "You protect your identity as a famous wrestler. In some gyms in Oaxaca, you might see a guy working out with their mask on."
El Santo, arguably Mexico's most famous luchador and the wrestler credited with popularizing the sport in the country, was famously never unmasked by an opponent during his five-decade career and was even buried in his legendary silver mask after his death.
He changed Lucha Libre forever when he entered the ring with his trademark silver mask in 1942. Audiences fell in love with Santo's mystique and made him into a folk hero who represented justice for ordinary people. He starred in about 50 low-budget films.
Lucha Libre has a unique rule in team matches where a legal wrestler who touches the ground outside the ring can be replaced by a teammate without tagging. This leads to more frantic action in the ring than standard tag rules allow.
At first, I was under the impression that Lucha Libre matches were scripted, since they're made up of choreographed moves. But Arcana explained that "nobody knows who is going to win. Sometimes wrestlers are careless. Whether you win or lose is defined in the ring."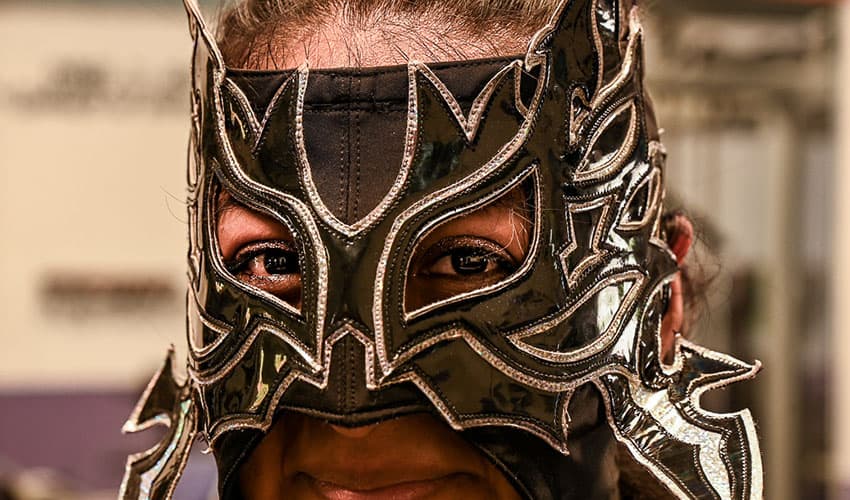 I was lucky enough to meet with Cateleya and her husband Fantasma, who together make quite the luchador power couple. Fantasma is the person who supports her most, Cateleya says.
"He understands me [and] accompanies me, and it is a great experience to be able to share this with him."
At their gym in Oaxaca, I got a behind-the-scenes look at the intense strength training they do together.
"It is something that you always keep in mind in your day-to-day since you have training to improve both in technique and appearance," Cateleya said.
Women like Cateleya have been competing almost as long as men. By 1952, the first generation of female Mexican wrestlers were gaining fame, including Chabela Romero, Toña "La Tapatía," Marina Rey, Irma González, "La Dama Enmascarada" and "La Jarochita" Rivero.
It's clear how these women have inspired Cateleya: "The appeal of becoming a fighter is to show that there is no such thing as the weak gender," she says.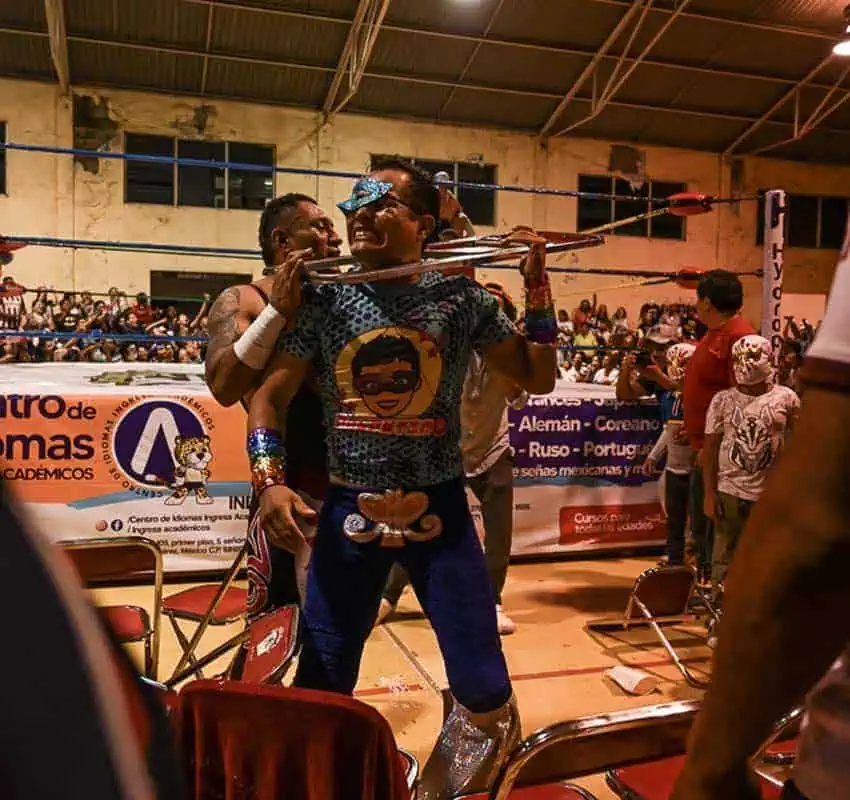 Lucha Libre fans will typically have a favorite wrestler, and Geraldine is no exception.
"Rasputin is probably my guy," she says. "It's not very common to see LGBTQ+ people in sports, and in Mexico, that's even worse. Although I don't really think Rasputin is gay, he is the first queer wrestler I've seen, and he really wins you over. He does portray a stereotype, but at the same time I think that's by being such a badass. He's positively influencing the culture [in wrestling] around these issues."
At a larger arena in central Oaxaca, I witnessed a more spectacular match than the first one, featuring the grudge match between Cateleya and Pili, along with Rasputin and Fantasma, who played the antagonist against Místico, the headliner. Though three times the size of the Pepe Cisnero stadium, Geraldine still considered it a poor venue compared to the massive arenas in Mexico City and Guadalajara.
More confident this time, I put myself ringside, shooting pictures and heckling to my best ability. It was a huge adrenaline rush, ducking and diving as wrestlers threw themselves (and each other) from the ring. Fantasma describes feeling a sense of euphoria when he fights. To me, the whole arena is full of it, and I, for one, can't wait to go again!
Anna Bruce is an award-winning British photojournalist based in Oaxaca, Mexico. Just some of the media outlets she has worked with include Vice, The Financial Times, Time Out, Huffington Post, The Times of London, the BBC and Sony TV. Find out more about her work at her website or visit her on social media on Instagram or on Facebook.