Mexican mountaineer Viridiana Álvarez has become the first woman from the Americas to climb the world's five highest mountains — Everest, K2, Kanchenjunga, Lhotse and Makalu. 
Álvarez rose to fame in 2019, when she was awarded the Guinness World Record for being the woman with the fastest ascent of the top three highest mountains with supplementary oxygen, taking only one year and 364 days to reach the three highest peaks.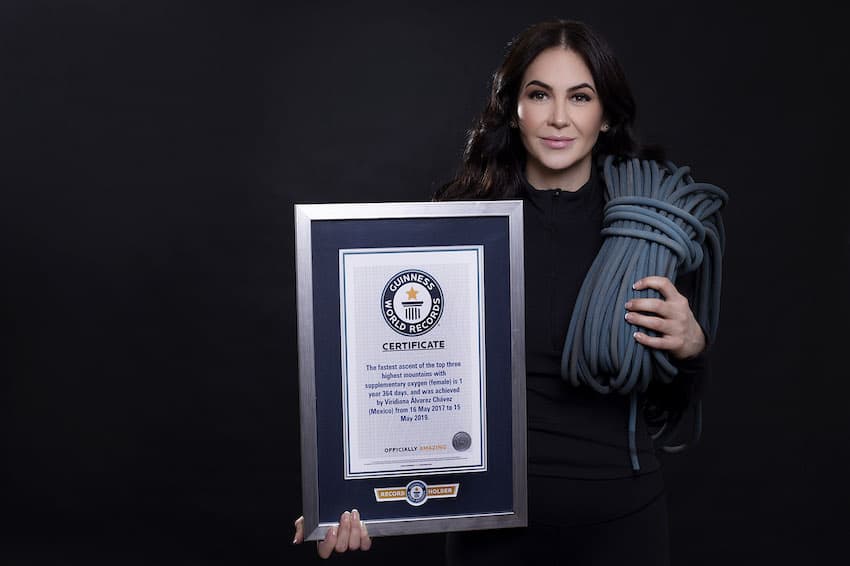 Alpine climbing is a style of fast ascent, with little equipment to slow climbers down, and is often used by mountaineers who are looking to get to the summit as quickly as possible. This style of climbing recently allowed her to summit Everest without oxygen, making her only the 9th woman in history to achieve the feat.
Born in Aguascalientes in 1987, Álvarez wasn't always a climber. She started as a runner, and after finishing a 10-kilometer run, decided she wanted a bigger challenge. She then ran a half marathon (21 km) before completing a full marathon (42.1 km) a few months later. 
Looking for a greater challenge, she decided to do an Iron Man triathlon consisting of a series of long-distance swimming, cycling and running races. After completing the competition, she decided to move on to climbing, reaching the summit of Pico de Orizaba, Mexico's highest mountain, at age 30.
Inspired by her success, she went on to climb the world's highest mountain, Nepal's Mount Everest in 2017. One year later, she climbed K2 in Pakistan, becoming the first Latin American woman to summit the second highest — and most dangerous — mountain in the world. 
In May 2019, she made history when she reached the top of Kangchenjunga, the world's third highest peak, breaking the existing record of two years and two days set by South Korean alpinist Go Mi-Sun.
Currently, Álvarez is seeking her next world record — summiting the fourteen highest mountains in under than nine years.
With reports from Guinness World Record and El Sol de Durango