Under tarps pitched outside the federal Ministry of the Interior in the center of Mexico City, some 25 families from the state of Guerrero have been camped out since September 22.
In November 2018 they were forcibly displaced from their homes in the municipalities of Zitlala, Leonardo Bravo and Eduardo Neri, all locations controlled by armed criminal groups who fight over territory to conduct what the international NGO Crisis Group says is a wide portfolio of activities ranging from growing opium poppies to illegal mining.
This is the third time this community of desplazados (displaced people) from Guerrero has spent extended time sleeping on concrete outside government offices in the Mexican capital, daring authorities to remove them and supported by community donations of food and water.
The first time, 350 of them camped in front of the National Palace from February 17 to March 28, 2019, demanding that the then-new López Obrador government dislodge the criminal gangs that had invaded and occupied their towns so they could return to their homes, farms and businesses.
Back then, the government said it would coordinate security for displaced families by posting state and federal security forces in parts of the region where armed groups have infiltrated. Meanwhile, the group was to return to the city of Chichihualco at the base of the La Sierra region of Guerrero, where the government would provide food and health services as well as money for rent and utilities.
Three years later, the funds for housing in Chichihualco have been spottily delivered and there have only been more episodes of forced displacement driven by the armed violence of gangs that operate with impunity if not collusion with the state and transnational mining companies. (Guerrero is home to many lucrative deposits of gold, silver, zinc, copper, and lead.) Many of the original group have fled further afield, going to live with family members in other parts of the country; many have set off for the United States to try their luck seeking asylum or migrating clandestinely. Those who remain live in limbo, unsure where their long term security lies.
"The trauma of displacement is very specific," Manuel Olivares, a human rights defender who is accompanying the group, told Mexico News Daily. "It's something you experience individually and at the same time collectively."
"And it's not recognized enough. International NGOs won't come to help in the places people are displaced from because the security situation is so bad." Then, once people are displaced, the public "don't see what has been lost — homes, shops, crops."
To be sure, the latest data from the nongovernmental Mexican Commission for Defense and Promotion of Human Rights found that 9,741 were displaced in 2020, an increase of 12% from the previous year. Government figures have the total number of displaced households between 2016 and 2020 at 281,373.
In reporting on the country, the phenomenon of internal displacement is easily hidden from view, with migration from and through Mexico more likely to make headlines. However, the reasons for migration, asylum seeking and forced displacement throughout Mexico and Central America are becoming more and more similar: conflict and invasion by armed criminal groups that operate with state impunity.
To be sure, in the encampment of people displaced from Guerrero, Mexico News Daily met a young Honduran man who arrived with the caravan of migrants from Central America who are currently in Mexico City. "He asked to stay with us and we're helping him" after the man's backpack containing his passport, phone charger and clothing were stolen, said Olivares.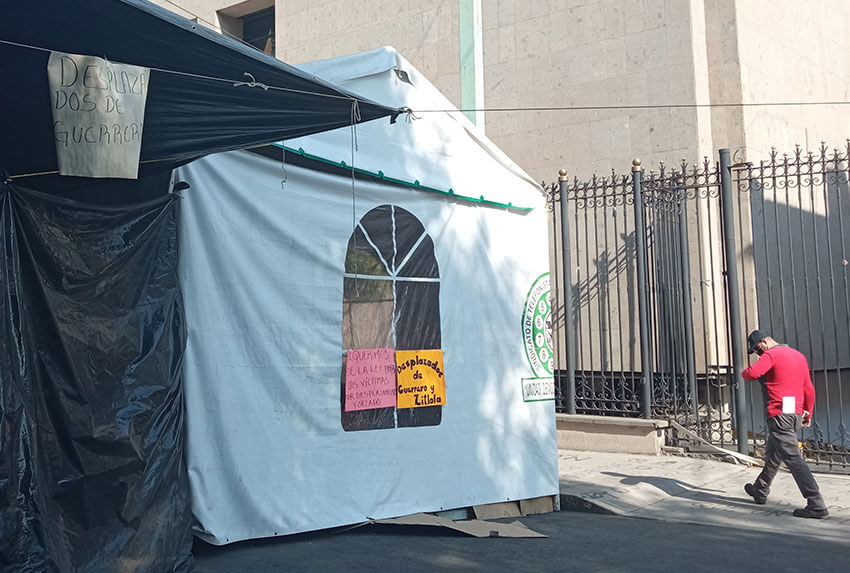 The issue of forced displacement in Mexico has gained increased attention from national and international authorities in recent years. There is a law currently on the table in Congress which if passed would offer formal recognition of and services to displaced people through the Mexican refugee commission, COMAR, as well as prevention measures. Introduced in September 2020, the draft legislation awaits debate in the Senate.
Efforts from displaced communities and their advocates to get the law passed received a boost recently when Guerrero Senator Nestora Salgado hosted a screening of the documentary Cruz for fellow lawmakers. Cruz follows a community of indigenous Rarámuri from the state of Chihuahua who were forcibly displaced by an armed criminal group as they struggle to survive and fight to return to their homelands. As legislators "we have the responsibility" to pass the law to protect displaced people, Salgado said. Still, the legislation remains in a holding pattern, with no date set for debate in the Senate as another year passes.
In the meantime, the displaced of Guerrero are seeking formal recognition as victims of crime from the state, as a pathway to receiving more support. Olivares told Mexico News Daily that only some have been registered as such with the federal Executive Commission for Attention to Victims.
"They only registered some of the heads of families, not every single person" said Olivares.
The law would face the usual problems of high impunity in Mexico, he said, but there is also a significant underlying issue that authorities refuse to touch: the mining companies.
"Mining is the principal cause of displacement in Guerrero," he said, due to the alignment of mining companies with organized criminal groups that can demand companies comply with their terms in order to do business. According to Crisis Group, the companies provide a source of income for illegal armed groups through protection rackets in Guerrero.
For the time being, the displaced camped outside the federal government offices just want the chance to live safe and prosperous lives. As Joaquina Cantor of Zitlala told a recent press conference, "We want to be recognized as victims and we want the state to provide us with decent housing because we left everything in our communities."
"No one leaves their homes for fun, but to save their lives and the lives of their children and family."
Mexico News Daily