A teachers' rail blockade in Michoacán has now been in place for more than a month, generating losses for industry to the tune of at least 1.6 billion pesos (US $80.1 million).
Members of the CNTE teachers union began blocking tracks in Caltzontzin, a community in the municipality of Uruapan, on July 31. They claim that the state government has failed to pay wages owed to some 28,000 teachers.
According to the Michoacán industry association AIEMAC, companies are losing a combined total of approximately 50 million pesos each day that the railway is blocked because they can't get goods to or from the port of Lázaro Cárdenas.
Rail operator Kansas City Southern de México told the newspaper Reforma that eight trains loaded with 36,551 tonnes of goods destined for central and northern Mexico are currently stranded.
Many other freight train services have been canceled due to the long-running blockade, a form of protest that is commonly used by CNTE teachers in Michoacán.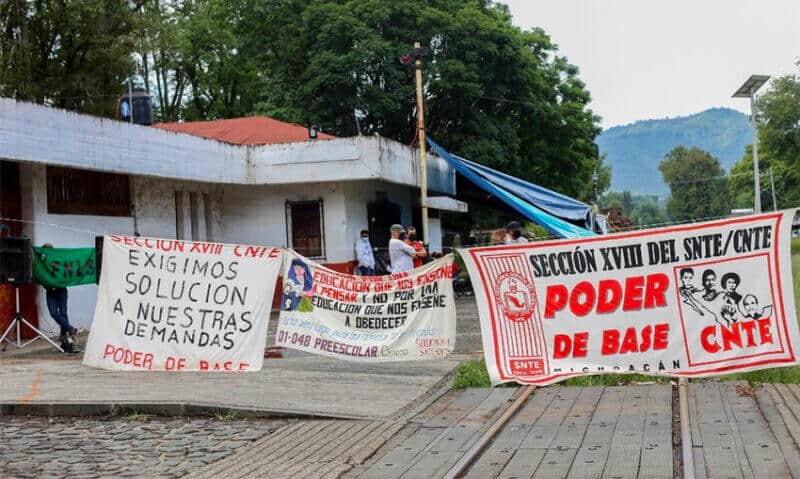 "They're trains that should have been scheduled but haven't been scheduled because we can't operate, we can't get through," said Iker de Luisa, head of the Mexican Railway Association.
"The impact is great because fuel oil, chemicals, steel, cement, containers with general freight and supplies for the agricultural industry can't be moved," he said, adding that the state oil company Pemex is one of the affected firms.
Reforma reported that rail tracks in Michoacán have been blocked for a total of 52 days this year.
One group calling for federal intervention to clear the tracks is the Confederation of Industrial Chambers (Concamin), which made an appeal to President López Obrador earlier this week.
Blockades are affecting the transport of goods, certainty for investors, the supply of raw materials for thousands of companies and hundreds of Mexican workers who have been unable to work and see their jobs at risk, Concamin said in a statement.
The group said there have been 21 separate rail blockades in Michoacán this year, causing huge losses for industry and turning the state into an entity where the rule of law doesn't exist. That affects Michoacán's capacity to attract new investment and create jobs, Concamin said.
The organization said it had made an "energetic call" to the federal government and López Obrador to end the rail blockades.
"… Shipments by industries such as iron and steel, agro-industry, automotive and fuel are today paralyzed and companies are starting to look for alternative routes to complete the transport of goods and finished products," Concamin said.
"These blockades have an impact on the entire supply chain for the North America region and thus impact on the trade relationship with the United States and Canada. Mexico should provide guarantees to its trade partners that it is willing to resolve issues that place the integration of supply chains at risk," it said.
"It's worrying that these kinds of actions are beginning to be normalized in the country. We can't afford to continue [allowing] economic losses for Mexico and Mexicans to add up," said Concamin transport commission president Felipe de Javier Peña Dueñas.
Without the intervention of authorities, the current blockade doesn't appear likely to end any time soon. Local CNTE leader Benjamín Hernández said the Michoacán government has told the union that it is not in a position to pay the unpaid wages so the blockade will continue.
Union members have also used more aggressive tactics to demonstrate their discontent. The so-called "power base" faction of Section 18 of the dissident union hijacked at least two private delivery trucks on Wednesday and set them alight on the Uruapan-Pátzcuaro highway.
"Silvano, pay us now" was graffitied on at least one of the seized trucks. Silvano Aureoles is the governor of Michoacán.
CNTE teachers also blocked at least two other roads in Michoacán on Wednesday and held a protest march in Pátzcuaro. In addition, disgruntled teachers who say they are owed at least a month's wages continued to block a state government building in Huetamo, a town about 200 kilometers south of the state capital Morelia.
With reports from Reforma, T21 and Revista Transportes y Turismo