Federal authorities on Wednesday stopped a tractor-trailer transporting 269 migrants through the southern border state of Chiapas.
The National Immigration Institute (INM) said in a statement that it detected the migrants being transported in crowded conditions in a semitrailer traveling on the highway between San Cristóbal de las Casas and Tuxtla Gutiérrez.
The vast majority of the migrants — 261 — are Guatemalan, while the other eight are from El Salvador, Ecuador and Honduras, the INM said.
"Twenty are unaccompanied minors and six people including adults, girls and boys were traveling in a family unit," the institute said.
It said that INM agents accompanied by National Guard personnel and soldiers directed a tractor-trailer to stop, but the driver accelerated instead. The National Guard gave chase and with the assistance of state police stopped the vehicle two kilometers down the road near the town of Chiapa de Corzo.
The driver was detained and turned over to the "corresponding authority," while the migrants were taken to INM offices "to determine their migratory situation," the INM said.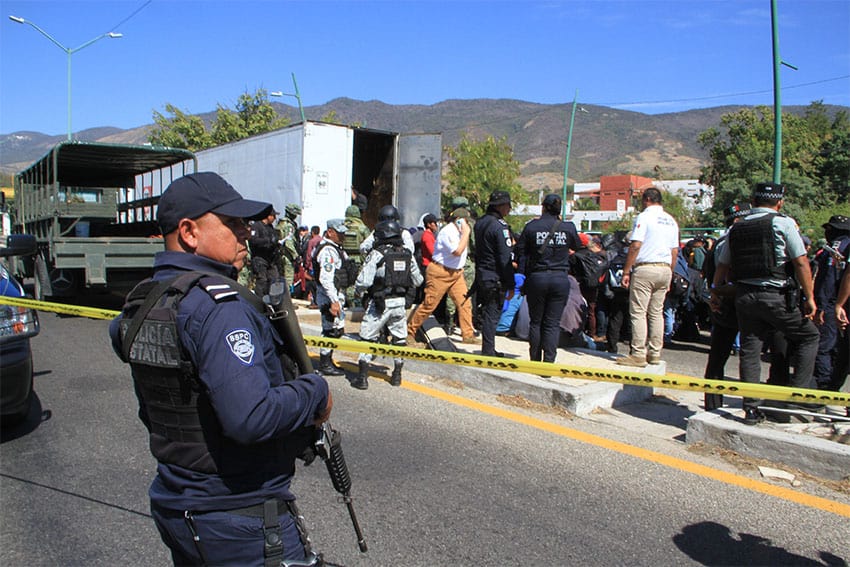 The children were placed under the care of the DIF family services agency.
The detection and detention of the migrants comes amid a surge of asylum seekers to the Mexico-United states border. United States border officials apprehended a record 2.2 million migrants at the border in U.S. fiscal year 2022, which ended last September.
Migrants are frequently detected traveling through Mexico in tractor-trailers, a risky journey that can have fatal consequences.
At least 55 migrants were killed in December 2021 when the semi in which they were traveling crashed in Chiapas, while more than 50 others died last June after being trapped in stifling conditions in a tractor-trailer found abandoned in San Antonio, Texas.
Mexico News Daily