The northern city of Monterrey, Nuevo León is the most competitive city with a population over 1 million in Mexico, according to the 2022 Urban Competitiveness Index compiled by the Mexican Institute for Competitiveness (IMCO). 
The study ranked 66 cities in Mexico based on 69 indicators evaluating levels of inclusion, the political system, economy, education, law, governance, manufacturing capacity and international relations.
"A competitive city generates, attracts and retains investment and talent," according to the think tank.
The ranking categorized cities by population and Monterrey came first among 17 cities with more than 1 million inhabitants, followed by Saltillo, Guadalajara, and Querétaro.
Mazatlán and Culiacán ranked as the most competitive with 500,000 to 1 million residents, while Los Cabos and Piedras Negras won in their respective categories (250,000-500,000 and less than 250,000).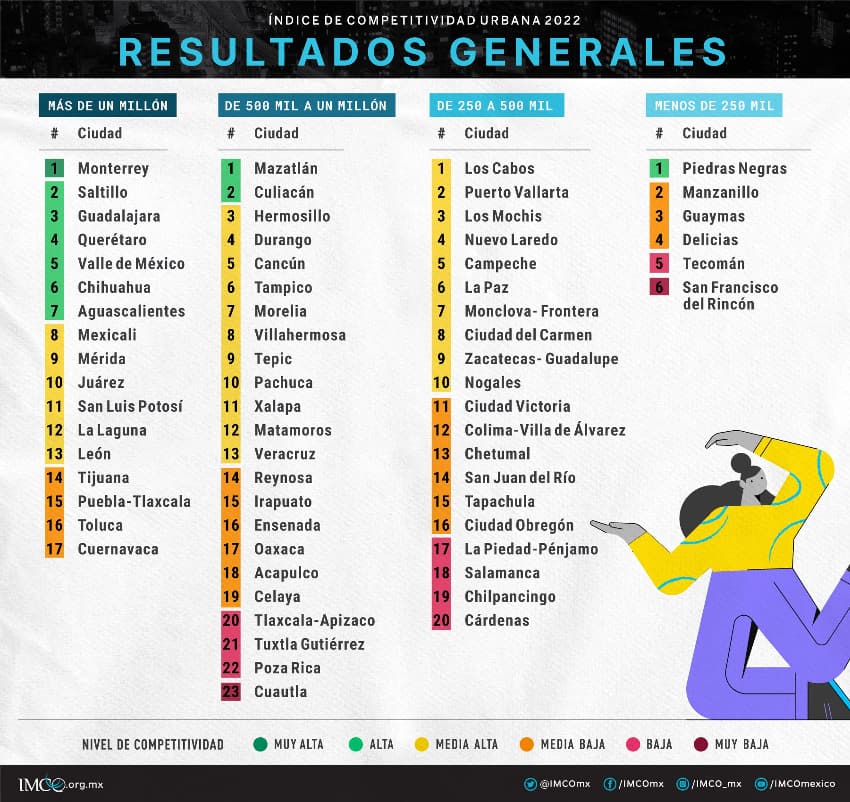 Thanks to the economic diversity of Monterrey, the city propelled to the top of the list, IMCO reported. The availability of credit in the financial sector for businesses, and a strong mortgage market also contributed. However, the city of Querétaro ranks first in terms of mortgage market size with 54 loans granted per 1000 adults (the national average is 21 per 1000).
Compared to the 2021 ranking, Monterrey climbed three positions while the Valley of Mexico (including Mexico City) fell by four places. The reasons given for the downgrade include the small mortgage market, lack of municipal budget transparency,  attacks on journalists, solid waste management issues and security.
However, the Valley of Mexico is the primary destination for  foreign direct investment.  Together with Guadalajara and Monterrey, Mexico City received 4 out of every 10 dollars of foreign money invested in the country.
Among the general countrywide setbacks noted in the report are continued high crime rates and the increased water consumption per capita, which needs to be addressed in a sustainable manner since scarcity is already evident.
"Cities progressed in activities related to tourism, the increased use of financial services and the growing number of active economic sectors," said Valeria Moy, director of IMCO at the report's presentation in summarizing overall improvements.
However, the study showed that smaller urban areas don't have the same access to  financial services as larger cities do. In Monterrey and the Valley of Mexico, for instance, an average adult owns three credit and/or debit cards, while in less competitive cities like Cuautla, Morelos, the average is one.