There are an additional 3.8 million Mexicans living in poverty, according to the latest figures compiled by Coneval, the federal agency that measures social development.
In its 2020 report, Coneval said the number of people it classified as poor rose to 55.7 million people, or 43.9% of the population, up from 41.9% in 2018. The coronavirus pandemic was mainly responsible, it said.
The highest growth in poverty levels was seen in states that rely on tourism. Quintana Roo saw the biggest increase in poverty, rising 17.3% to 47.5% of the population compared to 30.2% two years before. In absolute numbers, the poor totaled 893,000, up from 546,000.
The Caribbean coast state was followed by Baja California Sur: poverty was up from 18.6% to 27.6%, an increase of 9%.
They were followed by Tlaxcala, México state and Yucatán.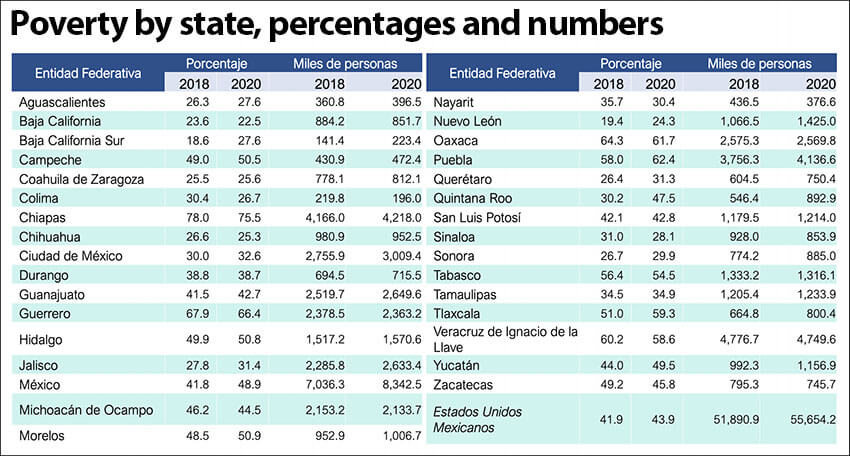 Mexico's poorest state is Chiapas, where 75.5% live in poverty, a slight improvement over the 2018 figure of 78%. Guerrero, Puebla, Oaxaca and Tlaxcala followed with poverty levels of 66.4%, 62.4%, 61.7% and 59.3%, respectively. Two of those states saw an improvement but the situation worsened in Puebla, up from 58% in 2018, and Tlaxcala, where the figure soared from 51%.
At the other end of the scale were Baja California, with 22.5% of its citizens living in poverty; Nuevo León, 24.3%; Chihuahua, 25.3%; Coahuila, 25.6%; and Colima, 26.7%
The number of Mexicans living in extreme poverty — those with insufficient income to meet the basic needs of food, clothing and shelter — rose from 7% of the population to 8.5%, from 8.7 million people to 10.8 million.
Among social deficiencies, some of which were basically unchanged or improved, lack of access to health care saw a whopping increase from 16.2% of the population to 28.2%, meaning that an additional 15.6 million people fell outside the healthcare system. They were unaffiliated with any of the state healthcare services and unable to obtain healthcare from either public or private providers.
In an executive summary to its report, Coneval described as urgent the need for the healthcare system to transition fully to the Insabi health care service, introduced by the current federal government to replace Seguro Popular, and guarantee healthcare attention to the public.
One sector of the population where poverty levels fell in percentage terms was the elderly. People over 65 accounted for 43.2% of the population in 2018; in 2020 that figure had fallen to 37.9%, likely due to the increases in seniors' pension introduced by the administration of President López Obrador. However, because of the increase in the seniors population the number living in poverty remained about the same in absolute terms at 4.5 million.
Coneval's figures are based on a survey of households between August and November, but President López Obrador said on Friday that he did not accept the results.
"… I have for example my own method of measurement … I see the macroeconomic data," he told his morning press conference. "I have other information and I believe the people are receiving more support and even with the pandemic people have enough for their basic needs and something very important, they have not lost faith and we're moving ahead."
With his customary ability to see the positive side of things, López Obrador said the economy is in recovery in most sectors.
"… aviation, tourism, trade, industry, there is an extraordinary recovery, exceptional, to a degree that growth forecasts for this year are more than 6%."
Measuring poverty
According to Coneval, people are in a situation of poverty when they are lacking access to at least one of six social rights — food, health, education, social security, adequate housing and basic housing services — and their income is insufficient to purchase the canasta básica, or basic food basket. Its value is currently 1,745 pesos in urban areas and 1,256 in rural ones (US $87 and $63 respectively).
Extreme poverty is defined as lacking access to at least three of those social rights, not having sufficient income to purchase the canasta básica and lacking in the nutrition necessary for a healthy life.
Coneval measures poverty in Mexico every two years using data generated by the national statistics agency, Inegi.
Mexico News Daily