Seven people are dead and at least three wounded after two violent confrontations in Jalisco yesterday and today.
Armed civilians attacked a state police patrol this morning in Bajío de San José, Encarnación de Díaz, the state Attorney General's office said. Occupants of two vehicles opened fire on the police, who returned the fire and killed seven of the attackers.
Two others were able to flee the scene.
No police were hurt in the altercation but two patrol vehicles were damaged in the gunfire.
The municipality's public security chief was arrested in March on suspicion of collusion with criminal groups and participating in the January kidnapping of two people by a municipal police patrol.
[wpgmza id="24″]
There were no fatalities in yesterday's incident Ciudad Guzmán but three people were hurt after a protest by relatives of missing persons turned violent when it was allegedly infiltrated by some 300 individuals not connected with the protest.
The demonstrators were marching in the southern Jalisco town near the road to neighboring Colima when the so-called infiltrators joined in.
But soon after they circled a Navy patrol truck, trapping the personnel inside, and began damaging the truck with sticks, stones and other objects.
Meanwhile, the original protesters, who had arrived from other communities in several buses, decided to return home, their demonstration having been co-opted.
Shortly after, the hapless and trapped marines were rescued by another group of federal security forces who fired weapons into the air to disperse the attackers.
Unofficial reports said three people were wounded in the process.
The vandalized navy vehicle was left with cracked windshields and punctured tires and painted with the initials "CJNG," those of the Jalisco New Generation Cartel.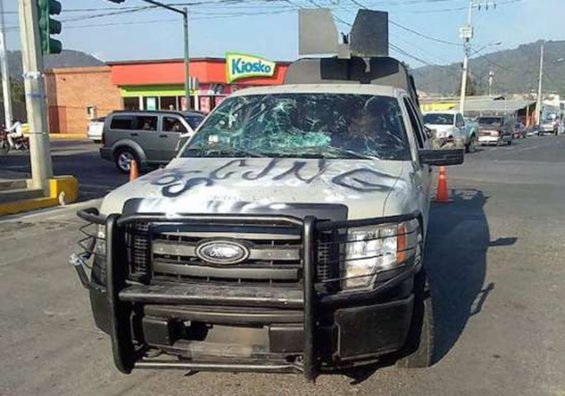 No arrests were made but the Jalisco Interior Secretary said personnel with the Jalisco Coordination Group had started investigating the incident.
The navy and local police remained on high alert.
Municipal officials said the navy has had an intermittent presence in Ciudad Guzmán over the past few months but residents have made no complaints of abuses.
That is not the case in the neighboring municipality of Zapotiltic, where marines have been accused of arbitrarily detaining a 17-year-old boy. He has not been seen since January.
Source: El Heraldo de México (sp), Milenio (sp)